SMBSC helps its owners grow high-quality sugarbeets.
Southern Minnesota Beet Sugar Cooperative (SMBSC) sets itself apart with its focus on quality, Vice President of Agriculture Todd Geselius says. "Our shareholders of this cooperative are dedicated to delivering the best product," he declares.
The cooperative has carefully hired a team of factory workers who share this philosophy, Geselius says. "The factory is just a bunch of steel unless you put people in it that [know] what they need to do," he says.
Based in Renville, Minn., SMBSC produces, processes and markets sugar and related products. Geselius notes that a group of sugarbeet farmers started the cooperative in 1972 after the processing company they served closed its doors.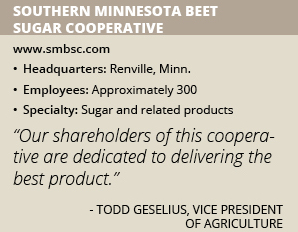 "They saw sugarbeets as a good option for them on their farms," he says. "They opened the cooperative so they would have an outlet for their sugarbeet crop."
Today, SMBSC consists of 510 shareholders who are all local growers. "They deliver their beets to the cooperative," Geselius says, noting that SMBSC processes the beets and sells the sugar. "We end up with the big pot of money, take our [expenses] and distribute everything back to the owners."
The cooperative also maintains a close relationship with each owner. "Part of my role of heading the ag department is to help our owners grow better, higher-quality sugarbeets, because that's how we can provide the most returns to them," Geselius states.
Working with Weather
SMBSC constantly looks for ways to be more efficient "so we can return more dollars to our shareholders," Geselius says. These efforts included the recent investment in a new ventilation system for pile sites.
Thanks to the system, "We take advantage of the cold, Minnesota winters and freeze the piles," he says, noting that the piles are created on long asphalt strips. "We've been doing a mix of increasing our ventilation and increasing our storage capacity."
But SMBSC also takes steps to protect its crops against Mother Nature. "Our growers will plant a cover crop at the same time they plant their sugarbeets," Geselius says. "It makes sure our top soils don't wash away with the heavy rains.
"When the sugarbeets are small, they are relatively fragile," he explains. "The rains or windy days can disturb or kill them."
The growers generally use oats as their cover crop. "It buffers the hard winds and rain for them," he says, noting that this has helped the farmers grow up to 120,000 acres of sugarbeets annually. "It's been a very successful program."
Progressive Investments
SMBSC's grower/owners are extremely progressive, Geselius says. "They like to use whatever technology is available to help them do a better job," he states, noting that the cooperative invests regularly in technology.
This recently included expanding its use of the Esri platform, so it can monitor fields during the harvest process. "Basically what happens is our agriculturalists go out and they measure one of the sugarbeets fields every year, so we can [create] a map," Geselius describes.
"When we get ready to harvest, we can track how many tons are from that are from that particular field," he continues, noting that this helps the cooperative determine what its final yield will be.
SMBSC also uses satellite imagery throughout the growing season to monitor crops and estimate its yields. "We've been able to do this for a few years now," he says, noting this helps the cooperative generate a growth curve.
"We've been able to use it as a final predictor of what our yield would be," Geselius says. "We feel like we're getting to be better at estimating the crop size."
Challenging Trends
SMBSC regularly encounters challenges on the agricultural side of the business, Geselius says. While the cooperative uses the cold winters to its advantage, "It seems that … the winters we have now are not as cold as they used to be," he admits.
"Global warming seems to be true," he says. "If this trend continues, we're going to have less and less opportunity to do those things [like this]."
The cooperative also has to watch out for diseases that can attack sugar beet plants, including Cercospora leaf spot, which is drawn to dampness. "It was unseasonably wet in August and September," Geselius recalls.
"We're concerned about resistance to some of the fungicides we've been using to control it," he says, noting that SMBSC has collaborated with other sugarbeet cooperatives and local universities. "We're doing everything we can to figure out this problem. It's certainly going to be a challenge in the next year or two."
Anything But Formal
SMBSC operates in a casual atmosphere in rural Minnesota, Geselius says. "Here, I get to work in blue jeans every day," he says. "Personally, I like that."
The cooperative also has a culture of teamwork. "We all try to help each other, but we try to have some fun along the way, too," he says, noting that its farmers are now finishing their harvest. "We have to harvest something on the order of 3 million tons of sugarbeets in the month of October alone.
"You never know what you're going to get each year," he says. "So the guys in our factory have to adopt to whatever they face." Geselius is proud of his entire team at SMBSC, including the human resources department. "They have done a fantastic job this whole year," he says, noting that the department helped filled roles in its harvest labor as well as positions in the factory. "Sometimes, it's hard to find those people," he says. "Our HR group has done a great job with finding those people ad getting them hired here. We're pretty fortunate with that group."
Geselius sees continued success for SMBSC. "The future is always very bright in agriculture," he says. "When you think about … the increasing population in the world and our need to grow more food, I think there's lots of opportunity," he says.
Careful Stewards
Southern Minnesota Beet Sugar Cooperative (SMBSC) utilizes sustainable farming and energy conservation practices. "From field to final product, SMBSC dedicates significant resources and conducts extensive research to ensure we are careful stewards of the environment," it says.
"Our cooperative has made great strides in protecting soil and water quality, improving energy efficiency and reducing fertilizer usage," SMBSC says. "And we keep working to improve. We remain ever diligent and committed to protecting and preserving what matters most – a healthy and sustainable natural environment."
The cooperative notes that, in the past three decades, it reduced its emissions by increasing its energy efficiency by 60 percent. One approach that has worked well for SMBSC is recycling the steam from its boilers.
"This steam energy is captured and reused up to six times in the processing of sugar from sugarbeets," SMBSC says. "Heat from facility operations is also captured and reused, and biogas produced from wastewater treatment is used to heat the wastewater treatment plant."
SMBSC also had the first beet sugar plant in North America to install steam beet pulp dryers with energy recovery. "That steam that is driven out of the wet pulp is then reused to provide heat for other processes in the factory," it says.