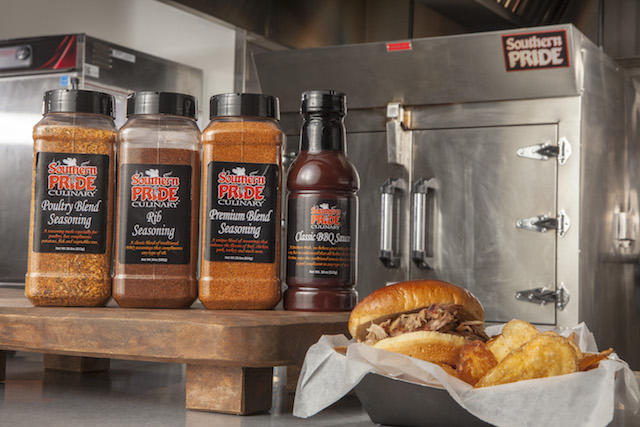 Southern Pride's commercial smokers can craft high-quality barbecue while freeing chefs from constant supervision.
B.B. Robertson and his son, Michael, didn't set out to create one of the world's best smokers. They just wanted to make their Illinois barbecue restaurant more efficient. "They needed to find a better way of producing large quantities of barbecue with a lot less labor," third-generation owner and President Jared Robertson says.
Traditional barbecue can take the better part of a day to cook on the smoker. The time-consuming process needs frequent attention to get done right. The Robertsons realized they could save time and labor while increasing the quality and quantity of their menu items if they could automate the process.
Realizing the market for such a device went far beyond their kitchen, the Robertsons sold the restaurant and went into business selling hand-built rotisserie smokers. The pair sold six smokers in the first year and another 13 the following year. From that modest beginning, Southern Pride has made and sold more than 22,000 smokers around the world – allowing anyone to enjoy high-quality barbecue without the need for constant attention from a pit master.
Southern Pride smokers are found in everything from high-quality chain restaurants such as Sonny's BBQ and Lucille's Smokehouse Bar-B-Que to world-renowned single-location joints such as Smoque in Chicago, sports arenas and even NASA's Kennedy Space Center.
The popularity of smokers is even growing beyond traditional barbecue to an assortment of other dishes such as baked beans, potatoes and even ice. "It's a rapidly growing part of the foodservice business," Robertson says of smokers. "We're very fortunate to have such diversity in our customers coming from all walks of foodservice life."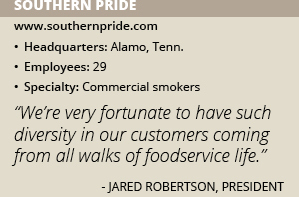 Barbecue restaurants take enormous pride not only in their food, but also in the process with which it is made. Every chef uses their own blend of seasonings, wood and temperatures to create a signature taste. "Everybody that creates barbecue thinks theirs is the best," Robertson says. "There is so much pride that goes into this. 'If you're not doing it my way you're doing it wrong.'"
Southern Pride must consider that mindset when building its smokers. "When you watch somebody experience good barbecue for the first time it's a life-changing event," Robertson explains.
Maintaining Quality
Consistency is the key to automating smoking. A brisket placed in the smoker overnight and left to cook unsupervised will be unloaded in the morning and should have the same result every time. Chefs have confidence in Southern Pride smokers because the company uses only high-quality components.
The convection fan motor system, for example, uses a high-temperature grease to stay lubricated even during long cooking periods, and the controls on every smoker are manufactured specifically for Southern Pride. "All our components are commercial grade components supplied by industrial suppliers and several are tailor-made to fit our smokers," Robertson says.
The quality of Southern Pride's smokers goes hand-in-hand with its network of 20 distributors, which service equipment as well as sell it. To help those distributors, Southern Pride designs its equipment to be easily maintained and serviced.
Its network includes two international distributors. Some of Southern Pride's largest growth markets are Europe, Australia and New Zealand. "They come to the United States and they experience our barbecue and they want to take it back home because they realize there is an opportunity," Robertson says of the international interest.
"The international business is really something that has taken an interest to barbecue in the past decade," Robertson continues. "Good food is good food everywhere and people really enjoy American barbecue."
Model Efficiency
Three factors determine which of Southern Pride's 10 available smoker models best suites a restaurant's use: budget, capacity requirement and the amount of space available in the kitchen. The largest gas smokers can weigh upward of 2,400 pounds can cook 1,400 pounds of pork simultaneously. The company's smaller electric smokers can still hold up to about 200 pounds of meat.
Southern Pride's newest innovation is its SRG-400, a gas-fired wood-burning smoker with stationary racks. The design allows restaurants to cook up to 400 pounds of pork in a smaller footprint by removing the rotisserie. "We worked a lot with the air flow to make sure we got the same consistency as with our rotisserie products," Robertson says.
More than 1,000 smokers are produced each year out of Southern Pride's 117,000-square-foot facility in Alamo, Tenn. A 2009 roof collapse at the factory gave Southern Pride an opportunity to rethink the manufacturing process and make upgrades that improved the efficiency of its products.
Older Southern Pride smokers welded mild steel interiors and angle iron together with the cabinet. Today's models are much more advanced, using stainless steel paneled construction to increase durability and prolong the life of the smoker. Access to the convection fan has also improved, allowing a person to more easily clean the fan blade to ensure steady airflow. "We try to engineer things that make it easier and faster for our customers to maintain their equipment," Robertson says.
Like most kitchen equipment, smokers are often hidden from the customers, making it difficult to build name recognition. But more consumers and restaurateurs alike are beginning to notice Southern Pride. The company's smokers frequently appear on TV during food shows and social media has given the company a new outlet to reach fans. "Word of mouth is single handily the best thing we've got going for us," Robertson says.