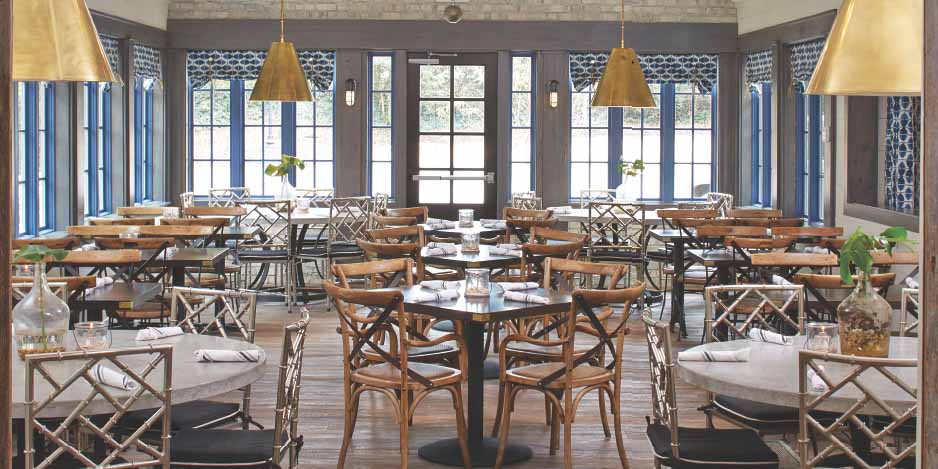 Southern Proper Hospitality
Creating new concepts
Based in Atlanta, Southern Proper Hospitality is growing courtesy of its founders' entrepreneurial spirit and creativity prowess in developing singular restaurant concepts
The American South is the birthplace of many cultural trends that are still deeply cherished in Western civilisation. The musical genres of blues and jazz and some of the most critically acclaimed
20th century novels by the likes of Harper Lee and William Faulkner, for example, are just few artistic pieces that have shaped our imagination of this region. The modern times we are living in, though, have brought new cultural practices that have carved their way into society's collective mind. Our relationship with food has changed, for instance. We no longer regard it as a mere necessity that keeps our bodies functioning normally. Today, food consumption is seen as an overarching experience, in which people socialise, develop affections for different cuisines, are encouraged to try new things, and ultimately encounter new cultures through traditional dishes.
Bridging the cultural heritage of the South with the new 'cult of food' sets the scene perfectly for the company we are going to present to you in this article. The Southern Proper Hospitality Group has grown naturally, as if by chance, and certainly thanks to the laidback, yet creative, approach of its three founders. FoodChain interviewed one of them, Chris Hadermann. Chris discussed with us how Southern Proper Hospitality came to be, its recent growth, and its future aspirations.
"The three of us were college friends, and each of us had an entrepreneurial spirit, allowing us to do different things. We came together just for fun and developed a concept called East Andrews Café & Bar, which was a neighbourhood tavern, to see how this would go. We did not really have in mind that we were creating a hospitality company. We just wanted to run a nice place where you can go with your friends, but it was such a big hit, that people started to come to us and ask us if we would be interested in expanding. It was at that time that the entrepreneur in each of us took over, and we became opportunistic. This is how we started in the hospitality business," Chris says, outlining the genesis of the company.
Setting the ball rolling, he and his partners began to convert the opportunities coming their way, and today the company has a total of 21 individual restaurants, across nine different brands. The first of those was Milton's Cuisine & Cocktails, which opened in 2006. Chris remembers: "It used to be an old farmhouse in the suburbs, which we turned into a full-service restaurant. Perhaps it was not the best time to dip one's tail into a venture like this, but we managed to establish ourselves in this challenging neighbourhood during a difficult time, and grew the restaurant. Our concept for Milton's was that we should keep it a traditional Southern-style restaurant, due to its rural location, as we aimed to accommodate the neighbouring community."
Friends Serving Friends
What could be called Southern Proper Hospitality's trademark brand is Tin Lizzy's, the second concept Chris and company developed. Having set out to promote it heavily for a few years since its inception, Tin Lizzy's has now grown into a chain of 14 locations that has broken the boundaries of the state of Georgia, and can be found in Florida and South Carolina, too. Chris' team applied what has become their well-tested approach when assessing what type of restaurant they should aim to open in a particular location. "We looked into the space and the neighbourhood to see what food categories did not exist, and so we developed it from there. What is now Tin Lizzy's, was a pretty, little restaurant in the neighbourhood I happened to live. It had a nice patio, which got me thinking what would be the best way to develop it, so we came to the idea that this would be our version of a Mexican taqueria, where we would serve guacamole, salsa, margarita and a range of gourmet-soft tacos.
"We took a grassroots approach," he continues, "It was at a location that many people would say was not particularly good for a restaurant. But we rolled our sleeves up and won each customer by offering great service. We have a service mantra called Friends Serving Friends, which means a very unpretentious, direct, friendly approach. We wanted to create a place where when you go,
everyone knows your name. Also, the prices were affordable, and that allowed us to grow even during the recession, because people still wanted to go out and be entertained. They just wanted to go to more affordable places. We were able to develop a strong brand equity across Atlanta and add some critical mass. This gave us the confidence to go to South Carolina and see if this concept was going to prove itself in another market," Chris maintains.
Entrepreneurial outlook
He insists on calling himself and his partners 'restaurant entrepreneurs' and it seems that Southern Proper Hospitality's philosophy lies in this label and the ingenious, entrepreneurial outlook the three of them have adopted. "We are all concept guys and we like to try new things all the time. As an independent group, we do not face any pressure from investors, which gives us the time to sit back and look at the community, and approach it with a blank canvas. We travel a lot and get a lot of exposure to what is new and cool in terms of food trends, and we try to package those trends in a way that will fit nicely into the fabric of the Atlanta cultural community. We have added lots of fun and high energy in all of our concepts and we continue to do so, because we want to create an amazing overall experience, that does not include only quality food, but all other details that contribute to a great restaurant atmosphere, such as level of service, the right lighting and good music."
Proactive investment
2017 was a year of strengthening the quality of the company's existing restaurants. As Chris puts it, the aim was to 'raise the bar'. He elaborates: "We did not want to get caught up in the trap of growing just for growth's sake. Instead, we shifted our attention to the restaurants. We wanted to develop the space between the four walls, investing in infrastructure and human resources. We hired a new Vice-President of Operations to inspect each and every store, and ensure that we continue to deliver an excellent customer experience. We see this as an example of proactive investment where we seek constant improvement and try to make our restaurants even better. We want to keep pushing expectations and create a culture where everybody is striving to get better. Our feeling is that the development of this culture will prepare us for future growth," Chris concludes.