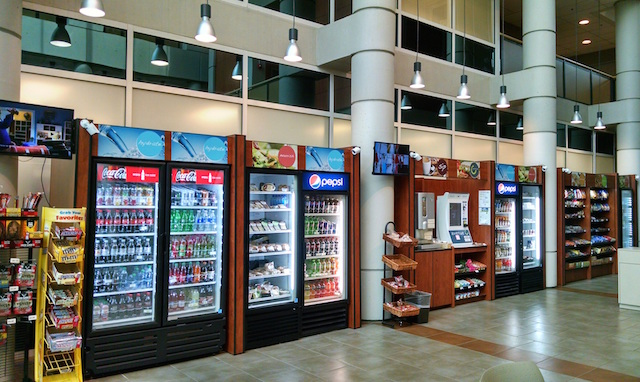 Southern Refreshment Services
A satisfied staff has helped Southern Refreshment Services maintain close relationships with customers and vendors.
When it comes to serving its customers, Southern Refreshment Services is clearly doing the right things. The Tucker, Ga.-based company enjoys a dominant market position among vending companies serving the Atlanta market, and reports a retention rate of more than 98 percent.
None of this would be possible without the work of the company's staff, who ensure that its customers' vending machines and coffee machines are filled when needed. "The quality of our frontline staff and management truly sets us apart," President Jeff Parks says. "We work very hard to make sure we take care of our staff, and in turn, our staff takes care of our customers."
Southern Refreshment Services serves more than 150,000 people daily with more than 6,000 vending machines, 2,500 office coffee machines and 75 micro markets in the Atlanta area. The company's customers include corporations, colleges, healthcare facilities, manufacturing plants and distribution warehouses. A sister company, Vend Food Services, provides vending, dining and catering, office coffee and micro market services to customers in northeastern Georgia. Both companies offer cashless technology for use in both vending and micro markets.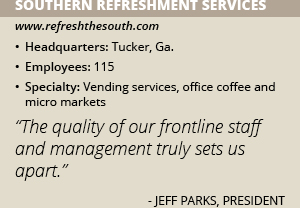 The company offers a number of career enrichment and employee recognition programs, as well as a full range of benefits. Southern Refreshment Services typically promotes employees from within. Employees are also regularly rewarded and recognized for their efforts throughout the year as well as during the holidays, where they receive bonuses. Many employees have been with the company for several years. "The success of our company is because of them, and I believe that I'm really no more important than the rest of our staff," he adds. "Everyone else pulls in the same direction and gets positive results."
Southern Refreshment Services' management approach encourages interaction between employees and managers. "We believe in taking a common sense approach with our people," Parks says. "We like to get out of the office and talk to them face-to-face."
Many of the company's employees come to the company through word-of-mouth. "We don't have to place help wanted ads or use recruiters," he adds. "A lot of our employees come from referrals from within."
Close Contact
Employees at every level of Southern Refreshment Services' operation keep in close contact with customers. "Our senior management team visits locations and sees at least one customer a day," Parks says. "It's not uncommon for me to go out with our customer service managers on site visits."
The company believes in being proactive when it comes to serving customers. For example, Southern Refreshment Services' personally calls many of its customers during Thanksgiving weekend to see if they were open and in need of services during the holiday and the Friday after. "We reached out to our customers and made sure we delivered products and services to them in timely manner instead of just shutting down for the weekend," he adds.
Other examples of the company's proactive approach to customer service include employing a full-time quality assurance specialist in its coffee division. The quality assurance specialist visits customer sites to check up on coffee machines and replace parts as needed. Southern Refreshment Services also prides itself on being responsive to customer input. "We respond to every single one of the e-mails we receive from customers," Parks says. "If someone calls us for a refund, 90 percent of the time we just send it, no questions asked."
Customers are also given a voice when it comes to the products and offerings they receive from the company. The company in recent years has expanded its traditional vending business to include self-serve micro markets, a small-scale convenience store offering snacks and beverages. "That's been an enormous game changer in the vending industry," he adds.
Other recent offerings include "bean-to-cup" coffee machines, which have built-in grinders. Southern Refreshment Services is also expanding the number of its machines that have cashless dispensing capabilities.
In addition to its long-term relationships with employees and customers, Southern Refreshment Service also has worked with many of the same vendors for its 35-plus-year history. "Once we establish a partnership with a vendor, we don't like to change just for the sake of changing, because we don't like it when someone tries to do that to us," Parks says.
A Bright Future
Southern Refreshment Services has grown steadily since its inception in 1979. Founders Dan Dart and Alan Plaisted started with one client, to which they made deliveries in an old station wagon. "They were determined to grow the business by knocking on doors," the company says. "They knew the keys to a successful vending business – providing seamless service, constantly updating their offerings and embracing new technology."
The company in 2001 acquired the local Canteen corporate operation, giving it national proprietary items and global purchasing power. Southern Refreshment Services took another step forward in 2011, when it started offering micro markets.
Southern Refreshment Services is making plans for its future. "We have the second generation of the business coming along that we're mentoring now," Parks says. "We feel the future is very bright for them and the company; however, we don't take our success or the success of our customers for granted. We believe you always have to move forward."