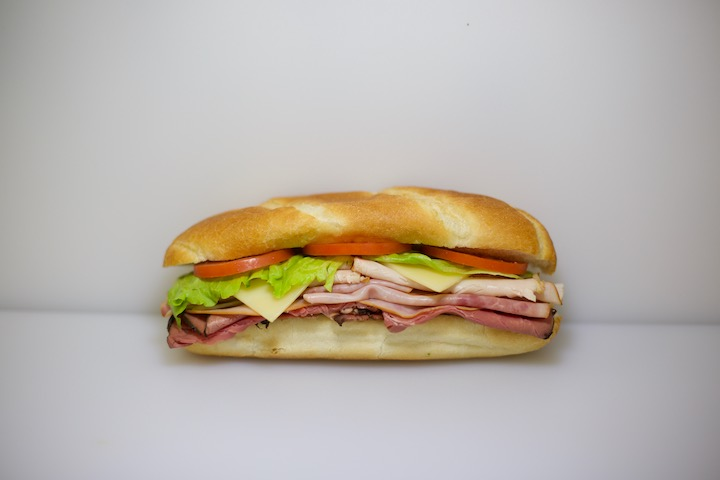 Southwest Georgia Oil Company is rebranding its convenience store locations to SunStop or SunStop Market and revamping its foodservice program to incorporate more industry trends and consuemr demands.
Sixty years ago, Jimmy Harrell took out a $2,500 loan to buy an old tank truck to sell diesel fuel to local farmers and embarked on his dream of becoming the biggest oil company in Bainbridge, Ga. Today, Southwest Georgia Oil Company owns and operates 77 stores in Georgia, Florida and Alabama. Under the leadership of Harrell's son, Mike, his legacy continues to grow.
In 1961, Harrell opened the first service station in Bainbridge, providing guests fuel and oil only. Inland was adopted in 1968 as the private fuel brand and two years later expanded to include a convenience store. Mike Harrell became the sole owner of the company in 1999 at which time he updated the Inland logo and introduced SunStop brand. By the early 2000s, Southwest Georgia Oil had expanded to nearly 30 locations in the tri-state area.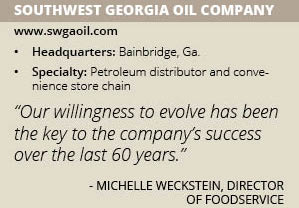 "Our willingness to evolve, as well as community involvement and our hometown philosophies have been the key to the company's success over the last 60 years," Director of Foodservice Michelle Weckstein says. "When the company started out, Jimmy was delivering fuel to farmers and now we have grown into a company focused on food and beverage."
Today, Southwest Georgia Oil operates SunStop, Sun Valley Market and Deli in Alabama, and S&S Foods in Florida. "One of our main focuses in 2019 is an overhaul of the inside and outside of our stores. Fifty percent of our locations will be rebranded to SunStop this year."
Innovative Offerings
Most of Southwest Georgia Oil's stores are located in rural markets.  In these "hometown" settings, they also serve as the primary grocery operator. The company also has locations that cater to heavy truck traffic and highway patrons, as well as an urban market located on the campus of Florida State University.
"As most people recognize, convenience retailing is changing a great deal. With fuel efficiency, fuel sales are decreasing," Weckstein notes. "Traditional convenience store staples such as tobacco products have been decreasing in unit sales for a number of years, so over the past couple of years we have made a consistent effort to innovate our new foodservice program."
Southwest Georgia Oil did just that by creating the "EATS Southern Cookin" banner, which created a consistent menu across all of their stores.  It also allowed stores with different demographics and market characteristics the ability to customize food offerings that would be unique to those markets.
"By doing so," Weckstein says, "our foodservice categories, and certainly prepared food sales, have shown consistent sales increases and have actually been a key driving force for guests' continued selection of our brand over our competitors."
Southwest Georgia Oil's convenience stores are known for traditional southern comfort foods, such as fried chicken tenders, collard greens, cornbread, macaroni and cheese and peach cobbler. Last year, the company expanded its focus to fresh menu items that include gourmet paninis, signature subs, hoagies and salads topped with fried, baked or sautéed chicken.  "We use fresh, never frozen products, and premium sandwich meats, with less nitrates and sodium; basically a cleaner label," Weckstein notes.
At its Florida State University location, SunStop Urban Market, Southwest Georgia Oil implemented Tex-Mex and Italian menus, as well as bean-to-cup machines for specialty coffee and cold brew options. "We want to offer high-quality menu items that appeal to our younger customer base.  This necessitates not only different menu items, but that they be prepared fresh," Weckstein says.
Located in rural areas in the Southeast, Southwest Georgia Oil prides itself on bringing different flavors from around the world to its hometowns. "We might be the only way some people have to try different foods.  Our goal is to bring items from around the globe to our guests in small rural towns, who otherwise might not have a chance to try them." Weckstein says. Like a quick serve restaurant, Southwest Georgia Oil introduces these items as Limited Time Offers.   
Inside its convenience stores, Southwest Georgia Oil is investing in its POS equipment, testing kiosk ordering, as well as digital menu boards to keep pace with industry trends. The company's future plans include an online store for company branded products and a loyalty app for its customers. Southwest Georgia Oil currently offers a Sunny Saver card where customers can save up to 10 cents per gallon of gas and is exploring new loyalty options for inside its stores.
'Outrageous Customer Service'
Southwest Georgia Oil's locations are known for "outrageous customer service" and cleanliness. "We have adopted the mission: 'Brighten Every Moment,' and I think that sums up what our methodology is throughout our company," Weckstein adds. "We want our customers to truly feel like guests, where every interaction with our employees creates a positive experience."
The company employs 1,100 people today, and as it continues to grow will look for new hires who embody its culture. "We look for the hospitality gene, it's something that's inherent in people," Weckstein explains. "We can teach food safety and quality presentation, but we can't teach a genuine desire to be of service and taking pride in serving quality food. We want our teams to truly create a hometown atmosphere, where our guests are treated like friends and family."
The leadership team at Southwest Georgia Oil looks at every conversation as a coaching opportunity. The management team is taught business best practices that allow them to control cost, improve foodservice execution and market their operations. As a result, the management team understands how to truly run their business. This year, the company also implemented a leadership program with two tracks – one for current high-performing managers to continue to cultivate their skills and a second for potential high performers to develop better leadership competencies.
Employee retention is extremely important to Southwest Georgia Oil, which is why it continues to invest in its team by dedicating resources to training and team building.  In addition to investing in its people, the company is also dedicated to community involvement. It joins the Chambers of Commerce, sponsors festivals, supports local schools, Future Farmers of America and 4-H programs, as well as simply befriending its guests and neighbors to become a part of each community it serves.
Southwest Georgia Oil will continue to focus on expanding its EATS brand, while converting 50 percent of its locations to SunStop by the end of this year. "One of our biggest challenges is trying to do too much and sometimes it has stretched us thin, but we are a resilient second-generation company built on a strong foundation and are not afraid to continue to take on new challenges," Weckstein says.