The original SPD Market was founded in 1959 by Bert See, Lawrence Painter and Joe Dilley, who operated businesses on Broad Street in Nevada City, Calif. See owned Western Auto, Painter a small grocery store (Painters Market) and Dilley operated a butcher shop inside Painter's Market.
When the downtown area proved to be too congested to provide ample parking for their customers, the three joined forces to form one store, SPD Market – a one-stop shop that carried groceries, freshly cut meat, auto parts and general merchandise. The owners then moved the new business to a new and larger building with plenty of parking.
A few years later, SPD Market had to expand from 13,000 to 26,000 square feet to meet the public's growing demand. In the late 1960s, Painter bought out See and Dilley and in 1981, a new store was added in the neighboring town of Grass Valley.
Today, SPD Markets is still in the hands of the Painter family, all four of Lawrence's sons. Dennis is the president and David, Doug and Dean serve as vice presidents. "We all come to work every day and do our jobs," David Painter says. "We all grew up in the store. We worked here while in high school and during the summer when we came home from college."
SPD Today
David Painter says today's SPD Market is a conventional supermarket that also sells general merchandise, sporting goods, automotive parts, camping equipment and housewares. The Grass Valley location, however, doesn't carry as much general merchandise, he says.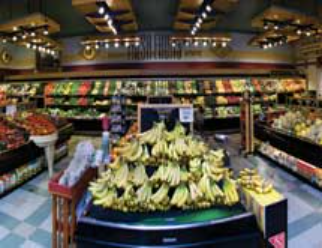 Both of the stores specialize in organic and natural products along with many specialty items. "Much of the population has been into the natural lifestyle since the 1960s," David Painter says. "The meat department is full service. We have very little prepackaged meat. We cut it to specification and wrap it in paper, just like the old days."
The market offers grass-fed beef and free-range chicken alongside standard meats and poultry, but David Painter says the natural products are very popular despite their higher price points. "A lot of our customers aren't bothered by the higher prices," he says. "It's more of lifestyle choice around here. Many of our customers grew up in the 60s and still maintain the natural lifestyle."
While the natural products are still more expensive, David Painter says the prices have been going down due to the fact that there are more companies offering the products. "It's become a very competitive market," he adds.
Community Service
The folks at SPD Markets share a special bond with their customers. This includes getting the products they want and need to helping the customers out with local charities.
"We participate in the 'Script Program,' where we provide slips to families with children at the local schools. When they shop at SPD Markets, the staff writes down the amount the customer spent on the slip and at the end of the month, we donate a percentage of what they spent back to the school," David Painter explains. "We also do the program with a local music camp."
SPD Markets even donates fruit and bagels to the participants in cancer walks. The family-owned company also provides food for the homeless on a weekly basis.
"We get a fair amount of requests from local charities about making donations, and we respond to them regularly," David Painter says.
Listening to Customers
SPD Markets currently carries more than 30,000 items, with many of those items coming from local producers. "We work with a lot of local farmers and get our products from small farms when they are in season," David Painter explains. SPD Markets will continue to expand its natural and organic lines in the future.
"We listen to our customers and respond quickly," Painter says. "If they want [a certain product], we can get it for them in a few days."
When it comes to expanding the SPD Markets' territory, Painter explains he's not interested in growing too big.
"We're happy doing what we're doing with what we've got," he says. "Bigger is not always better."