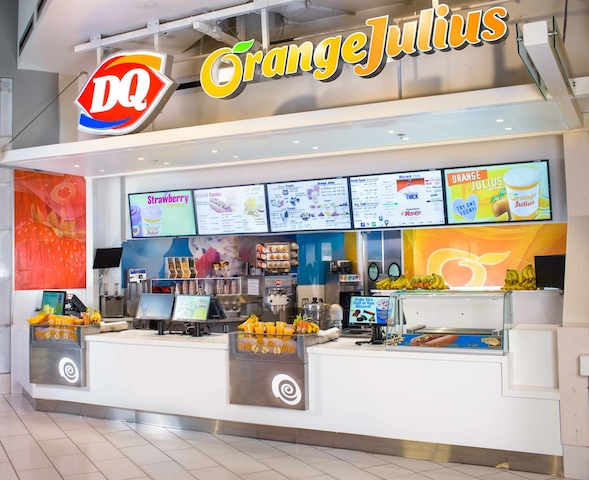 Speedi Gourmet introduces a new look for its restaurants in the greater Vancouver area.
With a new brand and more store openings, Speedi Gourmet is upholding its long track record of running high performance restaurants in the greater Vancouver area.
Speedi Gourmet operates 15 high-grossing Orange Julius and Dairy Queen hybrid restaurants located within Vancouver malls. In 2014, the company started licensing a new brand – Second Cup, a popular Canadian gourmet coffee retailer with more than 300 cafes across the country.
This year, Speedi Gourmet's Partnership Group opened its first Second Cup Coffee location at Surrey Memorial Hospital in Surrey, British Columbia. "It's a new adventure for us," Owner and President Dave Vaillancourt says. "We're always looking for new opportunities."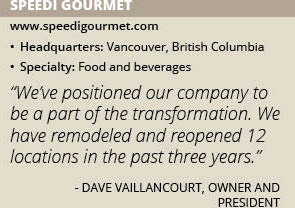 Speedi Gourmet opened its first Orange Julius store in 1975. An American chain of fruit drink beverage stores, Orange Julius has been in business since the late 1920s. One of the oldest franchise brands in North America, it is famous for its assortment of smoothies.
"When you combine that with Dairy Queen, which is one of the top 100 brands in the world, you have a very powerful brand," Vaillancourt says.
Speedi Gourmet started licensing Dairy Queen in 1996. Since then, the company's dual brand restaurants have proven to be a lucrative investment – and the company expects that trend to continue.
A number of large redevelopments are currently being planned for some of Canada's largest and top-performing shopping malls, especially in the Vancouver area. "Shopping malls in the Vancouver area are undergoing a mass transformation," Vaillancourt says. "Billions are being invested. They are turning these malls into multi-purpose facilities that are surrounded by parks, apartments, condos and community centers. It's a great thing."
A New Look
Since all of its restaurants are located within Vancouver malls, Speedi Gourmet is working hard to keep them up-to-date and modern.
"We've positioned our company to be a part of the transformation," Vaillancourt says. "We have remodeled and reopened 12 locations in the past three years."
Speedi Gourmet has worked with Dairy Queen on the designs and created a package that features large graphic panels and murals in the newly designed stores. "The malls want continual reinvestment," he adds. "They want modernization and Dairy Queen is always interested in their stores in being the latest and greatest as well."
In addition to redesign, Orange Julius is launching a new line of premium fruit smoothies. Introduced in August, they include the Avocado Split, Matcha Machine and Mango Heat. "Orange Julius is elevating the smoothie program using all natural products and more international flavors," Vaillancourt says.
A Development Path
Speedi Gourmet attributes much of its success to its employees. About 10 years ago, the company introduced its own development program for training, retaining and rewarding its employees. The company designed the program inhouse and keeps refining it and building on it.
"It's a long-term investment that requires a lot of diligence," Vaillancourt says. "But we've stuck with it and now we're seeing results. We have a fabulous staff turnover rate that would be the envy of many in the industry."
A growth chart-based development program, it defines a specific path for employees to grow and advance within the company. It involves continual training, record keeping, scheduled reviews and raises.
"It shows employees the path to growing their wage," Vaillancourt adds. "And they can hold their manager accountable to make sure they are being offered all the different elements that are set up for them."
Employees are encouraged to attain a variety of certifications and participate in continual training programs. Upon successful completion, they can be rewarded with advancing within the company and getting a raise. Speedi Gourmet offers courses in leadership, customer service, recruitment and retention. They are designed to lead a team member onto a management path.
"We've discovered that when you open peoples' awareness to that path, they will engage," Vaillancourt says. "And we are being heavily rewarded for it now."