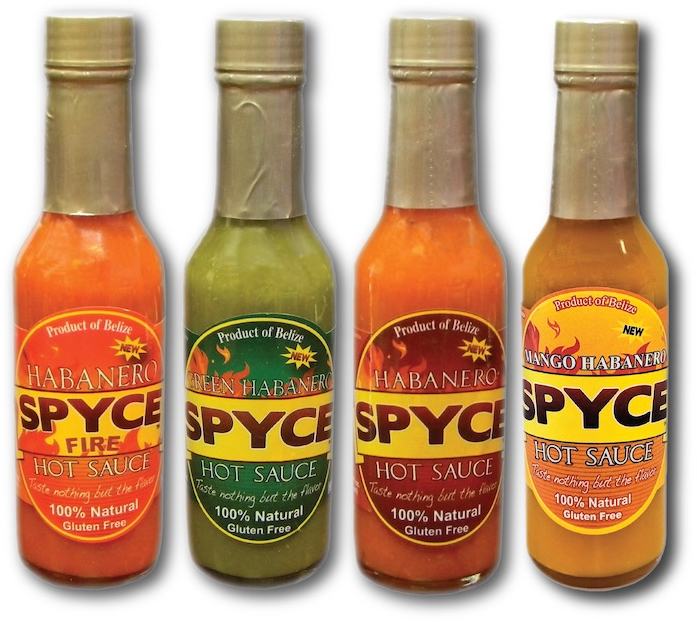 Spyce hot sauces combine flavor and heat to compete.
Ratika Anand admits that Spyce hot sauces might not go well with breakfast cereal but says they add to the flavor of almost anything else. "It's not for a particular nationality," she says. "I wouldn't say it goes best with Indian food. You say breakfast eggs, it goes with it. With kebabs. In lentil soup it brings out so much flavor. With pasta or Mediterranean foods like hummus. I know someone who puts it in their yogurt."
In 2015, Managing Director Anand and her husband, Jatin Anand, founded Spyce in Plainview, N.Y. on Long Island. The company started with Red Spyce and developed other flavors over the years. The sauces are contract-manufactured in the Central American country of Belize.
The company expanded over the last year, adding five employees to help with sales, packaging and delivery. Spyce seek those with a knack for sales and educates them about the hot sauces.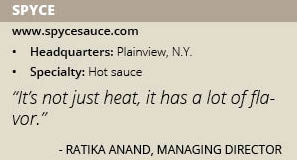 Spyce is sold in New York State and has made inroads into Ohio, Chicago, Virginia, Dallas and Maryland, in addition to many other states and Canada. "We have shipped to London, too," Anand says.
Its customers include mainstream and gourmet stores, grocery stores, the Patel Brothers chain of Indian grocery stores, Shop Rite, North Shore Farms, Iavarone Brothers, Uncle Giuseppe's, Key Food, Fairway Market, Sallpino, 7-11, Meat Farms, Gordan Foods, GFS stores and Jungle Jim in Ohio. Online sales account for 10 to 15 percent of its business through both Amazon and the Spyce website.
Spyce hot sauces use a habanero chili – sometimes referred to as Satan's chili – and other ingredients. Don't let the Satan chili scare you. "Other hot sauces take over the flavor of the food," Anand says. "You don't taste the food, you only taste the hot sauce. If you use Spyce, it gives more zest to the flavor that is already there. It is a hot sauce – it definitely has a kick to it. It's not just heat, it has a lot of flavor."
Spyce comes in four varieties. Its Red Spyce and Fire Spyce are hotter while its Mango and Green Habanero sauces have less heat. Anand is proud of what the sauces don't contain: sugar, water, preservatives, gluten, artificial flavors or genetically modified ingredients.
Those sauces come in 2-ounce, 5-ounce and 10-ounce and are sold individually or in gift packs.
Reaching Out
As a relatively young company, Spyce's biggest challenge is to make people aware of its hot sauces. "We are still establishing our name and brand," Anand says. "Way more grocery stores are clients than one year ago. The beauty is when someone comes back and says, 'I want another order.'"
Anand says consumers are becoming more adventurous. "People want to explore more and are willing to try something new," she says. "There is way more variety than 10 years ago. People are not scared of trying new flavors anymore. It could be globalization. Maybe the world is becoming a smaller place."
Spyce has major competition. "We are competing against a lot of legendary brands such as Tabasco and Sriracha," Anand says. "I remember when I came to this country 20 years ago. I used to see Sriracha in small Indian or Chinese grocery stores. Today it is everywhere. You could say it is my competition and you could say it's my inspiration, where they are today."
The company reaches out to its website customers with Spyce Club. Customers who submit their e-mail may receive free bottles, T-shirts, a newsletter, enter contests – What food did you use Spyce in that gave it a great flavor – a newsletter and discounts. "We try to keep in touch," Anand says. "We also have specials. If they order so much, they get so much free."
Spyce runs ads on a Long Island TV channel, YouTube, Indian cable channels and markets itself on Instagram and Facebook. "We are trying every channel," Anand says. "We have to establish ourselves."
For those who want to talk to the owners, it's easy. "The 844-my-spyce number links directly to us," Anand says. "We want to personalize it as much as we can. Sometimes people call to ask where they can find Spyce. Sometimes people who order online, they send us letters saying how good it is. We are a baby in front of all the big brands and it's amazing when people write something like that to us."
Feeling Proud
"We keep trying something new," Anand says. "A goal is to bring in similar flavors to other products, not only hot sauce, such as peanuts or chips or Indian snacks. We are researching that."
For now, Anand takes pride in the simple things. "When I walk into a grocery aisle and my hot sauce is sitting next to a legendary hot sauce, I feel proud," she says.