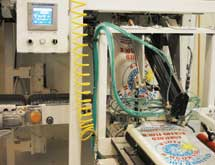 Stafford County Flour Mills Co.
When it comes to flour milling, Stafford County Flour Mills Co. is something of an artisan. According to President Reuel Foote, the Hudson, Kan.-based company has been perfecting the fine art of flour milling for more than a century. In an industry dominated by corporations, Stafford County Flour Mills takes great pride in being one of the last independent flour mills left in the United States.
A key reason why Stafford County Flour Mills is still around is because of the quality it puts into its products, Foote says. Its commitment to quality has never wavered since German immigrant Gustav Krug started the company as the Hudson Milling Co. in 1905. It began producing its signature brand – Hudson Cream – using a short-patent milling process that grinds the wheat more times and sifts with finer-meshed sieves than in standard milling.
Short-patent milling was commonplace in the early 20th century, but Foote says the company still uses the process today to ensure quality. Short-patent milling sifts away more byproduct, leaving only the heart of the wheat kernel to make the flour, he explains. This creates flour that is smoother in texture for consistently light and fluffy baked goods.
Krug faced financial problems in 1909 and decided to reorganize the business with a group of investors as Stafford County Flour Mills Co. After the mill burned down four years later, the company was forced to build a new one. This mill had a capacity to produce 300 barrels of flour per day as opposed to the previous 75 barrel-a-day production capacity. It remains in operation today, according to Foote.
Not So Run of the Mill
As the industry has evolved, so too, has Stafford County Flour Mills. In the 1950s, it increased its storage capacity for 750,000 bushels of grain and started producing self-rising flour, which remains the highest-grossing product of the Hudson Cream brand to date. The company also began selling dry fertilizer as a service to assist farmers in growing better crops, which remains a strong part of its business today.
In 1964, Stafford County Flour Mills undertook a massive expansion and remodeling project that automated its mill, electrified its plant and increased its milling capacity to 1,000 hundredweights per day.
In the early 1980s, the Krug family opted to sell the company. Fearful that the business could someday land in the hands of a large corporation and shut down, members of the community formed a holding company to purchase the controlling interest of the mill and ensure Stafford County Flour Mills would remain a local, independent flour mill. Alvin Brensing, who had joined the company in 1937, was appointed president in 1986. Brensing remained in that role until last year when Foote became president and Brensing became chairman.
In 1991, the company purchased English Grain Co. in nearby Macksville, Kan. In 1992, the mill was remodeled and expanded again to include the installation of new cleaning equipment, and its capacity was increased to 2,400 hundredweights per day.
Stafford County Flour Mills is embarking on yet another expansion this year, Foote says. "When we put in the equipment in May, we are hoping it will increase our capacity by 20 percent," he states. "Basically, in the fall, we run 24/7, so increased capacity would give us more flour to sell. We're trying to keep up with the demand."
Community Support
Although Stafford County Flour Mills has evolved throughout the years, there is one thing that has not changed – its involvement in the community of Hudson. "We take pride in being a company that actively supports the community," Foote says.
"Whether through sponsoring local high school activities, being an active supporter of the county 4-H program, educating youth through the dozens of tours given at the mill each year, providing flour for various service organizations' fundraisers, helping at the area health fair or providing equipment for the volunteer fire department, we believe that a healthy community builds strong, productive citizens."