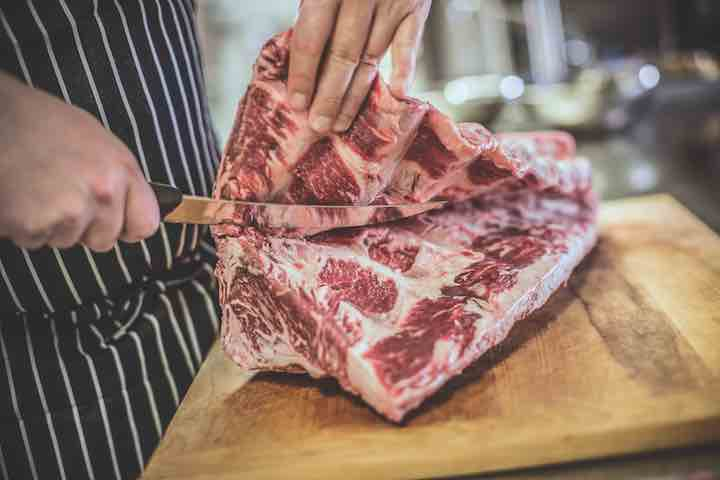 Standard Meat does whatever it takes to satisfy its customers.
When it comes to helping its customers, Standard Meat of Fort Worth, Texas has few limits. "We will do anything our customers want us to do," Chairman Billy Rosenthal says. "We talk to customers and find out what their needs are and work our system around their needs."
In fact, the company has been meeting the needs of customers for decades. In the 1970s and 1980s, Standard Meat was supplying Steak and Ale restaurants in the Dallas/Fort Worth market. The chain's owner, however, wanted Standard Meat to supply its restaurants across the country. "We came up with a way to package portion-controlled steaks in a vacuum package to improve fresh shelf life," Rosenthal says.
In the 1990s, Pizza Hut asked Billy Rosenthal to supply pepperoni made in a particular way. He found a way to do so and at one time supplied 80 percent of the pepperoni for Pizza Hut, Rosenthal notes.
Later, Taco Bell needed a new supplier of refried beans. "We designed a facility to produce refried beans," Rosenthal recalls. "While our beginnings were in red meat, my generation and [daughter] Ashli and [son] Ben have taken it beyond red meat."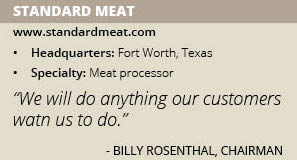 Standard Meat 2.0
In 1935, in the midst of the Great Depression, Billy's grandfather Ben H. Rosenthal founded Standard Meat Company in Fort Worth. "He worked out of one of his brother's food lockers," Billy Rosenthal says. "He started to cut steaks."
Ben's son Manny joined the business at age 13 and later studied meat science and business administration at Texas A&M. He returned to the company in 1946 as a partner.
By 1959, Standard Meat was a leading U.S. supplier to hotels, restaurants and military outlets. In 1969, Manny's son Billy joined the company at age 14. Billy attended the University of Texas then rejoined Standard Meat and in 1981 became president.
In 1983, Consolidated Brands – later Sara Lee Corporation – bought Standard Meat. Billy Rosenthal stayed on until 1989 and then decided to go out on his own. He started a pepperoni business, a soup and sauce business and dehydrated refried beans business.
"In the 1990s, an old friend started Outback Steakhouse and asked my dad to consult and find the right meat suppliers," says Ashli Blumenfeld, co-president and daughter of Billy Rosenthal. "After a few years, he asked my dad to restart Standard Meat."
Rosenthal bought the name back from Sara Lee and started "what we call Standard Meat 2.0," Blumenfeld says. "Our first facility was in Dallas and later we opened a Fort Worth facility."
Being Nimble
Today, Standard Meat is mostly run by the fourth generation. Blumenfeld is more on the marketing and creative side of the business while her brother, Ben Rosenthal, focuses more on finance and accounting. Their father, Billy, who is chairman, jokes that he is "mostly on call."
Standard Meat supplies restaurant chains, supermarkets and club stores. It mostly supplies businesses in the United States but does ship some items internationally. "Our emphasis is on taking raw material and aging it and portioning it," Billy Rosenthal says.
"We are the middle man," Ashli Blumenfeld says. "We also do a bit of poultry and dabble in other proteins."
Standard Meat does not raise or slaughter cattle. Instead, its customers decide what the company will do. "If a client wants grass-fed beef out of New Zealand, we would find a partner in New Zealand, portion, age, package and ship to the client," she says.
Running Standard Meat requires adaptability. As consumers desire meat that is organic and antibiotic-free and non-GMO, Standard Meat has to find suppliers. "We've got to be fairly nimble," Ben Rosenthal says. "We did not import any grass-fed meat five years ago. Now we import from Australia, New Zealand and Tasmania. If a big customer of ours is a big restaurant chain and feeling the impact of a changing consumer base, we're going to feel that too."
The fact that Standard Meat doesn't raise its own cattle becomes an advantage when the company has to change quickly. "We have flexibility that larger, vertically integrated companies can't have," Rosenthal explains. "If they are growing their own animals, that's what they have to push."
Fourth Generation
Both Standard Meat and its industry have seen some significant changes since the fourth generation took the reins.
"Back in the day, all the really big deals were signed with a handshake," Blumenfeld says. "No non-disclosure agreement or any kind of contract. Now we have all these lawyers involved. A lot of customers want to protect their projects and need to have lawyers review things."
Another change is that the latest generation of Rosenthals has wanted to explore new categories. "Our dad has always lived in foodservice – fast food or casual dining," Blumenfeld says. "He is very supportive of our desire to diversify but  some catagories didn't exist when he was in the business."
In 2015, for example, Standard Meat was approached by a meal kit company. Meal kits are a subscription service where a subscriber chooses a meal plan online and every week or two is mailed a box with all the ingredients – pre-measured – to cook that meal. The meal kit company was small at the time but Standard Meat saw potential.
"Meal kits really speaks to the millennial target audience," Blumenfeld says. "It's so digital and they want to do things on the fly. We decided it would be a great opportunity to diversify our business."
Standard Meat started by examining meal cards of the meal kit company and then built its own menu incorporating Standard Meat products. For the client visit, they prepared two versions. The first was of the raw ingredients, measured out and packed in a box. Those included not only a steak but dishes Standard Meat would not supply. "We created a meal that could work really well on their menu that incorporated our steak," Blumenfeld says. "We included everything needed for side dishes, sauces and seasonings, knowing that we were not going to sell them any of those components."
The company next brought out a fully prepared plated meal, using those same food items and having timed the cook preparation.  "We then took them into our facility and showed them our technology and automation and introduced them to our operators, meat scientists and quality assurance team," Blumenfeld says. "[The meal kit company] is culinarily driven and it really brought us together at a great place to start brainstorming."
Standard Meat did have to make modifications. The company usually ships its meats in bulk packs, and had to switch to packaging smaller amounts. But it was worth it.
"It has expanded dramatically," Blumenfeld reports. "Our second-largest customer catagory is now meal kits."
The latest generation has also changed the way the company approaches potential customers. In the past, presentations of products were fairly simple.
"Historically, we would walk into a customer's kitchen, throw a steak on the grill, cook it, cut it and everyone would stand around the kitchen eating a piece," Blumenfeld says.
That has changed. "We have seen success intensify when the sales team has partnered with other people in the organization," Blumenfeld says. "We take a salesperson and someone in R&D and a quality assurance person and build a team around the [potential] customer and approach new business from different angles. Historically, sales people gets paid on how much they individually sell. We've tied compensation to how the team does. In our business, it can take three years from the start to getting business. With a team effort, we find ourselves getting to market much quicker."
A few years ago, Standard Meat used this team approach with a retail client. The company brought in people to talk about the culinary aspects, meat science, product costs and packaging. "It's almost a turnkey sort of solution," Blumenfeld explains. "If we do enough research ahead of time, we can give them actual solutions they can immediately incorporate into their selling strategy."
People and Technology
Recruiting people can be a challenge. "On the production side, we don't have enough people in north Texas," Billy Rosenthal says. "We compete with companies like Amazon and Lockheed Martin, which are two of the larger employers in our area."
To help retain people, Standard Meat offers free lunch on Mondays, raffles, bonuses, fun events, programs to explain benefits and competitive pay. "Meat cutting is hard on the body," Blumenfeld says. "We have a chiropractor come in daily to take care of our employees."
Standard Meat also adopts new technologies. The company was the first in the industry to adopt technology developed in Iceland to portion seafood at its meat-processing facilities in Dallas and Fort Worth, Blumenfeld says. It is researching ways to further shrink the number of leakers that occasionally occur in its vacuum packaging. For the future, Standard Meat is researching robotics and other technology to handle repetitive tasks and improve efficiency."When we build a new plant, it is always as state-of-the-art as possible," Ben Rosenthal says. Indeed, Blumenfeld takes potential customers on tours of their plants, which tends to impress.
"They are pristine looking," Blumenfeld says. "It's very bright and clean and crisp. We recently changed to LED lighting. Besides having a longer life and using less energy, the lighting is much more soothing to employees than the fluorescent lighting we used to use."
Standard Meat has a full time person in R&D who focuses on equipment upgrades. He researches new automation, attends trade shows and evaluates robotics. Sometimes the company pays manufactures to research how their technology could be used in the meat industry.
Authentic Cooking
Historically, Standard Meat has supplied raw meat. For the last three years it has explored supplying pre-cooked meats to fast-casual restaurants, a growing market segment. "[Other companies] have added a water solution and faked the look of cooking," Blumenfeld explains. "They add a hot brand that looks like a grill mark or put meat into a mold to look like a rib. We are working on legitimate, authentic cooking at large scale. We think we can do that and not compromise quality – a quality product that just has to be heated."