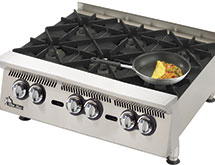 Star International Holdings Inc.
After more than 90 years, Star International Holdings Inc. stands as a leader in its industry, President Brian Kearins says. "We are known for our technology, innovativeness and value to our customer," he says.
Based in St. Louis, the company designs and manufactures commercial foodservice equipment, including griddles, char broilers, drawer warmers, conveyor and convention ovens, and sandwich grills. Kearins notes that Star International started operations in 1923 as a small equipment company.
Jullian Burch, the founder of Star International, began building electric popcorn poppers in 1923. Over the years, Star International management expanded the product line to include broilers, fryers and griddles. Star International acquired Helmco Lacy in 1962, ToastMaster in 1997, Holman in 2002 and Lang in 2007. In 2008, the Middleby Corp. purchased Star International and in 2009, merged Star International with Wells Bloomfield.
Today, restaurant chains comprise a large percentage of its business and it's continuing to grow. "We are well known in the QSR market because we can provide a variety of solutions for toasting, panini configurations, ventless hood systems and hot/cold holding due to our incredible flexibility," he says.
"Those restaurant chains are a very important part of our technology development that provide solutions that address very specific needs to their cooking platforms," he says, noting that these customers include a myriad of all the top chains in the world.
The remainder of its clients consists of dealers that sell to restaurants, schools, universities and arenas/stadiums. Those markets have "a high degree of interest [in] the latest and greatest technology, such as panini grills, waterless hot holding and high speed toasters, which is primarily what we're known for," Kearins says.
Being a Partner
Kearins joined Star International in March 2014. "My background is in general management and finance," he says. He credits the company's success to its products and Middleby Corp.'s push for leading, cutting edge technology. "Middleby's innovativeness and technology are unparalleled in the industry."
For example, "Star has pioneered the technology of countertop cooking equipment from the standpoint of lower energy, cleaning and faster cycle times," he says, noting that these products are widely used by many national chains.
Under Kearins' tenure, Star International has "essentially adapted a new company vision of intertwining the customer's needs and over delivering on concepts and prototypes. This makes for a very busy and sometimes stressed out engineering department," he says. "We've got to be more of a partner with our dealers, reps and consultants to be more of a solution to their cooking challenges."
So far, "We've done a fantastic job of that and it's showing product-wise," he says. "We're working with several high profile chains in the areas of advanced technology toasting and customer solutions that are unique to them."
Quality Investments
Star International concentrates on maintaining quality, which has earned it an ISO certification, Kearins says. Its quality investments have included testing equipment fixtures while they are "not at the end of the [manufacturing] line, but in the line," he says. "Because by the time something gets at the end of the line that's incorrectly made, it's too late."
Its recent state-of-the-art manufacturing investments have allowed Star International to considerably ramp-up much needed production and increase its lead time to customers due to a much more flexible and automated fabrication area. It recently added a new fiber optic laser, a bender and a deburring machine. All three machines "ultimately improve the quality of the product exponentially because it's all automated," he says. "There is no human factor that you might have in a press brake."
Star International has begun training its employees in the concepts of lean manufacturing. "We hope to be fairly well into the implementation by the end of the year as far as incorporating some of the lean principles," he says. "We're already starting to see some payback on a few principles. [We've trained] our folks that product quality is just not building the product right but maintaining lean principles such as recordkeeping and partnering with our suppliers.
"These are just a few of the items that contribute to the quality of the final product," Kearins says. "[Also essential] are the proper working conditions that enable the employee to work in a safe environment. We're upgrading our entire lighting and several key assembly fixtures so all they have to focus on are the tasks at hand."
Star International is disciplined when it comes to its inventory. "We run our business with an enterprise resource system and rely heavily on our vendors to support our production requirements as well as planning labor internally," Kearins says.
"Missteps in accounting for inventory can only end badly in meeting customer lead times so it's vitally important that components are accounted for correctly," he adds.
Looking Forward
Star International encounters many challenges in its industry, but the Internet represents the largest one, Kearins says. "It continues to add another dimension to the industry that, quite frankly, manufacturers are still trying to figure out," he says.
Brick-and-mortar dealers are competing strongly against e-retailers, Kearins says. Because of that, "Pricing can become a very difficult item to manage so that you're not undercutting price for your customer base," he says.
Despite this challenge, Star International's future looks positive. "We'll continue to be an innovative leader and invest in our engineering," he says. "[We'll create] new technologies for the future that will drastically change the industry in the cooking countertop equipment area."