Star International Holdings
As a heavy-duty countertop equipment manufacturer, Star International Holdings takes pride in the ability to customize products and partner with its suppliers.
Star International Holdings is the single-largest griddle and broiler manufacturer in the industry. The company covers entry-level, middle-tier and heavy-duty product lines, manufacturing many different items such as conveyor ovens, waffle makers, panini presses and hot dog rollers. While it has a full product line for customers to choose from, Star also has an engineering team dedicated to customized support for product development, especially for the restaurant and fast-food chain markets.
"Chains come to us for specialty needs," Vice President of Business Development Christian Yungbluth says. "In just the last two years, we've developed an impingement toaster platform, contact clamshell for griddles, an innovative new tortilla warmer and a new contact toaster platform – and that's just for chains. Many manufacturers cater to chain customers with specialized products, or the general market with more standard offerings. Star bridges this divide and has strength in both areas."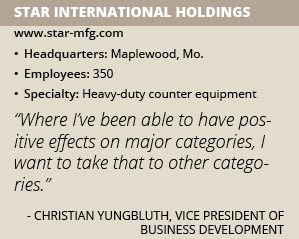 This synergistic way of doing business has helped Star accelerate its long history of success and realized a major sales surge in 2015. "But then we hit a wall," Yungbluth says. "We became a victim of our own success and were unable to meet the increased demand for our products." Star has since learned its lesson, and began two major initiatives to address current and future challenges for the company.
The first was a complete re-layout of its manufacturing plant – a $2 million investment – and relocating its warehouse to better manage the surge in volume, along with reconceiving its product line and evaluating what products to keep and which to discontinue.
"One of the great things we did was move our warehouse from 35 miles away from the factory to only 35 yards from the factory," Yungbluth says. "It forced us to clean house and put us in a position to be very brutal in our evaluation. With equipment adjacent to our factory, it allowed us to have greater flexibility [and] reduced our shipping times by a full day. There's always room for improvement but that has been a worthwhile investment."
The second initiative Star took on was to partner more closely with its suppliers to better serve its clients. Yungbluth notes that two of its standout suppliers are iSUN International Group and K&G Machining.
"iSUN demonstrated historically that dynamism and flexibility on all levels has helped make us effective as we are," he says. "And K&G Machining understands the level of our partnership we need. They are situated within 60 miles of our factory, offer different engineering capabilities and work with us to identify solutions. They're the kind of partner that you trust; you work with them and they understand your needs. Same with iSUN: You go to them because you want to, not because you have to. They offer sage advice that produces results. They help make my mission possible."
Customization is Key
As menus change to keep up with ever-evolving customer trends, chains and independent stores need new products to keep up with them. For
example, if customers demand the toasting time for a bagel be reduced from 40 to 20 seconds, chains and other retailers are going to want a reliable partner capable of engineering a product that will offer maximum productivity.
"Chains need partners to analyze and customize products to meet their changing needs," Yungbluth explains. "Star is able to bridge that gap, thanks in large part to a deep and talented engineering team. On one hand, we manage the needs of the general market products that are the basis of our business and can still pivot to customize those products for chain partners so they can do their job more efficiently."
Again, Star's suppliers are a major part of making this a reality for its customers. Yungbluth says Star's engineers are specialists in designing the equipment, but not necessarily in manufacturing PC boards or performing unique coding. "But if you find the right supplier partner, you can bring those into your product," he continues. "Chains need faster throughput and customization. So, you need to have supplier customers that are capable of working dynamically and with capabilities to help us better solve problems."
Dynamic Culture
Everyone at Star is tasked with wearing a number of hats to manage the challenges of the business, but this, in turn, creates a very entrepreneurial environment. Yungbluth says employees are constantly experimenting with different products and ways to serve its customers. "Sometimes you hit a homerun," he says, "but no one blames you for failure if it was a worthwhile effort."
But the culture also requires a bit of nurturing by constructing the right teams in various operational categories. "We have a lot of flexibility and dynamism that is self-sustaining to a point, but consistent success requires constant attention and support," Yungbluth says. "We plan to take our many organizational strengths and long history as a reliable and consistent partner, and grow our business through added value to the customer at all levels of the industry.
"There is always an opportunity to do a better job," he adds. "The product knowledge and business expectations of our customers are growing exponentially. Star will continue to synergize our strengths in the areas of standardization and specialization to meet those needs."