Star Manufacturing International Inc.
If you've gone out for a grilled sandwich, tortilla or hot dog lately, the odds that your meal was prepared on a piece of equipment built by Star Manufacturing International Inc. are very high.
The St. Louis-based commercial kitchen equipment manufacturer counts as its customers major names such as 7-Eleven, Taco Bell, Circle K, Tim Hortons and Kentucky Fried Chicken.
"We are definitely market leaders in the vast majority of products we produce, whether [they're] grills, popcorn poppers or counter cooking equipment," President Nestor Ibrahim says. "In the vast majority of large [restaurant and convenience store] chains, Star Manufacturing products are used."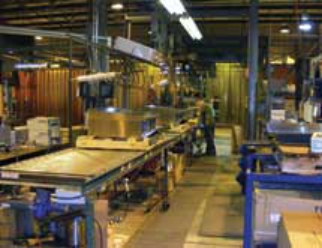 Star Manufacturing's first product after its establishment in 1921 was a popcorn machine. Since then, the company has evolved over time to develop a whole line of countertop cooking equipment such as fryers, griddles, hotplates and concession equipment, Vice President of Sales and Marketing Steve Lombardo says.
Ibrahim says Star will continue to make innovative new products and incorporate new technologies well into the future, particularly those that are energy efficient.
"Efficiency will take center stage in the battle for customers going forward, and Star will lead in [making] energy- efficient equipment," he adds.
Durable Products
The company has three main segments of customers: independent operators such as "mom and pop" restaurants, bars or organizations that run concession stands that need a grill or a fryer; convenience stores, who use hot dog rollers and peristaltic cheese dispensers; and major restaurant chains, who buy grills, toasters and other equipment. One of the company's biggest-selling products is a two-sided grill, often used to make grilled sandwiches or tortillas.
Star has a patented counterbalance hinge system used on its Pro-MaxR series two-sided grills that Lombardo says is a major reason for its popularity and durability.
"[The grill] is capable of withstanding a million open-and-close cycles," he says. "This will sustain the use and abuse [of equipment] you see in a high-volume restaurant and can handle the longevity and lifespan [restaurants] need."
Star's business is just as durable as its equipment, even in an economy that has proven to be particularly difficult on the restaurant industry.
"You have to do everything you do better than the other guy," Lombardo adds. "You have to develop a new product with new features and serve the customer better."
As an example, Lombardo cites the addition of electronic controls to the company's conveyor toasters that allow the operator to easily adjust between toasting breads and bagels.
"The economy has made the customer a lot smarter; they have less money to spend, so they spend it more wisely," Ibrahim says. "What Star has been successful at is adding quality and innovation to equipment without adding more cost to it."
The company takes pride in improving the production process while maintaining or improving product quality and value.
"We insist on never cheapening the product," he adds. "We try instead to save money by being more efficient and running lean and smart."
Taking Care of Employees
Training and development is one of the most important aspects of the company's operation, Ibrahim says. The company believes strongly in cross-training its manufacturing plant employees in assembling different types of equipment.
Star's manufacturing and corporate operations are both ISO 9000 and 9001 certified, Ibrahim says.
"We have our processes pretty much mapped out and documented," he adds. "Our quality control manager has a number of staff members at his hands to make sure quality control is part of the entire [manufacturing] process."
The company also prides itself on having high employee morale and credits happy work force in part to an employee wellness program where workers are given motivation and incentive to look after their health and that of their families, Ibrahim adds.
External relationships, such as those with area charities, are also important.
"As an organization, we try as much as possible to be engaged with our community and give back," Ibrahim says.
The company regularly honors a number of requests from churches or charitable organizations that need equipment for an event or activity but are not able to purchase it, and also donated equipment to U.S. soldiers serving in Afghanistan.
Locally, the company also gives generous donations to the United Way annual fundraising campaign, Lombardo says.
Strong Ties
Star Manufacturing is a division of the Middleby Corp. of Elgin, Ill., a global leader in the foodservice equipment industry. The company develops, manufactures, markets and services a broad line of equipment used for commercial food cooking, preparation and processing. Middleby owns a number of brands, including Southbend ranges, Pitco fryers, MagiKitch'n charbroilers and griddles, Turbochef speed cooking technologies, Toastmaster and Blodgett Convection ovens.
The corporation was recently named 2009 Supplier of the Year to YUM! Brands. YUM! is the parent company of KFC, Pizza Hut, Taco Bell, Long John Silver's, A&W and WingStreet.
"We are honored and humbled by this top recognition from YUM! Brands," Selim A. Bassoul, chairman and CEO of The Middleby Corp., said in a statement.
"YUM! is a very innovative company – a game changer. They have always challenged Middleby to develop cooking equipment that will revolutionize and disrupt the quick service restaurant industry. They have pushed us and made us a better company. We are proud to be their partner and Supplier of the Year."
In addition, two Middleby products were recently selected as recipients of the 2010 National Restaurant Association Kitchen Innovation Award.
Honored were the Middleby Marshall Mini WOW! Oven and the Southbend Ultimate Range. The range has features including non-clog burners, a counter-balanced oven door and a high-efficiency snap action oven thermostat.
The WOW! oven is a high-efficiency, high-speed pizza oven used in a number of major national franchises.