Stars and Strikes expands with smiling people and a plethora of activities.
What differentiates Stars and Strikes from other entertainment options?
"Our biggest focus is the importance that we place on guest experience and service," co-owner Chris Albano says. "Providing a clean, safe, engaging and fun experience is our top priority. That begins with hiring the right team members. You want to hire smiling people. Smiles and a great attitude are contagious."
Another advantage that Stars and Strikes has over the competition is all the entertainment options under one roof. "We like to say, 'Why limit your fun?'" Albano says, "Very few others offer so many forms of entertainment under one roof."
Entertainment options at their 50,000- to 55,000-square-foot facilities include bowling, arcade and prizing games, laser tag, bumper cars and the newest attraction, Escapology escape rooms. For the uninitiated, Escapology consists of three themed rooms where up to six players work together to find clues, solve puzzles and pick locks that will free them from the game room.
The company also offers a chef-crafted menu for guests that include appetizers, burgers, wings, salads, artisan sandwiches, pastas and pizzas. The hub of most locations is the Blue Bar, a full-service bar flanked by enough TVs for any serious sports fan.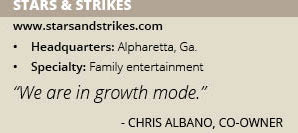 Albano describes the company as a true family entertainment center. "We are focused on children and families," Albano says. "I don't think we deviate a whole lot from that. Even though we have other things that appeal exclusively to adults such as our bars, corporate events and Escapology – our focus is and always will be the family."
Chris Albano and his neighbor Jack Canouse came up with the idea for Stars and Strikes in 2003, over Thanksgiving weekend at Canouse's cabin in North Carolina. "We both had three young children at the time and felt there weren't enough entertainment options that everyone in the family would genuinely enjoy," Albano says.
The pair opened their first location in 2005 in Cumming, Ga. Their success has led to the addition of 12 locations in Georgia, Alabama, Tennessee and South Carolina. The company is developing another four locations, with the next scheduled to open in December in Raleigh, N.C.
While there is competition, Albano says it tends to be indirect such as trampoline parks, sports teams, theaters, restaurants and "anything that competes for the family entertainment dollar."
To attract the family customer, the company has taken advantage of improvements in technology. "Being an early-adopter of emerging technology allows us to provide new and unexpected entertainment and service options to our guests," Albano says. "We have integrated everything from the latest virtual reality games to giant projection screens to hand-held tablets that help us service our lanes faster."
Stars and Strikes takes a multi-channel approach to promoting itself. That includes traditional advertising on television, radio, billboards, sponsoring the Atlanta Braves at SunTrust Park and digital outreach. Social media includes a growing presence on Facebook, Twitter and Instagram. "You are not going to reach the younger generation on TV," Albano says. "They have dropped radio. They have their own play lists on Spotify or Pandora. You have to reach the generation in there 20s or 30s in a different way."
Smiling People
Stars and Strikes spends a lot of time and resources to find and retain team members. A corporate recruiting manager uses an online portal, LinkedIn, social media, job fairs and recruiting events on college campuses to find just the right people.
Once found, the company makes it a priority to retain employees. "We currently employ 1,500 team members" Albano says, "and we reward and recognize them on a regular basis." This includes regular cash and gift card prizes, contests, holiday parties, team-building outings and a yearly leadership conference. "We want to be a place where our team is proud to work," Albano says. "We care about our team's quality of life. We care about our communities."
A big part of the company's community outreach is their "Giving Back" program. "Each Stars and Strikes location has a local charitable cause that our team members support with their time, money and dedication," Albano says. "On the corporate level, we support foster families by hosting a Christmas party for foster kids and their foster parents at each of our 13 locations. Our team members donate their time, helping to spread Christmas cheer to these wonderful kids and the adults who sacrifice to provide them with a home."
Albano's co-founder, Jack Canouse, and his wife, Carolyn, are co-founders of Make a Miracle. Their team and mentors empower and encourage individuals in the community of San Juan de Lurigancho, Peru, to transform their lives and community through college scholarships, housing and other means.
Growth Mode
Stars and Strikes continues to build out its infrastructure. The corporate team recently expanded to include a CFO and five regional general managers. "Our recruiting and training team continues to grow," Albano says. "Our infrastructure will continue to grow as we do. Jack and I are constantly evaluating our company structure with an eye towards the future. This includes renovating some of our original locations to exceed our guests' expectations."
The partners plan to add two locations per year. "We are in growth mode," Albano says. "We continue to look for communities that will embrace our brand of family entertainment."