Sustainability is a hot topic. From economic outcomes to political motivations, the issue has moved from a social conversation and a moral consideration to a business and brand requirement, and it is consumers driving the agenda. As businesses worldwide are moving to more efficient operations to meet the fast-approaching goal of Net Zero by 2050, food & beverage manufacturers must take responsibility for their role in reaching this target. Not only is this the responsible course of action, changing consumer behaviour means that people are taking more responsibility for the impact of their own consumption on the environment. While traditionally price has been the main consideration for buyers when choosing a product, increasingly, a brand's environmental impact is taken into consideration by a market that is more discerning than ever before. A recent study by Deloitte highlighted that nearly one in three consumers have stopped purchasing certain brands or products because of ethical and sustainability concerns.
This comes at a time where the related issue of food waste is also an important topic for manufacturers. There can be multiple causes of food waste, including human error, lack of training, outdated reporting methods, siloed working, poor inventory control, or poor recipe management, to name a few. Left unchecked, these causes can lead to a costly issue for manufacturers during the production phase of the product lifecycle. It bears mention that food waste is prevalent across the supply chain with further issues happening in transport, storage, and of course with the consumer, too.
So, with consumers changing their habits and ready to pay a little more for products that minimise their environmental impact, how can manufacturers make meaningful sustainability improvements that don't cost the earth?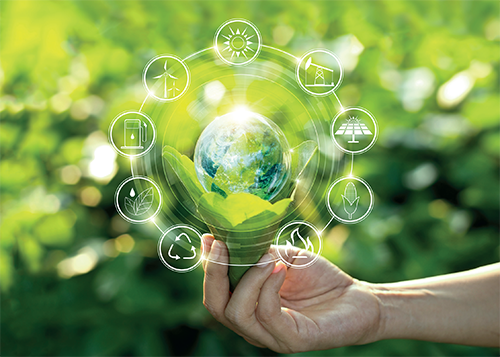 Starting small with sustainability
Most manufacturers are fully cognisant of the fact that modern technologies can offer huge sustainability improvements and advantages going forwards. However, ripping out and replacing existing hardware and investing in the IT to support new software at scale is simply not an option for the large majority of the industry. So what are the options for those who want the benefits, but must start small.
Whatever the size of company, whether it produces a single product or is a global enterprise that covers a multitude of brands, the starting point should be the use of operational software. The simplest way to remove many of the manual-processes that lead to food waste is to use such software to create a single digital thread that will run throughout an enterprise, allowing for a much deeper understanding of equipment, raw ingredients and produce on the plant floor.
Achieving a single digital thread will benefit an enterprise in a multitude of ways. Firstly, there is asset performance. With every member of staff now singing from the same hymn sheet, operators and managers can work from collective best practices that adjust for the minute differences in environment or operational conditions. For example, if one asset shows a better throughput rate than others, then, rather than pouring over written notes to find out why, there is a steady stream of historical and real-time data to show exactly the cause of the improvement and how to replicate it across other assets. This benefit can then be replicated in different locations by seeking to emulate variables in working conditions such as temperature, throughput, or any of the multitude of other factors that can affect an asset's performance. The combined power of data, both historical and in real-time, also enables better decision making when it comes to maintenance by providing the tools and insight for operators to select optimal times to intervene when – and often before – upkeep is required and maximise operational uptime.
With digitally improved sustainability, those issues unique to food production that lead to waste and poor efficiency can also be minimized. Improved quality control policies mean businesses avoid the dreaded product recall which can permanently damage reputation. Inventory tracking that runs through the whole business (rather than a single facility of production run) not only highlights any issues but helps operators to control inventory close to the required level, further reducing waste of ingredients with a short shelf. Any issues related to manual reporting or recipe management can also be removed with modern software and the all-important human operator now has more time to focus on value-adding work rather than mundane admin.
Perhaps the most important benefit a single digital thread brings is the ability for enterprise-wide improvements and continuous improvement. All these small incremental improvements add up to big strides in operational efficiency, and this can be applied to a small manufacturer looking to add another production line, or a global company that has facilities located around the world. With deeper contextual understanding of enterprise-wide operations, businesses have everything they need to start small and achieve big improvements.
Reaching the Princes standard
Smaller companies may sometimes look to large producers like Princes Group, a global enterprise responsible for multiple house-hold brands, see their drive to sustainability and think they can't replicate it. Without millions of customers and a huge network, how can SMEs reach the levels of sustainability success seen by Princes? Again, software holds the answers.
Highlighted in a recent case study, a Princes Group facility undertook true digital transformation by implementing a single digital thread that not only runs through the entire facility but shows context in relation to the whole enterprise. Overhauling a previously manual process into a digital environment has offered fast short-term efficiency gains with a quick return on investment. It has also laid the foundation for continuous improvement across the enterprise.
Julian Bolton, IT Director, Princes Group, said: "Everything we do has a sustainability focus, from removing plastic from multi-packs and cartons to wide-reaching initiatives, like working closely with authorities for the sustainable fishing of tuna in the Indian ocean. Working with SolutionsPT and advancing our digital transformation journey through AVEVA Manufacturing Execution System is no different, integrating all of our machines and recipes into a single system almost entirely removes the issue of food waste when it comes to raw materials and helps ensure all production facilities are running as efficiently as possible."
This sort of sustainability overhaul that builds trust and support from customers is no longer the preserve of big companies with big budgets, or new companies building greenfield facilities. Food manufacturers of any size can start small, without disruption to services, and see immediate sustainability improvements. A single digital thread is the key to unlocking more meaningful sustainability improvements than many manufacturers realise. For Princes, sustainability is now a part of their company DNA; a fundament of their ethos, so the decision to invest was easy. For smaller companies with tighter budgets it can be difficult to improve sustainability without affecting the bottom-line, yet with the right software and guidance from a digital transformation partner, companies of any size can improve their sustainability while simultaneously improving efficiency, leading to a quicker return on investment, no matter how big or small their operation.
SolutionsPT
Owen McLoughlin is Key Account Manager at SolutionsPT. Founded in 1985, SolutionsPT is the leading industrial IT solutions partner with more than 30 years' experience helping enterprises to successfully harness digital technology to maximise their human potential and achieve excellence in engineering, operations and asset management.
SolutionsPT helps drive continuous improvement and whole life-cycle success through the identification and deployment of a world-class hardware, software and managed services portfolio, including exclusive UK & Ireland distribution of AVEVA products. Combined with its bespoke consultations, technical support and training, SolutionsPT helps its customers turn what is possible into reality.
For further information, please visit: www.solutionspt.com