Steven Roberts Original Desserts
A satisfying meal at a national restaurant chain might press some patrons to bypass the dessert menu. For those who cannot resist a slice of mouth-watering mocha chocolate cheesecake or a moist piece of impeccably made raspberry red velvet cake, they are likely familiar with the culinary expertise of Steven Roberts Original Desserts. The Denver bakery has been creating high-quality desserts and supplying them to restaurants, retail grocery chains, hotels and theaters since its inception in 1995.
"We ship to a large amount of national chains – about 20,000 restaurants and 10,000 stores, either grocery, club or mass merchandising; in-store bakeries; caterers; casual eateries; and most recently, convenience stores," President Brian McGuire says. "Our success was built on how well we understand our customers and their challenges, and how we deliver a product that goes above and beyond what they were originally looking for."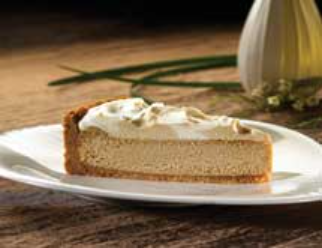 Steven Roberts Original Desserts specializes in the development, manufacturing and distribution of proprietary bakery products, which include cheesecakes, layer cakes, tarts, cookies, bars, brownies, tiramisu, mousses and other specialty items. "A lot of the items are made exclusively for our customers, so we consider ourselves a custom house for casual dining restaurants," he says. "We have five R&D chefs and a sales force that really partner with the restaurants to develop quality menu items on an ongoing basis."
Customer Centric
According to McGuire, a certain national chain could have up to 10 ideations of what types of desserts it would like to see on its menu. Working together as a collaborative team, Steven Roberts Original Desserts and the restaurant will determine the appropriate flavors, shapes, colors and portion sizes based on current market trends, at the price points the client is seeking. Once a product is developed, it is introduced to the market "to test and confirm how well it's doing," McGuire says.
If the product is successful in the marketplace, the restaurant will move forward with offering the item on its menu, either as a limited, one-time promotion or as a permanent fixture. From there, Steven Roberts Original Desserts will ship hundreds – sometimes thousands – of cases to various restaurant locations on a weekly basis to replenish their stock. The products are distributed to restaurants frozen and individually portioned for convenience.
Steven Roberts Original Desserts never puts parameters on customer requests, McGuire adds. "We are willing to customize the product to their specific needs," he says.
Consistent Quality
Given the complexities of its business model, Steven Roberts Original Desserts' ability to present items to the market quickly is a key competitive advantage, especially when the economy took a turn for the worse. "The economy didn't really change the company, but it got us to embrace our strengths," McGuire says. "A lot of our partners are looking for new, innovative products and want us to get them out to the market quickly. Our quality and speed to market are remarkable for a place that does custom products.
"We've had consistent growth the last few years by being able to deliver products to our customers that keep up with the trends and have speed to market," he continues. "We are always pushing on how we can get the products to the market even faster to keep our customers ahead of the trends and ahead of their competitors. Our ability to mass produce keeps our items at a reasonable price, so retailers have the chance to persuade their consumers to trade up to a higher-end dessert."
Steven Roberts Original Desserts is renowned for its creativity and often showcases its products at the National Restaurant Association show by private party, as well as the International Dairy, Deli, Bake Association show. The company travels to other elite shows and expositions throughout the year to research new trends and ideas for their customers, such as the Fancy Food Show in San Francisco and the European Chocolate Fair in Paris.
Members of the company's culinary team often travel abroad seeking inspiration for its desserts from the world's best restaurants. In addition, "We're lucky because we get feedback from hundreds of chefs throughout the nation about what they're looking for, and these are discussions we have on an ongoing basis," McGuire says.
Trendy Desserts
Right now, the hot items are the smaller or individually portioned desserts that customers can sample like tapas. "Mini-desserts are really customized portions of desserts that allow restaurants to offer multiple flavors at the same price point rather than a giant slice of cake that the whole table would have to share," McGuire says. "We consider ourselves one of the pioneers in mini-desserts; we've been working on them for well over six years."
An increasing demand for all-natural products have prompted some businesses to change their business model, but Steven Roberts Original Desserts has been producing these items for years. The company offers a line of healthy living, dietary and sugar-free desserts though its sister division, Fabe's All Natural Bakery, which offers private-label services in addition to its own collection.
"Our philosophy has always been to use the best ingredients we can and try to stay away from additives or preservatives," McGuire maintains. "We're looking at how we can get rid of additives, preservatives and high-fructose corn syrups entirely. That has been the root of our company – to stay simple by using natural products – and that's our pledge going forward."
Long-Term Success
Steven Roberts Original Desserts is owned by partners Charles Kosmont and Steven Fabos. Kosmont – an industry veteran who has managed a variety of food, agribusiness and nutrition companies – is chairman of Steven Roberts Original Desserts and Fabe's All Natural Bakery.
Fabos, a career-long entrepreneur, purchased Heidi's Retail Bakery in Glendale, Calif., and grew the business into a multi-unit bakery chain that pioneered the concept of offering sliced cakes and cheesecakes in broad-line distribution for restaurants.
McGuire, whose background includes executive positions with Kraft, Nestle and VICORP, joined the company as vice president of sales and marketing three years ago, and was appointed president in 2008.
In June, Steven Roberts Original Desserts opened a new manufacturing facility in Longmont, Colo., that allowed it to more than double its manufacturing capacity, while still producing out of its Denver facility. McGuire says the company is looking into opening a third facility.
Going forward, Steven Roberts Original Desserts intends to grow its Ticklebelly brand, whose convenient, individually sliced products are currently found in grocery and convenience stores. "I see us as the premium dessert supplier throughout the whole nation, across multiple industries, known for our creativity, innovation and speed to market," McGuire says.