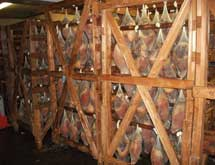 North Carolina's Johnston County would be hard-pressed to imagine what it would be like without the Stevens family, which has lived in the region for more than 250 years. And for the past 60 years, it would be even harder to imagine life without the family's hams and sausages.
A manufacturer of pork products, Stevens Sausage Co. is now in its third generation of family leadership. After being founded by Needham S. Stevens Sr. – the family's original sausage maker – the company grew under his son, Needham S. Stevens Jr., and is now run by grandsons President Tim Stevens and vice presidents Mike Stevens and David Stevens.
"We're very lucky, and obviously not many companies last this long," David Stevens says.
Stevens notes that the company has three capable leaders at the top of the company, and together, they make sure all duties are tackled. "All three of us are, in a sense, interchangeable," he says. "We know all our customers well, which gives us a leg up. If [customers] need to talk to somebody, they know who to call."
That one-on-one ability to deal with customers is a strength that stems from being family owned. "We can talk to customers on a first-name basis," Stevens continues. "At most bigger corporations, customers keep calling and need to climb the ladder to deliver requests and whatnot. We can make quick adjustments as far as their needs go. If they need something delivered, or some different product, we can handle that expediently."
Although it is the quality of product that gains customers, Stevens says it is customer service that keeps them coming back.
Pounds of Production
From its plant in Smithfield, N.C., Stevens Sausage services restaurants, as well as large chain and independent grocers, with customers including Piggly Wiggly, Wal-Mart, Merchants Distributors Inc. and Food Lion. It has six trucks for direct delivery to local clients.
The company also ships product outside of North Carolina, which Stevens says accounts for 20 percent of the company's business. The majority of buyers are located in Virginia, South Carolina, Georgia and Tennessee, Stevens says, but he points out that the company ships to a client in New York City once a month.
Stevens Sausage offers several products, such as pork sausage, souse, chitterlings, smoked sausage, hot dogs, hot dog chili, breakfast sausage and country hams. Stevens estimates that the company makes 25 different products, but with hundreds of ways to merchandize them, such as two-pound, three-pound or bulk sizes. The company manufactures 40,000 to 50,00 pounds per day of smoked and cooked pork products.
A company can't stand still in the food business, and Stevens Sausage is working to adapt to its evolving customer base by developing new products. For northern transplants to North Carolina, it is creating a bratwurst, and for those from the South, a chorizo is in the works. "When we go [into the stores], we look at the niche foods being sold," Stevens explains. "We'll talk with salespeople and pay attention to what's going on in the area so we can update what we do."
Stevens says the company tries to be proactive instead of reactive when it comes to product development. "If customers say, 'Hey, can you do this for us?,' we'll get the right seasonings and make it for them," he says.
Marrying Old and New
When the Stevens family began making sausage, it was done in a single room. "We started out as a small business and had a room, and as we grew, built on another room and another room," Stevens says. "We have doubled, if not tripled in size, since 1995. Half of our facilities have been built relatively new, and the other half was built in the first 40 years. We just put on a 6,000-square-foot warehouse for storage."
Stevens says the company wants to combine the newest food manufacturing technology while maintaining the original Stevens Sausage look. "We try to keep an old-fashioned appeal in look and taste about ourselves, but [manufacture] in a more efficient manner with high-tech equipment," he states. He notes that while it used to take 15 to 20 minutes to produce 150 pounds of sausage, it now takes the company five minutes, and the sausages have kept the original flavor.
The recipe created by Needham Stevens to make his first sausages is still used by Stevens Sausage today.