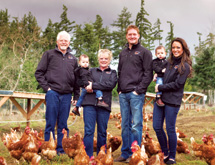 When Jan and Zelma Stiebrs came to the United States from Latvia in 1949, they had almost nothing. Within a few years, they had purchased 100 hens and started selling farm-fresh eggs door to door. Today, Stiebrs Farms is a third-generation family farm and has approximately 500,000 laying hens. Even though the trends in food production have moved toward automation and other high-tech tools, the company has found success with the methods its founders used at the beginning.
Jan and Zelma Stiebrs' grandson, co-owner and partner Yany Stiebrs says the company has built a strong position for itself in the Northwest by working toward old-school cage-free methods. Although the process involves more work and greater commitment, Yany, along with his parents, Jon and Dianna Stiebrs, and Yany's wife, Sara, believe that going the extra mile has been worth it for Stiebrs Farms, and will be the foundation for the company's success for the long term as it marks its 60th anniversary in 2013.
"One of the things we've done is we have found our own little niche in the specialty egg market," Stiebrs says.
Stiebrs Farms produces organic eggs, organic beef and organic feed, as well as liquid egg products. Its products and operations have all been certified 100 percent organic by the Washington State Department of Agriculture.
Farming With Care
Stiebrs says the company started to make the move back to cage-free eggs in the mid-1990s, at his father's suggestion. Stiebrs Farms became one of the first farms in the country to offer cage-free eggs, and today the company continues to retrofit its old barns to accommodate more cage-free hens. Eventually, the company plans to be 100 percent cage-free.
Stiebrs first questioned his father's decision, partly because of how much additional work farming cage-free eggs creates. There are training procedures to get the birds to lay the majority of the eggs in nests. This means eggs have to be hand-picked every day so they can remain fresh and clean.
However, Stiebrs says the cage-free environment is worth the extra effort. "What I see is that when they're cage-free, you see the birds really behaving a lot more naturally," he says. "When birds are comfortable, I think it really does produce a better egg."
It seems that customers agree with this assessment, too. Stiebrs Farm's products are stamped with a seal of approval from Humane Farm Animal Care. Stiebrs says this certification provides customers with peace of mind about their eggs' overall quality.
"When people see that logo, they like to buy the product because of that," he says. "A lot of people like our company because we care about the animals."
Stiebrs says it is fortunate to have a workforce made up of people who are devoted to the company's procedures and take ownership of what they do. "We really dedicate ourselves to what we're producing," he says.
Stiebrs Farms also is committed to producing organic eggs, which requires sourcing all organic feed. Even though organic feed usually is twice as expensive and harder to find than regular feed, Stiebrs says the company believes in it because of the benefits organic production has for consumers as well as the hens.
Making Improvements
Stiebrs says consumers are looking for healthier and ethical alternatives to the more industrial forms of farming. Part of that means living up to consumers' expectations for food safety, and the company is in the process of receiving one of the highest levels of certification for safety in the industry. Stiebrs says the company is working towards certification from the Safe Quality Food Institute, providing consumers with another level of assurance.
In the future, Stiebrs sees the company staying on its current course and further cementing its place as one of the Northwest's most conscientious farms.
"I see us growing on the cage-free side and producing more of the more-humane style of eggs," he says. "We plan to keep the business growing for our children, Hayen and Cohen – the fourth generation of Stiebrs Farms."