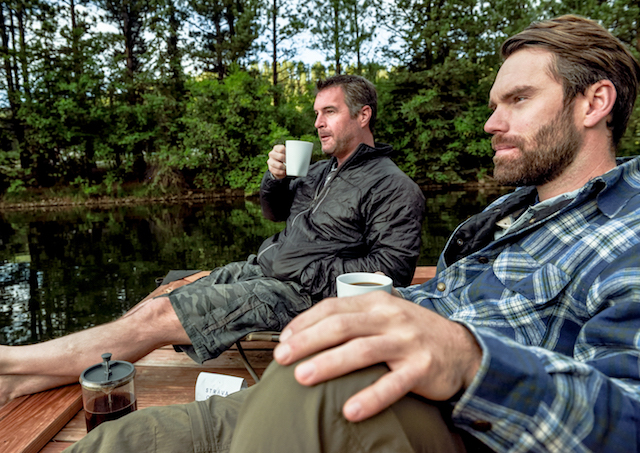 Innovating products have placed Denver-based Sträva Craft Coffee on the road to success.
An upstart specialty coffee roaster out of Denver, Sträva Craft Coffee prides itself on combining its innovative product vision with customer-centric service, responsible sourcing practices and artisan small-batch roasting.
Last year, the company experienced a sales growth of nearly one thousand percent compared to 2016 and it attributes much of the increase to its secret ingredient: cannabidiol (CBD), a naturally occurring phytocannabinoid extracted from industrial hemp.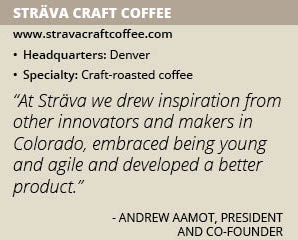 "Differentiating in a well-established commodity market is challenging," President Andrew Aamot says. "For us, it wasn't enough to simply compete. We wanted to disrupt. At Sträva we drew inspiration from other innovators and makers in Colorado, embraced being young and agile and developed a better product – a more meaningful product – a great cup of coffee which offered more value to customers."
Innovation is Key
The company's motto is "Roast. Innovate. Delight." Its strategy to differentiate itself has paid off for the 2- year-old business. Its coffees (both traditional and CBD- infused) have been welcomed by independent coffee shops and forward-thinking specialty stores across Colorado and beyond.
"What excites our wholesale partners the most is the quality of our coffee and the uniqueness of our products" Aamot says. "And the benefits customers find in our coffee keeps them coming back for more."
Following last year's success in revenue growth, Sträva seeks to build on its momentum this year. "We're making strategic investments to grow our leadership team, emphasizing new product development, quality assurance, production expansion, distribution growth and as always, providing world-class customer service."
The company recently secured a new office and production facility and plans to expand and streamline operations by reuniting key business functions under one roof.
Renewed Interest
After decades of suppression in the United States following World War II, interest in industrial hemp agriculture was renewed in 2014 when former president Barack Obama signed the Agricultural Act of 2014, known as the 2014 Farm Bill, which included Section 7606 allowing for universities and state departments of agriculture to begin cultivating industrial hemp for limited purposes.
"Overseen by the State Departments of Agriculture, the Farm Bill authorized hemp cultivation, research and commerce, and has led to the resurgence of a thriving, multi-billion dollar industry for hemp fiber, seeds and oil," Aamot says.
Of particular interest to Sträva is the CBD molecule found in the oil extracted from industrial hemp. A principal phytocannabinoid, the naturally occurring CBD molecule is rapidly gaining worldwide attention for offering physiological benefits, with consumers often reporting relief from inflammation, neuropathic pain, anxiety and other stresses.
Unlike marijuana strains of cannabis, hemp lacks the controversial tetrahydrocannabidiol (THC) molecule. The absence of THC completely negates recreational use by eliminating all psychoactive affects of "a high" and has led to widespread interest and acceptance of hemp as a versatile and sustainable crop.
Hot Stuff
Peace & Wellness, Sträva's family of CBD-infused coffees, is the company's fastest-growing product line. It is the driving factor behind more than 60 percent of the company's business.
"Our customers tell us about profound benefit to their quality of life," he says. "Some people say that it helps them feel alert, calm and focused. It is believed by many to have neuroprotective properties and anti-inflammatory properties as well."
Sträva is primarily an e-commerce business with a focus on wholesale distribution. Although it will sell directly to consumers through its website, its main objective is to support independent cafes and forward-thinking retail businesses by providing unique, high-quality, truly meaningful products.
"Instead of stealing business and competing with our local coffee shops, we wanted to give them a one-of-a-kind product to delight their customers," Aamot says.
The company believes in building relationships with coffee farmers and their communities and strives to source the highest quality beans in a responsible, sustainable manner.
Aside from Peace & Wellness, Sträva's portfolio includes three signature coffees: Strength, Courage and Comfort. "Strength is our every-day coffee and presents a specialty grade bean that jumps out with vibrant flavor and complex characteristic," Co-Founder Kevin Crowley says.
Courage is the company's hand-crafted espresso and Comfort is the decaffeinated roast. "We all need to start the day with a little courage," Crowley adds.
People often ask Aamot where great coffee comes from. Sträva sources its beans from a variety of origins all over the world, one of its favorites being Rwanda. But where the beans are sourced is only a small part of what makes a quality roast. "Great coffee beans grow all over the world," he says. "But how is it harvested? How is it sorted? How is it roasted? What makes coffee great are the passionate people involved in growing, processing, roasting and serving. They are the ones who make a good coffee great."
Aamot owns the company with his partner Kevin Crowley. The two men share a passion for great-tasting coffee, travel and adventure.