A seat at the table
Family-owned and family-operated for over 45 years, restaurant chain Streets of New York, sees enduring success as it brings classic, great-tasting Italian dishes to families
As a local, family-owned and oriented Italian restaurant, Streets of New York (Streets) provides a casual Italian dining experience and delivers East Coast taste to customers in the Southwest. With the first location opening in 1976, on Cactus Road and 32nd Street in Phoenix, AZ the company has since grown into a network of 21 locations, known for their classic taste and laid-back atmosphere. Today, Streets of New York embodies its founding mission, as a local spot to gather with friends and families, to enjoy great-tasting, authentic dishes.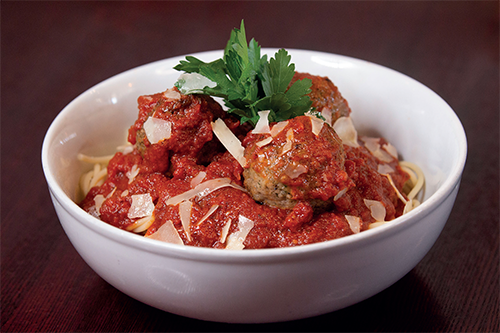 First and foremost, Streets of New York is a family business founded over 45 years ago. The company is now run by three generations of Glaesers, as the company's current Chief Executive Officer and President, Lorrie Glaeser, details: "My husband and I operated two bakeries in New Jersey before we moved to Arizona in the 1970s. My husband Bernd was born in Dresden, Germany, he was highly skilled with all-around baking knowledge.
"When we arrived in Arizona, we were desiring to open a different business with still being in hospitality, we came across a little pizza restaurant that had been opened six months, we purchased the restaurant and now the rest is history.
"We have three children that grew up in the business, to this day the family continues working our path along with their spouses, and grandchildren. We are very proud to have created this family legacy for all."
Streets of New York's menu can be found at: wwwstreetsofnewtork. com. "We specialize in pizza, pasta, wings, sandwiches and salads," Lorrie continues. "We developed all of the recipes ourselves and tested them on friends before introducing them to our menu. Over the years Streets has developed relationships using trusted commissaries making some of our products for consistency and quality of our recipes. We are a dine-in, carry out and delivery restaurant company. My focus of attention is on the small detail of food, taste and quality of ingredients. I enjoy creating recipes maintaining the integrity, that's how you grow your business, and I cannot and will not sacrifice quality for the dollar."
Partnership approach
The company has since grown since from its original location and spread its wings across Arizona and into Las Vegas, as Lorrie explains: "Today we have 21 locations in operation, with three more in development. Streets of New York has developed a great working relationship with all the major Arizona sports teams selling Pizza, Chicken Wings, and Salads in all four major AZ sports venues, we are the official Pizza and marketing partner of the Arizona Diamondbacks, Phoenix Suns, Coyotes, Arizona Cardinals, Mercury Basketball, and AZ Rattlers. When the Arizona Diamondbacks invited Streets to partner with them, we were very excited for the opportunity to market our food within their stadium and introduce ourselves in a larger scale to our hometown Streets of New York fans."
Working with major sports organizations has established Streets of New York as a community-centered brand. "We have always been a family-friendly, neighborhood style restaurant. We pick our demographics based on the lunch clientele; at the end of the day our restaurants are popular with families in their local neighborhoods. Streets caters for events and serves kids for lunch programs.
"What makes us unique is knowing we have a lot of great people behind us, supporting everything we do. We employ 370 'Streets Family' members, as we call our loyal employees, that have given us many years of hard work, caring and dedication to our brand for growth. Our focus to the future will continue with developing our footprint with company restaurants and reintroducing our Streets of New York franchise model," states Lorrie.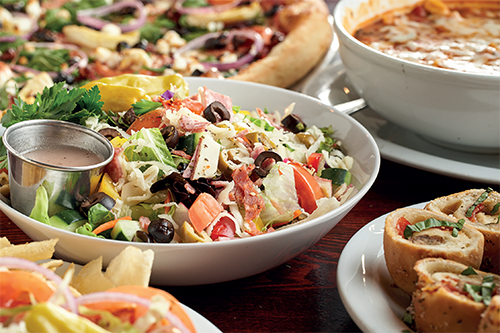 Brand development
Using authentically grown Italian ingredients is the way Streets of New York ensures its dishes are packed full of flavor. As Lorrie reveals: "We partnered with a Italian distribution company, Greco and Sons. They came to us about 12 years ago and offered the added value of their products and knowledge of Italian cuisine. We are fortunate to have a large range of dependable resources for the best ingredients, as our tomatoes that are sourced from volcanic soil from Naples, they are intensely flavourful for making delicious Marinara sauce.
"Our regular loyal customers have memorized our menu, knowing exactly what they want when they enter our doors. We like to add new menu items to keep things fresh and interesting, although our pepperoni pizza will always be our number one most sought-after pizza, along with Streets #7 sandwich, guests are loyal to their favorite menu delight."
Since 2005, Streets of New York has been a female-owned operation. Lorrie is creating a space for female leaders and entrepreneurs in the restaurant world. "I just came from the Pizza Expo in Las Vegas, and it is rare for a woman to own her own pizza restaurant business. I believe it's important for women to grow and succeed in all business; we can offer a new way of thinking, developing our brand and communicating. Managing my business, I've had much fun developing relationships with establishing mutual respect between myself our suppliers and employees.
"I also believe it's important to listen to ideas and learn from the younger generation, as I have with my kids. Moving forward with Streets of New York, we will likely have smaller dining rooms, consider a social bar for people to gather to enjoy the informality of not sitting in a dining room to order food, a new shift we will be responding to."
The Streets of New York story is far from over, as Lorrie and her family continue to develop and expand their brand in all directions. "I will channel my efforts for growth into new emerging area. I would like to see the Streets brand grow beyond Arizona over the next years, we are a fully developed franchise company. All products are available thru our main distributor Greco that serves us and many throughout the mid and west coast states."