Sub Zero Ice Cream's unique concept results in continued growth as the company plans to open 200 franchise locations over the next five years.
Sub Zero Ice Cream has one of the most unique approaches to selling ice cream in the country. Customers can customize their ice cream from the ground up – using as many flavors and toppings as they want – because it is not even frozen until the customer completes their order. Thanks to liquid nitrogen, which instantly freezes a substance, founder Jerry Hancock can offer a one-of-a-kind ice cream experience.
"We are the original company in this space and have a lot of experience," Hancock says. "We have created a concept that almost reinvents ice cream and the experience."
Hancock and his wife, Naomi, founded the Provo, Utah-based company in 2004 after he put his degree in chemistry to work by realizing liquid nitrogen would allow for endless ice cream and yogurt combinations. "I didn't know if it was going to work, but I said, 'Let's give it a shot,'" he remembers.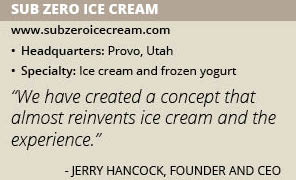 Today, Sub Zero Ice Cream has 61 locations throughout the United States and internationally. In 2008, the company opened its first franchise location and grew from there. "We grew to about 16 stores in 2012 and then we started growing faster after that," Hancock remembers. Sub Zero Ice Cream was named one of the 10 best franchises to buy from ABC's Shark Tank after it appeared on the show in 2013. In addition to that national exposure, Hancock says it's the concept that he attributes to the company's growth. "Everyone is looking for an experience today and we focused our colors, the lighting and even making the ice cream around the experience. Everything we do is facing the customer and interacting."
Here's the Scoop
Sub Zero Ice Cream's concept is all about the customer experience, so potential franchisees must understand that customer service is key. The company also looks for those who want to see the bigger picture and determine their destiny.
"What I mean by that is understanding the mobile aspects of the business," Hancock explains. "For example, going out and doing catering events and school presentations or a variety of things that interact with the community. They have to have that drive to become part of the community. There's so much you can do with the business that's beyond the store. The store is where it starts."
Once a franchisee comes aboard, Sub Zero Ice Cream assists them in finding the best location and lease negotiations. The company also provides its architect to develop the initial layout, oversees the construction process and build-out of the project. Sub Zero Ice Cream franchisees then travel to Provo where they will receive training and set up their social media accounts.
After training, Sub Zero Ice Cream franchisees then return to their market to begin marketing the store before it is completed. The company's area developers return before the grand opening to ensure the franchisees' employees are trained and everything is running correctly for opening.
A Larger Share
Sub Zero Ice Cream is seeing its greatest expansion in the Southeast with multiple stores opening in Florida, Atlanta and Texas. "Our No. 1 market in terms of density and sales volume in Houston while our No. 1 store is in Indianapolis," Hancock says. "We will focus as much or more on the Southeast and the East Coast than anywhere else."
About 15 stores per year is the average number the company feels comfortable opening to ensure it can provided the support its franchisees need. However, Hancock says the company wants to ramp that up a bit as it begins to see more multi-unit franchisees.
Over the next five years, Sub Zero Ice Cream plans to have 200 locations open primarily in the United States. "As we have grown, we have brought on specialists and are working to have the people with experience in the frozen dessert franchise business help us grown," Hancock says. "We are using Franchise Foundry, which is a very experienced full-service franchise development group, for advice and help in hiring district consultants. We will see some organizational improvement."
In addition to its organizational changes, Sub Zero Ice Cream has redeveloped its graphics and changed its colors slightly so its logo is more vibrant. The company has also developed chemical bond graphics for the walls that are "clean, crisp and give the stores a nice look," Hancock says. To emphasize its link to the community, Sub Zero Ice Cream stores have also dedicated a panel of the store walls to bring in local flair.
Sub Zero Ice Cream will also be revamping its school presentations as it strives to become an educational company that sells ice cream. "We want to grow excitement and encourage kids to learn while tying that in with an adult theme so everyone gets a kick out of it," Hancock adds. "We will continue to improve the brand by focusing on providing better service and creating more customer interaction."