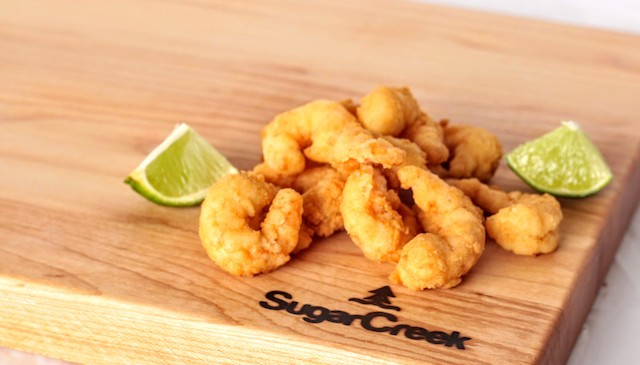 SugarCreek introduces a one-of-a-kind sous-vide product to the food industry.
A manufacturer of raw and fully cooked products, SugarCreek is offering a new and innovative product to the food industry.
The Cincinnati-based company launched its sous-vide Batter in Bag (BIB) product this year. "We believe it to be totally new in the market," says Jen Hutcheson, director of sales. "We're really excited about it."
SugarCreek's proprietary sous-vide BIB process involves seasoning a fully cooked protein, coating it with batter and then vacuum-sealing it for later cooking via sous-vide. Once the product reaches the end user, it is then removed from the cooking pouch, coated in breading or another desired final crust and flash fried.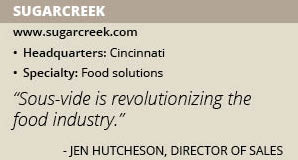 "So, you're getting a nice and crispy outside but the inside is a juicy and moist protein," Hutcheson says. "We're launching with chicken strips and chicken tenders but we have some future projects with seafood, beef, pork and other poultry."
BIB Benefits
Sous-vide is a method of cooking in which food is placed in a plastic pouch or vacuum-sealed bag and cooked in a water bath for longer than normal cooking times at a regulated temperature.
"Sous-vide is revolutionizing the food industry," Hutcheson says. "In the restaurant world, we are challenged with food safety, food cost, labor and consistency of product. Sous-vide is really helping address all these issues." Although this cooking process is not new, SugarCreek has refined it and taken it to a new level. Its sous-vide batter in bag product has many benefits. It eliminates two of the steps in a three-step breading process for fried proteins.
Kitchen staff does not have to handle raw protein nor spend time preparing the batter and managing an egg wash. Only the desired breading needs to be applied and then the protein with the otter batter and breading is flash fried.
"It also reduces fry time because the product is fully cooked," Hutcheson says. SugarCreek estimates that fryer cook time moves from 8 minutes to 90 seconds with its BIB product. In addition, BIB ensures consistency in cooking, delivering consistent and restaurant-quality results each time.
SugarCreek services QSR, fast casual and fine dining restaurants, major retailers and supermarkets. Many of its products are co-packaged under brands of Fortune 100 food companies, emphasizing the company slogan: "Brandworthy Food Solutions since 1966."
In addition to its BIB product, SugarCreek plans to launch a new fully cooked premium bacon product next year. "It's not manufactured in the traditional way," she adds. "It is made using new select pork bellies and an innovative cooking process technology."
Humble Beginnings
SugarCreek has come a long way in the past 52 years. It was founded in 1966 by John S. Richardson Sr. The Washington Court House, Ohio-based company started as a raw bacon manufacturer. John G. Richardson took over the company in 1989, expanding the product line to include fully cooked and microwavable bacon.
Today, SugarCreek operates six facilities in Ohio, Indiana and Kansas that produce raw and fully cooked protein products for the United States and international markets. The company produces fully cooked and raw pork bacon, turkey bacon, chicken meatballs, bacon bits, pizza toppings and a wide range of fully cooked proteins from seafood to beef and poultry.
SugarCreek prides itself on operational excellence in packaged foods for retail and food service channels, providing a wide-ranging, value-added assortment of raw and fully-cooked products.
It credits its success to its commitment to sustainability and employing the latest technology and culinary development resources to produce new and innovative products.