SugarCreek focuses on new cooking methods and better workforce engagement in its new Cambridge City, Ind.-based facility.
SugarCreek celebrates 50 years of success this year with two new facilities that will help it continue to lead the way as a diversified, innovative and flexible food manufacturer. "John G. Richardson, the son of the original founder, is one of the most humble and generous people I've ever met," Vice President of Business Development Lance Layman says. "He has invested $170 million into two new facilities because for him it's all about reinvesting back into the business."
John S. Richardson Sr. founded the Washington Court House, Ohio-based company in 1966 as a raw bacon manufacturer. John G. Richardson took over the company in 1989, expanding the product line to include fully cooked and microwavable bacon. "The team took SugarCreek from a $42 million raw bacon company to a $600 million dollar, innovative food solutions company," Layman notes.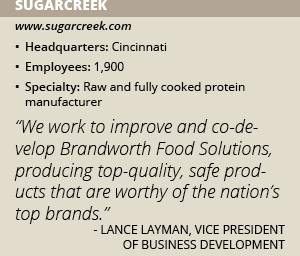 Today, SugarCreek operates six facilities in Ohio, Indiana and Kansas that produce raw and fully cooked protein products for the United States and international markets. The company produces fully cooked and raw pork bacon, turkey bacon, chicken meatballs, bacon bits, pizza toppings and a wide range of fully cooked proteins from seafood to beef and poultry. "Because we are privately owned, we can adapt to consumer trends and customer needs much faster than publicly held companies," Layman says. "Decisions here are made so quickly and we have the ability to implement change by moving equipment or refurbishing equipment so we can be at the forefront of new projects."
SugarCreek services QSR, fast casual and fine dining restaurants, major retailers and supermarkets. Many of its products are co-packaged under brands of Fortune 100 food companies, emphasizing the company slogan: "Brandworthy Food Solutions since 1966." "We have tried to separate ourselves from other 'co-packers,' which to us is a term that doesn't capture our abilities," Layman says. "A co-packer is someone you walk up to and hand product specs. We want people to think about us as a partner. We work to innovate and co-develop Brandworthy Food Solutions, producing top-quality, safe products that are worthy of the nation's top brands.
"When our customers have a problem, we can be a partner to address their pain points instead of just handing us specs," he continues. "That's what we are aspiring to educate people on."
New Capabilities
SugarCreek invested $130 million in its new 418,000-square-foot Cambridge City, Ind.-based facility located in the Indiana Gateway Industrial Park. The state-of-the-art facility includes eight acres under one roof, 85,000 square feet of mezzanine where customers can see their product being made and three cooking halls with multiple production lines. "It's a monster," Layman says. "It's beautiful."
The Cambridge City facility will be SugarCreek's largest, allowing the company to cook traditionally and sous-vide. "Sous-vide is a cooking process that has been around for centuries in Europe," Layman explains. "'Sous-vide' means cooking food in a vacuum-sealed bag for longer than the normal cooking times."
When cooking protein to 165 F, the meat loses moisture, Layman explains. "With sous-vide we are never taking it up to 165 degrees," he adds. "We are cooking at a lower temperature for longer where the kill step is achieved, cooking it in its own juices and able to deliver an incredibly tender, moist piece of protein with minimal ingredients. Everything is exaggerated in the bag when it cooks to make the best protein you can eat. Its real benefit is the consistency."
Consistency is key when it comes to foodservice execution. "If a company is running 200 or 1,000 restaurants, the food experience you get on a Tuesday night rush may not always be the same during the Saturday night rush," Layman says. "Because our products are fully cooked, the operator simply needs to reheat the product and add their signature finishing touches. It will be the same exact piece every night. Sous-vide is all about consistency and cutting labor in the back of house."
SugarCreek's second facility in Cincinnati will encompass 165,000 square feet and become the company's new headquarters. The new corporate office space is expected to be four times larger than its location today and be completed next year.
In addition to it becoming the company's new headquarters, the Cincinnati facility will produce enrobed food, such as deli spirals, empanadas and turnovers. SugarCreek will also begin producing appetizers from its headquarters and is creating a culinary innovation center. "It will be big," Layman notes. "It will bring us closer to the customer to perform co-development work around different recipes. We are very excited about it and in 2017 that will open."
Engaged Workforce
SugarCreek employs 1,900 people throughout its six locations and has begun implementing a new workforce development program. The engaged workforce system is just getting underway in Cambridge City with the facility's first 125 of 500 employees. "We started an engaged workforce system," Layman says. "That means we are managing our people in a different way, bringing careers, not jobs, to the area."
SugarCreek is focused on maintaining long-term employees through engagement. "Instead of it being a typical factory job, people are coming in at a higher hourly wage and put on a 90-day probation period to see if there's a fit," Layman explains. "After that period, they immediately get a raise and it shows we are investing in them right away."
New hires have one year to qualify as an operator, meaning they have taken a test and demonstrated their high level of skills to get to the next level. "They receive a substantial increase in pay when they qualify and another year to qualify for level two," Layman says. "At the end of two-and-a-quarter years, employees can almost double their starting wage."
The company has found an engaged workforce operates as a team, takes pride in its work and cares more about the business. SugarCreek's new plant does not have a timeclock, which is rare in manufacturing. "It's based on trust, ownership and personal accountability," Layman says. "We want to capture people's hearts, as well as their minds."
SugarCreek's engaged workforce system has only been implemented in Cambridge City as it's easier to start a new program in a new facility. "It's easier to start something new from the ground floor than to change an existing facility, but our goal is to implement this across the organization," Layman adds. "We are getting a lot of positive feedback from employees so far."
Managing Change
SugarCreek is just like any other food manufacturer when it comes to adapting to consumer trends. The company focuses on clean label products, non-GMO and organic products by working with its raw material partners and identifying its needs. Ethnic foods are also growing in popularity and SugarCreek steps in by co-developing recipes with partners to give consumers the bold flavors they are looking for.
"People love to eat and still don't like to cook," Layman says. "We are seeing companies like Plated and Blue Apron take off with raw recipes that the consumer has to cook. Still, a majority of consumers don't know what they are having for dinner tonight. We provide a fully cooked, restaurant-quality option via sous-vide, which is on trend."
SugarCreek can stay on trend because of Richardson's dedication to investing in the business. "Richardson has an incredible vision and brought sous-vide to the company simply by educating himself on the process," Layman says. "He plans to take the company to $1 billion by 2020 by staying successful, relevant and independent."