SugarCreek set itself up for success by building a state-of-the-art facility in 2016 to handle today's increased demand for breakfast proteins.
Founded in 1966 as a raw bacon manufacturer, SugarCreek today looks to become known beyond bacon to capture greater marketshare as all-day breakfast demands more and innovative protein products. "The Cambridge City, Ind., facility is a fully cooked, state-of-the-art protein plant that can handle all different types of protein," COO Michael Richardson says. "We have been bringing new business to that facility and all-day breakfast has been a big part of that."
The Cincinnati-based company operates six facilities in Ohio, Indiana and Kansas that produce raw and fully cooked protein products for the U.S. and international markets. SugarCreek produces fully cooked and raw pork bacon, turkey bacon, chicken meatballs, bacon bits, pizza toppings and a wide range of fully cooked proteins from seafood to beef and poultry.
In 2016, SugarCreek celebrated 50 years of success by adding two new facilities to help it continue to lead the way as a diversified, innovative and flexible food manufacturer. The company invested $130 million in its 418,000-square-foot Cambridge City facility. A 165,000-square-foot facility is located in Cincinnati.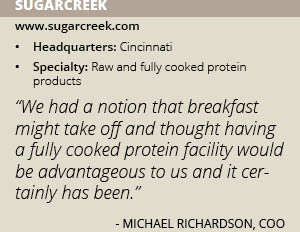 "The Cambridge City facility has multiple cooking lines that can do different types of sausage patties, links, burgers – you name it and across multiple species," Richardson says. "We are not at capacity, but all-day breakfast has certainly helped fill our existing capacity. Breakfast has always been a cornerstone meal and viewed from a health perspective as the most important meal of the day. We had a notion that breakfast might take off and thought having a fully cooked protein facility would be advantageous to us and it certainly has been."
SugarCreek services QSR, fast-casual and fine dining restaurants, major retailers and supermarkets. Many of its products are co-packaged under brands of Fortune 100 food companies, emphasizing the company slogan: "Brandworthy Food Solutions since 1966."
Meeting Demand
"QSRs want to have product offerings that can make them competitive all hours of the day," Richardson explains. "Breakfast proteins can be used or manipulated in a lot of different ways from a recipe standpoint. With bacon and sausage, people are getting creative on how that's used. All-day breakfast is here to stay and increasing competition and offerings throughout the day."
SugarCreek has positioned itself to handle increased demand from an infrastructure standpoint. "I think a lot of the hard work is done," Richardson notes. "We have multiple cooking ovens and different technology that can prepare different proteins and tailor to consumers' wants and needs. Our culinary department will continue to work with our partners' culinary teams to co-develop products."
The company prides itself on being flexible, collaborative and making products its customers want versus what it may be able to produce quickly. "We don't force product lines," Richardson says. "I think what makes us unique is that we task our sales team with telling us what they can sell and we figure out how to make it."
Creative Combos
Innovation is key when it comes to breakfast proteins and SugarCreek is not afraid to take some risks. "As a privately held company, we can take risks that some companies may not take because of the pressure they are under, their quarterly statements and a lot of people don't want to have a miss," Richardson explains. "We take a longer-term look and risks. If it hits great, but if not, we haven't lost or banked our career on one project."
Working with its seasoning and flavoring partners, SugarCreek recently introduced ethnic flavors into its breakfast meats. "We are seeing different inclusions in breakfast meats," Richardson adds. "For example, you have a chicken and apple and blueberry-maple sausage patties. There are all different types of variations people are getting into, so we set up our operation to meet those needs and do it with scale and volume that allows us to be competitive."
SugarCreek is also developing handheld, dough enrobed products relevant to the breakfast daypart. "Everyone wants to capitalize on alternative snacking options because people are snacking at a higher frequency and at different times of the day," Richardson explains. "Our facility in Cincinnati is a USDA-certified ready-to-eat plant with a bakery attached to it so we can make our own dough and combine it with different protein combinations."
Eggs are often the forgotten protein, Richardson says, but SugarCreek is developing innovative ready-to-eat options with its partners. The company is also using its sous vide technology to deliver consistent, restaurant-quality protein, such as shredded chicken that can be used to make a breakfast taco, for example.
Moving forward, SugarCreek will continue investing back into the business to be a food company that makes products consumers demand. "With the industry consolidating as much as it has, I think that the challenge is often speed-to-market and getting the right product, but you still have to take some risk to reap some rewards," Richardson notes.