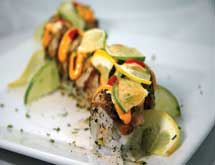 While Louisiana is known worldwide for its unique cuisine that blends a number of cultures into one rich melting pot of flavor, Dana Deutsch never intended to open another restaurant that served that fare. A New Orleans native, Deutsch studied in San Francisco and backpacked throughout Europe and Asia, and he knew he could offer a sampling of the international tastes he enjoyed throughout his travels back in his home state.
"I had worked in Austria, Aspen, Colorado and along the Gulf Coast and I was looking to take what I had learned over the years into a different restaurant concept," Deutsch says.
"At first, people were confused by it," he adds. "But after some write-ups and some attention, we quickly started to soar."
What started as a single location in a hollowed-out ice cream shop in 1996 has since blossomed into a four-restaurant chain that features regional favorites as well as a more eclectic international menu. After their first location on the Meadowcrest Hospital Campus in Gretna, La., Dana and his wife Julia opened a second location in Old Metairie, La., in 1999.
The restaurant's first New Orleans establishment opened in 2001 in Cotton Mill Apartment in the city's famed Warehouse District. This location has enough space to host banquets for parties with as many as 150 sit down guests, or 300 for cocktail receptions. This establishment holds two restaurants in one locale – Sun Ray Grill plus Aloha Sushi, which is Deutsch's first foray into the Japanese delicacy. The fourth location opened this year in Kenner, La., near the Louis Armstrong New Orleans International Airport. This location features Gulf Coat Cuisine and offers more local favorites.
Research & Dreaming
While a huge part of the development of Sun Ray Grill's localized and company-wide menus is research into local trends and international tastes, Deutsch also comes up with menu ideas that come to him in his dreams. For instance, the blackened voodoo roll at Aloha Sushi is one example. This roll features spicy crawfish and tuna inside and torch-blackened redfish outside. There's also the Ipanema salad, a romaine wedge served with a skewer of grilled shrimp, sliced avocado and a caper dressing. Grilled soft shell crab tacos with ancho chili mojo are another popular item.
"Sometimes while laying in bed, I'll be half in the dream world and half in the alive world and ideas are flowing," Deutsch says.
"It can make quite an impact on a menu to create things that are unique and different," he continues.
Of course, there also are the no-doubt favorites Sun Ray Grill's patrons want to see on every menu, no matter the location. When the Sun Ray staff determines these top sellers during a bi-annual menu revision, they make sure the entire chain offers them.
"Certainly, we have tried to find some common ground or trends – the things that have to be on menus to keep butts in the seats," Deutsch says. "At the same time, I find things that are unique to our restaurant that they can't find anywhere else."
Pretty soon, Deutsch will find out if this approach will work in a new market outside the state of Louisiana. Deutsch still has contacts in the San Francisco Bay Area from his college days, and has been scouting real estate for the first Sun Ray Grill in that region.
Growing Partners
The Deutsches are grateful for the individuals that have stood by them since the founding of Sun Ray Grill. To retain these key employees, three of the four locations are run by managing partners who have worked their way up.
"In 2001, we had a waiter that worked for us in the second restaurant put up a small amount of money to become a 25-percent partner," Deutsch says. "By 2005, we did a deal with a guy who started out as a cook and worked his way to [general manager], and he would become a 25-percent partner.
"We have promoted key people who have demonstrated a high a level of commitment and vested interest from the beginning," he adds.