Sunny Crunch lives up to its innovative reputation with a new cereal cup that promises to bring millennials back to breakfast.
Cereal has long ruled the breakfast table, but every reign languishes over time. With total U.S. sales down 9 percent since 2012, according to a 2017 report by Mintel, cereal is due for a revival, and Sunny Crunch Foods wants to lead the way.
There are a number of theories as to why cereal sales are down. Some fault the high sugar content of traditional cereals in a market that has become more health conscious, while other blame millennials for being too lazy to get a bowl out of the cupboard and milk from the fridge. The younger working generation prefers picking up a quick breakfast at their local coffee shop to sitting down and eating a meal and then having to clean up afterward.
That didn't sit right with Richard Pelzer, president of Sunny Crunch Foods, the original manufacturer of granola cereals. "I didn't want to believe it," Pelzer says. "I couldn't stand for something like that because I'm so passionate about cereals."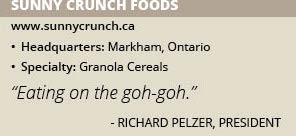 So Sunny Crunch set out to make cereal more appealing, more convenient, with the introduction of goh-goh, a line of instant cereal cups aimed at millennials. "Now there's no excuse," Pelzer says.
Cereal cups have been around for years, but the difference between goh-goh and competing cups is that goh-goh includes 100 percent natural crystalized whole milk. Alternative products typically contain only the cereal, meaning that consumers must buy milk separately to add to the cup. It's a small but significant barrier, since most milk containers include multiple servings and the buyer can be left with unwanted milk that they must refrigerate or toss. Having to purchase two separate products to enjoy the cereal also defeats the advertised convenience of the cups, making them more of a hassle for commuters who just want something simple to grab and go as they head to work.
Sunny Crunch solved the convenience issue by putting its trademarked whole milk powder right in the cup. With goh-goh, consumers only need to add a little bit of water, which can be easily obtained from any faucet or cooler in the office. It takes only five to 10 seconds of stirring to have a complete cereal breakfast. "Nobody else can recreate it," Pelzer says. "It's a very unique process that took two years in the laboratory to perfect."
Sunny Crunch launched goh-goh at the end of 2016 and immediately saw interest from retailers. The cups first appeared in Canadian 7-Eleven stores and its western U.S. outlets soon followed. Sunny Crunch expects goh-goh to reach all 7-Eleven stores by the end of Q1 2018.
Applications for goh-goh to go beyond stopping the decline of breakfast cereal. Because goh-goh only needs water, the cereal is ideal for times when milk is not readily available, such as camping or disaster relief responses.
Tradition of Innovation
Pelzer's father, Willie Pelzer, founded the company 48 years ago. Under Willie's guidance, Sunny Crunch became known as one of the biggest innovators in health foods.
The company invented the first granola cereal and the word "granola" itself, establishing it as one of the leading producers of brand and private-label nutritional products. Cereal remains one of Sunny Crunch's key products; however, the company has also expanded into traditional and nutraceutical bars, healthy snacks and water and cold brew coffee beverages.
"We've been doing it for 48 years," Pelzer says. "We're the innovators. We're the pioneers of it. We developed the process so we're the best at it." Sunny Crunch has stayed the best by using quality ingredients sourced from local and international suppliers.
Decades of granola production have taught Sunny Crunch which flavor houses are the best and which suppliers grow the best oats, knowledge it uses to create high-quality and good-tasting products. "The sources that you draw from are going to be the outcome of the products," he explains.
As 2018 begins, Sunny Crunch is innovating again with goh-goh and Steam-Punk'd, a cold brew coffee. Like goh-goh, Steam-Punk'd has had a warm reception from retailers since being revealed in November during the Private Label Manufacturers Association's annual show in Rosemont, Ill., a suburb of Chicago.
The beverage's production process uses Sunny Crunch's special water filtration process and a blend of medium roast Arabica beans from Central and South America to produce a low-acid cold brew coffee with 183 milligrams per serving of caffeine, delivering a strong and tasty jolt of natural energy.
In addition to its appealing flavor, Steam-Punk'd is designed to be shelf stable without the need for refrigeration, meaning retailers can keep it in stock longer without losing inventory to expiration. "We try and make every product with at least a year of shelf life," Pelzer explains. "The longer the better. We know how to do it naturally."
Like with goh-goh cereal, Sunny Crunch identified a way to put its own spin on cold brew coffee while improving upon similar products in the market. "I just saw it as an emerging trend and I love coffee," Pelzer says.
Ensuring Food Safety
Sunny Crunch manufactures all of its products at its facility in Markham, Ontario, near Toronto. From there, it ships granola bars and cereals to stores all over the world. "We're a global company so we ship globally," Pelzer says.
Sunny Crunch constantly upgrades the capabilities of its facility. New products, such as goh-goh, require new equipment, but the company also works toward making the facility more efficient and more wholesome.
Because Sunny Crunch specializes in nutritional products, the company takes extra care to ensure its food items are healthy for all consumers. That begins with being conscious of its ingredients. Over the past six years, Sunny Crunch has added a peanut-free production facility to its manufacturing building, ensuring that any products made in that area are safe for consumers with peanut allergies.
A separate peanut-free facility enables Sunny Crunch to eliminate variables that can lead to contamination and to better control the production process. But food safety begins before ingredients are even delivered to the manufacturing floor, which is why the company keeps close tabs on its sources. Sunny Crunch prefers to work with suppliers in North America, where it can more easily conduct inspections and meet with vendor representatives. Every item must have traceability, enabling Sunny Crunch to track its origin as far back as the field it was picked from.
Turn-Key Development
Although Sunny Crunch has several of its own popular brands, about 90 percent of the company's business is private label for grocery stores and other customers. The level of private level service depends on the client's knowledge of food production.
Some come to Sunny Crunch with a formula already in mind – which may need only a few tweaks to make it compliant with regulatory laws and fit for mass consumption – while others have only a vague sense of the final product and need Sunny Crunch's help. For those latter cases, the company maintains an in-house team of veteran food scientists capable of developing new food items for its customers.
Pelzer takes an active role in the product development process. "I am the person here who drives all the innovations," he notes. But that innovation must not come at the expense of flavor. Before any product leaves the facility, it must first go through Pelzer's pallet and pass his own personal taste test. "If I don't like it, it doesn't go out," he says.
The demands on the R&D group have only increased as grocery stores push for more wholesome and natural products to cater to current food trends – playing right into Sunny Crunch's specialty. "We've always been conscious of clean labeling," Pelzer says. The company already uses whole grains, brown sugars and fibers in its cereal and granola bars, and it steers away from artificial sweeteners and processed ingredients. "We have our fingers on the pulse as far as new ingredients coming out," Pelzer adds.
That commitment to natural ingredients has been part of Sunny Crunch since its beginnings. "We know it works," he says. "We know it's healthy. We know it gives people energy."
Sunny Crunch will continue to expand its lineup of healthy products. The company plans to add oatmeal to the goh-goh brand and is developing a muesli cereal made from rolled oats that is high in fiber and raw whole grains. Both products promise to live up to the healthy traditions Pelzer's father established nearly five decades ago.
"We're a full innovation turnkey food manufacturer with 48 years of experience, which takes pride in developing beginning-to-end products that make people healthy and are not detrimental to one's health," Pelzer says. "Not only do we make eating taste good, we now make it on the goh-goh!"