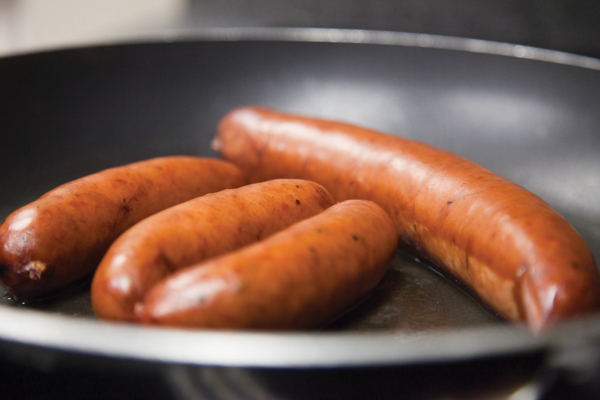 Pay any attention to today's world of pop culture, and it's not hard to find fans going crazy over Justin Bieber and Lady Gaga. Sunset Farm Foods may not have the notoriety of pop stars, but its products do inspire fanaticism among many of its consumers.
"This is to let you know I have bought several packages of your sausage at our Super Walmart and they are without a doubt the best sausage I have ever eaten," wrote one fan from Leesburg, Fla. "While grocery shopping this week I panicked when I didn't see the sausage, but they had moved them. Thank goodness!"
President Tom Carroll explains this is a normal response to Sunset Farm Foods' products – the company gets positive feedback and fan mail all the time about its sausage. There was the man from Newark, N.J., who claimed Sunset's sausage was "the best smoked sausage I ever ate" and had his pastor and neighbor bring Sunset's products to him in New Jersey after they traveled south. A couple from San Antonio, Texas, also wrote to explain that they were happy to discover Sunset's online store because now they no longer will have to wait until they visit family in Georgia to get the sausage.
"Our sausage is known for its flavor and consistent quality," Carroll says. "It has a good robust flavor, while many others on the market are bland with no kick. Our sausage tastes good with other food and makes you want to go back and get seconds."
Based in Valdosta, Ga., Sunset Farm Foods is primarily known for its extensive line of sausage. But it also offers items such as boneless sliced ham, all-meat chili and "country items" like chitterling loaf and liver pudding.
"Our products range from economy to premium – quality items for any budget," Carroll says. "We also do some private-label production and packaging, as well as sell sausage for further processing, which end up as an ingredient in products such as frozen entrées."
Always Improving
As a member of the fourth generation of his family to run the company, Carroll says maintaining the quality of Sunset Farm Foods' products is one of his prime concerns.
"There is definitely a sense of history that goes along with our products," he says. "We want to preserve what's here by making quality products – we don't want to muddy up our name."
Not only is the Carroll family dedicated to offering products with "the flavor that everyone wants to emulate but that none can duplicate," but its work force is dedicated to the same goal. In its 83-member team, Sunset Farm Foods has 27 people who have been with the company for at least 10 years, and 11 people who have been there for 20 or more years.
"The longevity of our staff really helps with our quality and continuity," Carroll says.
Sunset Farm Foods also is "always looking to improve our best practices," according to Quality Assurance Man­ager Dan Houston. It is implementing the British Retail Consortium (BRC) Global Standards, part of the Global Food Safety Initiative (GFSI). Houston admits the BRC is "more stringent than anything we've done in the past," but the company already has many of the necessary programs in place.
"Our goal is to be on the leading-edge of food safety," Houston says. "Walmart, Disney and many of our other larger customers want their vendors to meet the GFSI requirements, and it is important to us, too."
Room to Grow
In the slow economy, Sunset Farm Foods saw some of its existing business soften, but it was adding enough new business to more than make up for that, Carroll says. Some of the company's growth has been the result of the introduction of its natural line. The fully cooked all-natural sausage is nitrite free, and comes in three flavors: Bell Pepper and Onion; Jalapeno and Monterey Jack; and Garlic, Herb and Sun-dried Tomato.
"All-natural products are a growing niche in the market," Sales Manager Frank Underwood explains. "There is a dedicated base of customers who seek out all-natural products, and with our interesting flavors, our product line keeps growing."
Sunset Farm Foods primarily has focused on the Florida, Georgia and Alabama markets throughout its history, but with growing interest in the brand, it is expanding into North Carolina, South Carolina, Mississippi, Louisiana and Tennessee. The company recently sent its first order to a chain of stores that reaches up into Pennsylvania., and it also serves 42 military bases in the Southeast, Underwood says.
"Sales from our website keep growing," he adds. "Also, by being in the Southeast, we have many customers in Miami who are exporters, so they are sending our products to the Caribbean, Central America and South America. We are definitely spreading out."
Additionally, there is still room to grow in its current market areas with "untapped retailers," Carroll notes. The goal, he says, is to keep expanding the Sunset Farms Foods' footprint and attract more fans of its quality sausage.
"We're not the biggest, but we believe we are the best," he stresses. "We only make products that we would want to eat. We do a lot of taste testing of other brands' products, and honestly, many are not up to our standards. We know quality, and we want to take home everything that we make."