With boundless international groceries available, Super King Markets appeals to the diverse population it serves.
Super King Markets is not just a grocery store; it's a southern California destination. The first full-service market opened in 2003 and since then Super King has opened five other stores and two warehouses to serve its growing customer base.
"People drive a long distance to get to our stores," General Manager Daniel Barth says. "Our average traveling time is five or six miles, which is extraordinarily high given the amount of supermarkets there are in the area."
Stores are between 35,000 and 50,000 square feet and Barth describes them as big, bright and fun. Because of its variety of products and emphasis on service, every market includes a service meat counter, service deli and clerks throughout the stores to assist shoppers daily to ensure everything is kept clean, stocked and looking as fresh as possible.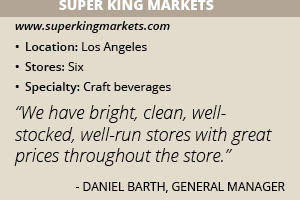 "We're well positioned in ethnically diverse southern California to successfully serve families that want great food and value," Barth says. "We have bright, clean, well-stocked, well-run stores with great prices throughout the store. Our customers are very smart. They know how they want to be treated; they know what they want to pay for groceries."
The stores continue to invest in technology and the loyalty program, Royal Rewards, to add even more value to customers' visits. Super King plans to add one or two more markets per year if the opportunity arises. The company is on a trajectory for growth, despite changes in the grocery industry. Barth notes that traditional grocery chains have struggled and niche grocery stores are growing. But he says that Super King is on the outside of what used to be the mainstream market, complete with its own international niche.
"What's happening in the microcosm of southern California is that the demographics are changing and the economy is changing," Barth says. "We learn from each other, from our customers and from other retailers. We're always out there looking for new ideas, being open to learning from everyone and being willing to adapt ourselves to that input where it makes sense. We're basically never standing still. In retail and life, if you're standing still, you're moving backwards because things are always changing. We pay attention to the retail environment and are able to recognize and adapt to what we see."
International Appeal
Along with being a destination market, Super King is an international market. Its customers, employees and product mix all have an international appeal for the diverse populations in which its stores are located. Barth says that there are 13 languages spoken across the Super King workforce to serve its diverse customers.
But the liquor and beverage department is where the international products truly stand out. Some of the unique products include Lebanese wines, specialty scotches, Russian liquors, Armenian brandies, specialty vodkas and Mexican tequilas."We focus on a lot of high-end goods that wouldn't be available at your average grocery stores," says Mark Berge, beverage buyer for Super King. "We probably have 100 tequilas, 100 single-malt scotches. You see that only in liquor stores, not in a grocery store. We're willing to invest in the department and use it as a reason for people to come here with reasonable prices and exceptional quality."
Thanks to its liquor department's reputation, Super King was able to institute a program called Regal Cellars, a wine, beer and spirits club. Members receive special opportunities to buy limited items and are invited to attend members-only events.
"This is another destination department because of the selection and pricing," Barth adds. "It all results in people traveling farther to Super King."
Company Culture
Super King promotes a culture that encourages innovation, integrity and internal advancement. Many of its long-term employees were promoted from within so that everyone at the store knows the opportunity to rise to different levels is available, says Barth.
"When I go out in the store, I look for people that have the potential," Berge explains. "That might be someone who can join the beverage department down the road. Is it a kid in high school or college who's interested in the business? They could be the next buyer or manager. It's easier to start someone off and raise them up than bringing someone in from the outside. Not that we're not open to ideas, but we like to keep the same culture intact."
Super King's beverage merchandiser started out as a store clerk. Now she travels to all the store locations and trains everyone in the beverage department.
"The things I've learned from my peers here have been phenomenal," Berge says. "When I started as buyer, we didn't have beverage managers, so it's a whole new department. We see employees in action every day now, dealing with customers, making recommendations for wine and spirits when three years ago, no one could answer those questions."
Barth is proud of Super King's culture, and he says he's motivated by the people he has worked alongside during his 10 years with the company. "I'm most proud of the people that I work with at all levels," Barth says. "It's encouraging and an honor for me to say, 'I trust you, you do it!' I'm surrounded by people at all levels of the organization that know their job, are attentive to their job and are doing their job well."