After 25 years, Super King Markets distinguishes itself with a wide ethnic food selection.
Super King Markets is not the largest grocery player in its region, but the company embraces its modest size. "We consider ourselves tiny but mighty," Vice President of Marketing and Merchandising Chris Linskey declares. "We're giving meaningful volume to the suppliers in the Los Angeles area and generating big sales."
Super King operates seven grocery stores in Southern California, along with a corporate office and distribution center in downtown Los Angeles. Co-owners Peter and Vache Fermanian, along with Peter's wife, Mary Fermanian, started Super King Markets 25 years ago. The original store was founded in Anaheim.
"Peter and Vache's father sold produce after World War II in the Middle East," Linskey says. "Their genes go back a long way."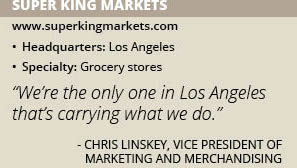 Today, as Super King celebrates its 25th year anniversary, it is still a family business. Each family member, Vache, Peter, Mary, and their son Jake, Linskey notes, brings a different perspective to the table. They are all committed to clean, low-price and high-quality service oriented stores. The Fermanian family also has set a standard for the rest of the company with their commitment to hard work. "When I hear people talk about the early days of Super King, I don't believe Peter, Vache or Mary ever took a day off," Linskey says.
He also praises Super King's store directors, who manage a very high volume and complex format. "I tip my sombrero to those guys all the time," he says, noting that they manage to keep up with a store that functions in many languages, serving many ethnic groups in Southern California. "It's pretty fast moving."
Standing Out
Super King operates with the mission of providing high-quality food at great prices, particularly in its meat, produce and delicatessen and liquor sections, Vice President of Operations Faustino D' Auria says. "Those are departments where we really stand out."
Super King also stands out in its food selection, which reflects the cultural diversity of Southern California. Its meat and produce are primarily from local sources, but "our international groceries come from all over the world," Linskey says.
Its store shelves feature Hispanic, Asian, Armenian and Middle Eastern foods, and its shoppers can find rice from 12 different countries. Its deli cases feature kosher salami along with halal products. "We're the only one in Southern California that does what we do," he says.
This fits well with the company's diverse customer base. When Linskey once visited the produce department of its location in Santa Ana, Calif., "There were eight different languages being spoken at one time," he recalls.
These included customers speaking English, Spanish, Armenian, Russian, Vietnamese and Arabic. "Our customers reflect the communities we serve," D'Auria says.
Engaged Employees
In 2017, Super King enjoyed positive sales over the previous year. A key factor in its success, D'Auria notes, is its staff of 1,500 multi-cultural employees.
Super King, he notes, requires workers to have a good attitude. "We look for highly engaged employees who care and serve the customers in a friendly manner with room for growth," he says.
After they are hired, "We start them off with a corporate orientation," he says, noting that this continues as they work at Super King. "Last year, we held department management training that's also ongoing."
Super King recently rewarded employees with more than 10 years of tenure for their loyalty. In 2017, "100+ employees were recognized at a dinner that the owners hosted,"D'Auria recalls.
Eye of the Storm
Like many retailers, Super King has adapted and adjusted to many changes. However, "We have to stay as aggressive as we possibly can so we can continue to grow, through innovation and differentiation," Senior Buyer Damian Valdez says.
Linskey has confidence in the company's ability to grow. "We think we have a good plan to do that," he says. "There have been a lot of retailers that haven't made it through the cost increases in the past few years. But we're determined to come out of the eye of the storm okay." The company has many initiatives to drive cost down and drive sales up.
Super King Markets also plans for controlled growth. "The Fermanian family has been very conservative and very dedicated to fiscally responsible growth," Linskey says. "That will continue."
Strong Support
Super King Markets makes contributions to its communities that help build it as a brand, Vice President of Marketing and Merchandising Chris Linskey says. "We participate in most the industry-related charities in Los Angeles that the grocers are involved with," he says.
Those include the City of Hope, a cancer research hospital in Duarte, Calif., Olive crest and many other Southern California charities. "The Fermanians support many Armenian charities as well," Linskey says, noting that the Fermanians are of Armenian descent.
Flavorful Food
Super King Markets has many sections in its stores, including its Produce department, where it guarantees fresh products and low prices daily. "Our produce variety includes jackfruit, Persian pickles, peruano beans and the largest variety of grape leaves," D'Auria says.
Its meat department employs butchers with years of experience to meet clients' needs. "Whether our customers need fillet mignon or goat super king carries it all. If customers are on the move, our meats are also individually packaged and ready to go," Super King says, noting that its products are delivered fresh daily.
The stores also take pride in offering premium quality seafood. "Whether it is cooked or raw shrimp, fresh fillets, whole fish or crab meat, we carry it," Super King says.
The company's multicultural focus also extends to its Fresh Bakery. "Mexican sweet breads, bolillos, baguettes, and French bread are being baked all day and served up fresh and hot to our customers," it says. "Our cakes and pastries are unique in style and in flavor."