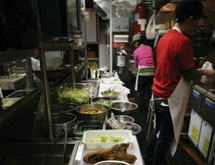 When the owners of chain and multi-unit restaurants need supplies and equipment, most prefer to deal with as few vendors as possible – it's easier, more efficient and usually costs less than sourcing everything separately. At the same time, owners require quality service to ensure their businesses continue to operate successfully and profitably. Supply America prides itself on being the single-source supplier that can meet all of these various needs.
Based in Shreveport, La., Supply America does just as its name describes – it provides chain and multi-unit operators with equipment, supplies and furniture, as well as project design, locally based inventory and equipment delivery and installation. With more than 20 distribution centers throughout the United States, Supply America is the country's largest distribution source for foodservice supplies and equipment.
"Our primary focus as a single-source, full-service organization, is to give our customers exceptional value and service every single day," the company says. "To reach that goal, 13 of America's leading foodservice equipment and supply dealers have joined forces to form this unique national distribution company. As a single entity, Supply America offers unparalleled experience, pricing, selection, service and efficiency."
As a result of acting as one organization, Supply America has more than $1.2 billion in combined purchasing power and an extensive product representation, but still localized service, which results in reduced freight charges. The company also offers proprietary inventory management, secure online ordering and single-point consolidated reporting.
"Supply America is designed and structured to promote our customers' success," the company says. "We know that proper project coordination, prompt delivery of supplies, accurate cost-control data and up-to-date product information are essential to that success. Supply America stands ready to assist in making our customers' foodservice operations successful."
From Standard to Specialty
Supply America explains that it represents more suppliers than any other single distribution source, resulting in an unsurpassed spectrum of products and equipment.
"We distribute any and all types of smallwares and equipment from spoons to stoves, from tongs to tables," the company says. "If a customer's requirements are for a specialty Texas smoker, a European cooking suite, a production pasta cooker or custom-decorated china, we are their one source. If we don't stock it, we can get it."
With imported products, for example, Supply America operates its own direct import company instead of buying through U.S.-based importers. The company says this allows it to directly source quality goods that are manufactured to its own specifications, and allows it to save customers money on many common operating supplies.
When operators need smallwares, Supply America's experienced staff works closely with them to offer suggestions and choices from a range of tabletop supply manufacturers. The company notes it offers "every style imaginable" in china, flatware, glassware and operating supplies, as well as customized items.
For customers who are planning a system-wide rollout, Supply America's multiple warehouse facilities, knowledge of local code requirements and installation services help to ensure a quick and reliable implementation and coordination of any project. The company notes that its distributors bring in proprietary inventory to support customers' operational needs.
"Supply America maintains more than 1 million square feet of warehouse space conveniently located in most major metropolitan areas across the United States," it says. "With thousands of in-stock products, we can provide immediate delivery of essential operating supplies."
Equipment Expertise
When customers are sourcing equipment for their operation, Supply America provides access to any brand manufactured in the United States and worldwide. The company explains it is the largest volume purchaser of equipment from most leading manufacturers and its customers benefit from its volume pricing and leverage.
"Customers can rely on Supply America to offer the most up-to-date information and recommendations," the company says.
"Customers can depend on our experience to assist them in finding the right equipment for that new menu item or process. If they need advice on reducing costs while maintaining quality and serviceability in their operations, our experiences with thousands of customers can be a valuable asset."
Supply America also owns and operates its own metal and wood fabrication facilities, which allows customers to work directly with its design and engineering staff on their critical operating components. Each distribution center has CAD production facilities with qualified on-site design and consultation staff. Supply America offers complete turnkey project capabilities, including rough-in, elevation and layout drawings.
"The broad scope of our products, distribution capabilities and localized services makes Supply America the leader in the foodservice distribution industry," the company says. "As a full-service equipment, smallwares and specialty distributor, we are committed to supplying all of our customers' foodservice needs throughout America.
"Our distribution centers can consolidate, uncrate and deliver equipment to any jobsite," the company adds. "We will set the equipment in place and arrange for the appropriate trade to perform final utility hookups."
Additionally, Supply America's services include interior design and tabletop presentation. The company notes that its facilities have won numerous tabletop design awards from Foodservice Equipment & Supplies magazine over the past seven years. "From cost-effective, unique table settings to the finest European china and flatware, [we can help our customers] create a dining space reflective of the style and ambiance they want," the company says.