Chocolate is a truly special treat. One that becomes our first love as children, and as we grow into adults, we use to celebrate, commiserate or express affection. We can't be sure if there is a link between romance and The Hershey Company's (Hershey's) legendary kiss trademark, but what we do know is there was a lot of love and compassion behind the actions of Milton Hershey, the business' founder.
Milton Hershey established the chocolate company in 1894 as his third attempt at pursuing his passion for confectionery. By 1900, he had sold the first Hershey's bar that we know and love today. The company has grown both organically and through acquisitions that have resulted in a portfolio of brands spanning sweet and salty. Whether it's a Rolo that tempts your sweet tooth, a Kit Kat that calls the time for a break, SkinnyPop or newly acquired Dot's Pretzels that tickle your tastebuds, Hershey has something for everyone and for every snacking occasion. This expanded portfolio, and supply chain, positions Hershey to make a broad impact rooted in the company and its founder's legacy.
Great legacy
During the Great Depression, Milton Hershey conducted the Great Building Campaign to develop a park, hotel, theater and a sports arena to provide employment for over 600 construction workers. He believed that business was a matter of service and focused a great deal of time and money on creating a company and a community that would be beneficial to all. Driven by compassion, selflessness and purpose, Hershey instilled a rich ethos of accountability and values into the fabric of the organization, which still inspires its employees today.
"Milton Hershey was ahead of his time in many ways," opens Tricia Brannigan, Chief Procurement Officer. "He thought about his people, his business, the community and the wider world and left a great legacy that carries on today. One that focuses on caring for people, communities and particularly children and that continues to shape our culture and priorities as a business today."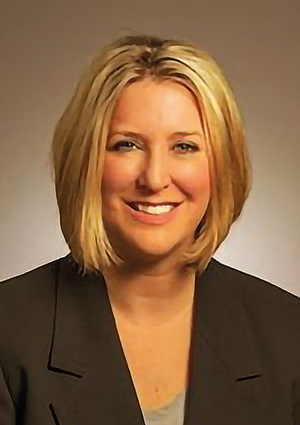 Brannigan has been with Hershey for nine years and leads all aspects of procurement, including commodities, raw materials, packaging and indirect sourcing. Previously at Hershey, she was responsible for managing essential agricultural materials such as sugar, dairy, corn, sweetener and nuts. She joined the procurement team with a background in research and development, engineering and procurement at Kraft Foods, Dean Foods, White Wave and Dawn Foods.
"From the beginning, one of my key objectives has been to continuously and strategically raise the bar and take our teams and the company to the next level. And it all starts with people, talent and abilities, which is where I spend my time and energy."
Hershey's three-pronged procurement strategy focuses on people and partnerships, collaborative planning and agile specifications to absorb and deflect risk, ensuring operational excellence and maintaining great customer service. This strategy proved especially important in the volatile market that all supply chains have experienced over the past few years.
In drawing upon its culture and values and its purpose of making more moments of goodness for consumers, Hershey works to build and maintain strong relationships with its suppliers; relationships that go beyond simple connections to encompass collaborative planning and delivery. High integrity, prioritization and transparency are the hallmarks of its successful supplier relationships and business results.
"We want to work with partners who not only share our values but also place the same emphasis on food safety, high quality and performance, and consumer care. A relationship of trust and transparency creates an environment in which you can push one another with new opportunities and options catered to the other party's traits and visible capabilities."
Stakeholder value
One area where Hershey's focus on people and partnerships shines through is its ESG strategy, and particularly DEI. The candy and snack maker is well known for its leading ratings and rankings in industry benchmarks. In 2022, it was positioned at number six on DiversityInc's Top 50 Companies for Diversity list, and particularly so for its work in gender equity and representation, both within its workforce and the communities in which it operates. An enhanced supplier diversity strategy is just one example of the company's DEI efforts.
"We are constantly seeking new ways in which we can engage and promote under-represented members of the community through business to facilitate greater innovation and diversity within the industry. By 2030, it's our aim to quadruple our supplier diversity spend, and we are in the process of working with external organizations to develop our best practices, with which we can educate our teams," Brannigan explained.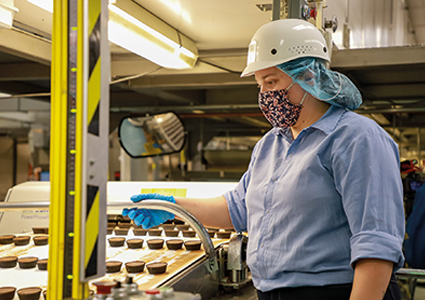 For companies like Hershey that have a high household penetration and global brand reach, having a workforce and supply chain that reflects its consumer base is a key component of its success. Hershey sees itself as in a unique position to make an impact due to the size and scope of its value chain.
As such, both Hershey and its suppliers can offer greater value to stakeholders, indirectly fueling the value and innovation that can be delivered to the consumer. "We are engaging diverse marketing and talent agencies, which extends the initiative further across our supply chain than just raw materials and packaging. Our company vision is to become a leading snacking powerhouse," Brannigan enthuses. "Given the growth trajectory of the business, we had to develop new practices to deliver 2022's outcomes. As we entered the year, I worked closely with our supply chain and manufacturing teams to deliver our agile supply work stream. It's focused on predicting risk and leveraging these insights to quickly adjust our specifications, deliveries or pack types as they deem necessary, while exceeding our quality and sustainability expectations."
Based on the company's 2022 earnings results announced in early February 2023, the approach is working. Hershey announced 2022 as one of its strongest years in history, including exceeding $10 billion in net sales despite the environment of record inflation and unprecedented supply chain disruptions. Investments in its powerhouse brands and additional capacity and capabilities are expected to deliver again in 2023 as Hershey works to keep up with the ever-growing consumer demand for the goodness of the company's wide-ranging snacking portfolio.