When thinking about sustainability in the food industry, we often envisage new plant-based foods and idyllic organic farming images. Indeed, much media focus is placed on these two facets of the industry. However, food waste is a significant issue that is now coming to the fore in many countries as a major cause of environmental impact and climate change.
While it's clear that waste occurs all along the food supply chain from farm to fork, a 2021 analysis by the United Nations Environment Programme found that global food waste has reached 931 million tonnes per annum (about 121kg per person) – 61 percent emanating from households, 26 percent from foodservice and 13 percent from retailers.
With UN Sustainable Development Goal 12.3 seeking to 'halve global per capita food waste at the retail and consumer levels….by 2030', the packaging industry has its work cut out in delivering new innovations that support retailers, foodservice operators, and consumers to cut their food disposal rates by half.
Solving the food waste challenge takes packaging sustainability to another level. It isn't simply about ensuring food products are packed or served in sustainable materials; it's about enabling the food industry and consumers to adopt new purchasing, storage, and consumption behaviors to minimize unnecessary waste and loss.
Putting this challenge at the front of its sustainable design thinking, amipak has recognized that a key step in minimizing food waste lies in the development of customized portion control packs – trays, cartons and boxes – that limit the dispensing of takeaway and food-to-go products to manageable and appropriate sizes. This ensures excessive waste by the consumer is avoided, and importantly optimizes costs for the operator.
Probably the most well-recognized cause of food waste in the foodservice industry results from products not being maintained in prime condition due to poor packaging design. Food either going cold, leaking in or through a pack, or not being able to breathe, which can result in wet, soggy, or unappealing food products that lead to the public disposing, rather than consuming, their purchases.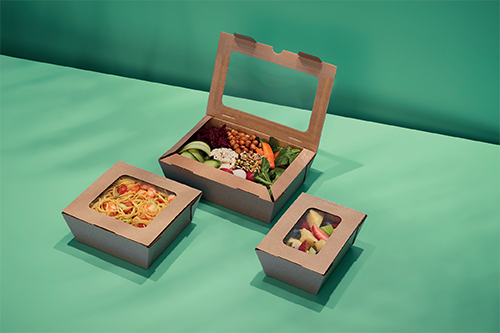 amipak has developed a range of insulated boxes to keep food hot and fresh for the takeaway industry, in particular for pizzas, as well as slice packs to again tackle the portion control issue.
Significant research and development over the years has also gone into next generation leakproof grease and water-resistant carton designs to ensure the food-on-the-go experience is optimized for the consumer. These are ideal for Asian foods and salad applications, where sauces and oils create particular issues in handling. Notably, these cartons now utilize more environmentally friendly water-based coatings on the carton substrate to provide the required barrier performance, rather than plastic laminates that can interfere with the recycling process post-consumer use.
The company has also worked with its brand customers to develop clever breathable cartons that enable products, such as burgers and hot dogs, to release the steam from the cooking process, ensuring an improved eating experience and minimizing product deterioration.
But it's not just the foodservice sector that has challenges in respect of managing food waste. When it comes to the hospitality industry, the Waste Action Resources Group (WRAP), funded by UK Government, has launched its 'Guardians of Grub' campaign to support restaurant and catering businesses to identify sources of waste and tackle them. A great idea developed as part of this initiative is the development and use of new branded takeaway doggy boxes for any non-eaten food, encouraging diners to reuse their waste food in the home.
Like much of the packaging industry, amipak is focused on designing and developing new and innovative sustainable packaging solutions to better address waste prevention and waste management. It's certainly an area of continuous improvement to support the future of the foodservice and hospitality industries. Importantly, it complements other approaches and strategies taken by companies to reduce waste and boost sustainability along the value chain, including the use of renewable, recyclable, and compostable materials that appeal to today's more environmentally aware consumer.
Amipak
Daniel Schwitzer is Director of Communications & Sustainability at amipak, an expanding third generation family business specialising in the manufacture of food grade packaging from sustainable materials. amipak puts a strong emphasis on customer service, seeking to develop lasting partnerships with its customers and suppliers. Having grown since 1999, when it was formed as the result of a merger between Home Suppliers Ltd. and F&Z Packaging Ltd., amipak today operates with over 65,000 sq. ft. of modern production and warehousing facilities in Croydon and Willesden, North London supplying the UK and European foodservice packaging markets.
For further information, please visit: www.amipak.co.uk