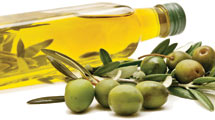 Supreme Oil/Admiration Foods
In 1945, Seymour Unterman drove from Brooklyn to Atlanta in a brand-new Oldsmobile he paid nearly double the sticker price for with a simple, if somewhat far-fetched, plan.
With almost every commodity in the post-war economy in short supply, Unterman saw potential in the cooking oil production market. At the time, all vegetable and peanut oil on the market was distributed through M.C. King & Co. of Atlanta, whose president, Walter Brooks, informed Unterman that large food conglomerates would likely continue to dominate for years to come.
However, after inviting Unterman out to lunch, Brooks noticed the $3,400 Oldsmobile parked right outside of his office and proposed a trade. Unterman left the car and keys in Atlanta and headed back to Brooklyn on the train; three days later, he found the sidewalk outside of his office lined with drums of peanut oil.
Nearly 70 years later, the business sense that guided Unterman into the cooking oil business remains strong within Supreme Oil, the company he founded after receiving his end of the Oldsmobile trade. Led today by a board of directors including Unterman's daughters Patricia Leffler and Gail Wasserman and grandchildren Geoffrey Wasserman and Michael Leffler (also the company's president), the company retains its commitment to customers and knack for deal-making.
"Our entrepreneurial heritage and our ability to find quick and creative solutions distinguish us from other suppliers," the company says. "By providing customers the highest-quality products at the most affordable prices, the Supreme Oil family hopes to earn their trust and confidence so they can afford us the privilege of helping grow their business."
Concentration on Quality
Supreme Oil and its subsidiary, Admiration Foods, manufacture more than 100 different food products. Manufacturing operations are located in the company's headquarters in Englewood, N.J., as well as locations in Brundidge, Ala., and Nashville. The company's plants follow Good Manufacturing Program and HACCP guidelines. Supreme Oil's quality assurance department oversees its quality programs.
In addition to its concentration on quality, Supreme Oil believes strongly in running an efficient, client-driven organization. The company's clients include retailers, distributors and foodservice operators. "Key to our success is our belief that our customers are our greatest asset," the company says. "By choosing us, customers are choosing a customer-driven organization that will work tirelessly to meet or exceed all of your expectations. There is no need to look anywhere else."
Admiration Foods also benefits from close business relationships with vendors. These include fiber blend manufacturer Z-Trim, with whom Admiration Foods in 2008 established the Garden Fresh line of low-fat mayonnaise and salad dressings. The co-branded products follow Admiration's tradition of providing its foodservice and retail customers with gourmet taste without gourmet price.
"We're very pleased to have this association with Admiration Foods and Supreme Oil, given their reputation as the largest independent packager of soybean oil and related products on the East Coast," Z-Trim's CEO said at the time of the launch. "We believe their commitment to quality and value makes them a good associate for us."
Southern Comfort
Two major acquisitions in recent years allowed Admiration to greatly expand its product line and capabilities. In 2006, it began manufacturing mayonnaise, mustard, salad dressings, barbecue sauce, vinegars and a complete line of vegetable oils in its Brundidge, Ala., plant after purchasing Piknik Products.
"By bringing a plant to the Southeast, Supreme Oil now has the capability of offering its existing customers more competitive pricing and creating a new source of supply for food distributors and manufacturers in the Southeast," the company said.
Supreme Oil/Admiration Foods' southern expansion continued in 2009 with its acquisition of the former Mike Rose mayonnaise, dressing and sauce facility in Nashville. The Nashville plant also houses the state-of-the-art "Supreme Oil Kitchens" facility, where research and development, culinary and food science professionals develop new products.
"We have a vertically integrated manufacturing process that creates economy of scale in our operations," Leffler says. "With this acquisition, we will also have a much larger bench of skilled professionals, from R&D to customer service, enabling us to deliver the highest-quality products the food service industry demands around the world."