Surfside Foods invests in its clam-harvesting and processing capabilities to meet growing customer demand.
One of the biggest challenges facing Surfside Foods LLC is one that companies in many industries would likely be envious of: its product is too popular. "There are only two companies in the world operating a total of three machine clam-shucking plants, and neither of us can keep inventory," CFO Victor Broyan says. "Our demand is outstripping our supply."
Surfside Foods specializes in harvesting and processing Ocean Quahog (Arctica islandica) and Atlantic Surf (Spisula solida) clams. The company owns seven fishing vessels and operates a facility in Port Norris, N.J., where it shucks, processes and packages clam meat which it sells to soup makers such as Campbell's and Progresso and other customers, including Bumble Bee Foods, its largest customer. The Port Norris facility in 2015 added a clam juice processing line, where water used to rinse clams is recaptured, condensed and chilled, Vice President Salvatore LaMonica notes.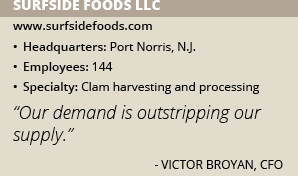 Campbell's and other customers' high demand for frozen products in particular led the company two years ago to open Surfside Frozen Foods LLC, an individual quick frozen (IQF) facility in Millville, N.J. The plant offers several varieties of frozen clam meat including eviscerated, diced and marinated. "Many of the users of clam meat prefer IQF frozen product, so to do their business we really needed our own facility," Broyan says.
The facility processes between 100,000 and 120,000 pounds of frozen clam meat a day. "We try to freeze it the same day we shuck it," he adds.
Clam meat processed in the IQF facility is shipped on chilled trucks from the Port Norris facility, located 10 miles away. The Millville facility includes on-site cold storage; products are also stored in a nearby public cold storage facility the company rents space in. Surfside Foods' customers pick up products at one of the two cold storage facilities.
Prior to opening Surfside Frozen Foods, the company needed to ship clams to Virginia to be chopped and frozen. It then sent them to a storage freezer before they shipped to customer plants throughout the United States and Canada.
Both facilities are Safe Quality Food certified and regularly audited by both the company and its customers. "We have vigorous internal and external oversight of our plants," Broyan says.
Ongoing Projects
The Surfside Frozen Foods facility is just one of a few recent investments the company is making in its operations.
Work is underway on solar arrays at Surfside Foods' plant in Port Norris. The company projects that it will be able to power its entire facility with solar energy and become a net zero energy consumer. Excess solar energy produced by the company will also be fed into the electrical grid.
"New Jersey is the premier state for solar power," Broyan says. The state's Solar Renewable Energy Certificate program offers credits for the use of solar energy that can then be sold on a marketplace. The company also benefits from federal rebate programs.
Surfside Foods is also in the process of commissioning a new fishing vessel to join its seven existing vessels in fishing the Atlantic Ocean for clams. The company recently hired an architect to design the ship, for which it will soon solicit bids to build. A new ship will likely take one year to build, he adds.
Future Growth
The company traces its roots back to the 1930s, when members of the LaMonica family started a family fish market in Brooklyn. The family business evolved over time from selling scungilli – a marine mollusk also known as conch – to harvesting and processing clam meat.
Surfside Foods' recent investments will allow the company to evolve further. Plans for the company include developing further products, similar to the clam juice line. "We operate a sustainable fishery, so the best way for us to grow is to make enhancements to our product line," LaMonica says. "Our product development efforts should give us other products that will make us more versatile in the marketplace."
The company is also looking to diversify the capabilities of its frozen goods facility. "There's an opportunity there for us to grow and provide freezing services for foods other than clams," he adds.