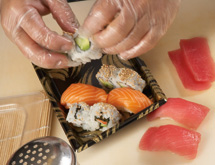 You can find it at grocery stores neatly arranged in mini-trays or watch it being made fresh sitting at a bar. Depending on the location, one order of it can cost $5 or $50 and it can be made with a variety of ingredients. Sushi historically may be a Japanese staple, but today's Americans are adopting it in droves – so much so that even convenience stores, which are not known for their plethora of healthy, fresh, sophisticated cuisine, have started stocking it in refrigerated shelves.
Sushi's U.S. coming-out party is here. In fact, it has been for the past decade and the celebration continues. The market is not devoid of sushi consumers nor sushi makers. But even in this fairly saturated market, one small sushi company has managed to stand out from the pack.
Nick Spiak Jr., who is now retired, and Hisamachi "Fuji" Fujimura, president and COO, founded Sushi with Gusto in 1997, as a spinoff to Spiak's seafood company which supplies seafood to upstate South Carolina restaurants. His son, Nick Spiak III, chief marketing officer, says that because of Sushi with Gusto's fast growth, "the tail started wagging the dog pretty quickly and the sushi business started growing by leaps and bounds."
On Top of Operations
That's because the company set up an operation that could be easily and successfully replicated in a variety of markets. Sushi with Gusto recruits, trains and certifies independent sushi chef contractors who operate sushi bars in venues such as grocery stores, college food courts and healthcare settings. They do so under the Sushi with Gusto name and follow Sushi with Gusto's quality guidelines, taking out the guesswork for its chefs on how to run a successful sushi bar.
The chefs work from Sushi with Gusto's menu of more than 50 products that includes sushi, as well as other items such as spring rolls, inari and edamame. The company is introducing a new Japanese buckwheat noodle salad to cater particularly to health-conscious eaters. Sushi with Gusto matches the chef with the facility owner and provides the chef with all the necessary equipment to run the operation. In fact, the company recently purchased sushi rice machines for its large accounts. These machines automatically create a perfect rice bed with just the right amount of rice instead of the chefs doing it by hand, and streamline the process for busy operators.
There are no franchise fees and no lease agreements with facility owners. The facility simply provides enough space for a sushi bar and all parties – Sushi with Gusto, the facility owner and the sushi chef – take a percentage of the week's earnings while Sushi with Gusto absorbs all shrinkage and waste costs. The company also handles promotion and marketing materials and is revamping the brand image to be more vibrant and eye-catching.
"We operate with independent sushi contractors, so they are like their own boss," Fuji says. "We do have field supervisors and team leaders that go around every month, sometimes twice a month, and check on how each operation is going and fix any issues the chefs are having."
The visits also ensure product quality, which Spiak says is the company's main differentiator as a small outfit in the sushi bar business. The company sources ingredients from two suppliers and the chefs can only order those ingredients approved by Sushi with Gusto. This creates a consistency in the product from day to day and city to city.
"We source product from two main vendors, Nishimoto Corp. and JFC Corp.," Spiak says. "They are large importers of Japanese sushi products and most of your high-end Japanese sushi bars buy product from them. So we provide a restaurant-quality product for your grab-and-go sushi. We allow the independent sushi contractors to order what they need when they need it, but we don't skimp on quality."
The company uses an inventory management system that monitors sales at each bar, and tracks the popular and not-so-popular items, which helps chefs forecast their orders.
There are more than 200 Sushi with Gusto bars located across the country, and while tastes may differ at each location, the success of the overall operation reflects the tastes of a generation accustomed to international foods.
Knowledge Sharing
For many of today's college students, sushi has become a staple, and some of those same students are ready to switch from the consumer side to the business side of the sushi wave.
"We are opening a program with a community college in Pennsylvania, which has a large culinary program," Spiak says. "We are partnering with them to set up a sushi chef certification program, so that they can understand all aspects of the business. They will spend one semester learning about Asian cuisine and culture. The students will spend the next semester working in the sushi bar on campus.
"After they complete the program, they will graduate and we will place them in their own sushi bar which could be anywhere in the United States depending on need. This is the pilot – our very first one – so we will see how it works and hopefully expand into other colleges."
An innovative partnership like this is another factor that sets Sushi with Gusto apart from the competition. In a tight job market, Sushi with Gusto helps provide the next generation with skills that will benefit them and others while also bringing more cred to the Sushi with Gusto brand. The program will focus on a major tenet of Sushi with Gusto's success and something that Fuji says has kept the business successful since it was founded.
"Sushi is a very simple food," Fuji says. "Rice is the main ingredient and there are a few other ingredients, so if you use better ingredients, then your sushi will come out better. We are using higher-quality ingredients and that's always a plus.
"That's what we have been doing for 15 years now and although we are still growing, we are not going to change that," he adds.