Swaggerty Sausage Co.'s 87-year-old recipes and small batch processes remain intact even as it embraces new technologies.
When it comes to its operations and products, the past, present and future are of equal importance to Swaggerty Sausage Co. The 87-year-old company is working to adapt to the changing needs of the food industry and consumers while maintaining the taste its products have long been known for.
"I think our greatest strength is the fact that our small-batch process and recipe have stood the test of time," COO Jon Amidei says. "We've not varied from our process or the proprietary spice blend that we first developed in 1930 at all. Automation has made us more efficient, but the actual sausage-making process has not changed."
The Kodak, Tenn.-based company produces several varieties of pork sausage under its own brand name that are available in more than 10,000 retail locations across the United States. The company also manufactures private-label products and serves foodservice customers, military commissaries and national distributors.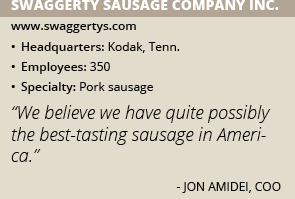 In total, the company offers roughly 200 product SKUs. In addition to its original recipe breakfast links and patties, Swaggerty Sausage also offers an all-natural product line of gluten-free, preservative-free and MSG-free sausages.
"Our goal is not be a low-cost producer that makes a run-of-the-mill product that people would merely find acceptable," he adds. "We believe we have quite possibly the best-tasting sausage in America."
Product Expansions
The company in the past few years has expanded its offerings to include additional packaging and size options as well as added new product categories. These include a dinner link line that includes Italian sausage and bratwurst, as well as a breakfast sandwich line.
The breakfast sandwich line, introduced in late 2016, includes sausage biscuits, sausage and buttermilk biscuits and chicken and buttermilk biscuits. The company provides sausage patties to co-packer Global Performance Group, which supplies the biscuits and assembles and co-packages the product.
"This is a product line we've been looking into for a long time, but until recently we couldn't find someone able to make the quality of bun and biscuit we would want in our product," Amidei says.
Global Performance Group is one of several vendors and suppliers that help the company maintain the high quality of its products. "We look for vendors to whom we can clearly communicate our needs and why we want certain things, and we're willing to pay fair price for those items," he adds. "We truly develop partnerships with the people we do business with, and want to make our supplier relationships a win-win for both companies over a long period of time."
Gaining Efficiencies
The company's recent growth into new product lines, as well as expansions to its customer base, are spurring it to expand its manufacturing operations. The company later this year anticipates adding to its existing dry storage and packing facilities. The additions will expand Swaggerty Sausage's three-building campus – which includes harvesting, production and distribution facilities – to over 150,000 total square feet.
"Our business is growing by double digits every year," Amidei says. "We need more space and more people to achieve our strategic goals."
Adding automation and robotics to its manufacturing operations in recent years has helped Swaggerty Sausage become more efficient in its processes. The company uses automated slicing and packing machines, as well as automatic visual inspection equipment, in its packaging processes.
Other recent investments include implementing Redzone continuous improvement process software throughout its operations. The system assists the company's root cause analysis processes as well as its change management and productivity practices. Redzone provides real time reporting of Swaggerty Sausage's plant efficiencies using an iPad platform, allowing its team to identify productivity improvements, cost savings and equipment utilization.
"We continue to look at new and exciting technology in our industry," he adds. "We are committed to staying on the cutting edge of technology, especially when it can help us ensure we're producing high-quality and safe products."
Safety and Quality
Swaggerty Sausage's manufacturing and packaging operations follow strict food safety guidelines. The company recently added British Retail Consortium (BRC) certification to its existing food safety auditing certifications, which far exceeds meeting HACCP and USDA guidelines. "As our business grows and food safety becomes an even bigger trigger point for all our customers, BRC certification has become the standard for our industry," Amidei says, noting BRC has given the company a AA grade, its highest mark.
Animal handlers in the company's harvesting facility also follow strict safety guidelines. All handlers are certified through the Professional Animal Auditor Certification Organization (PAACO), which conducts animal welfare audits. Several members of Swaggerty Sausage's senior staff are also PAACO certified.
The company enhanced its overall safety and training efforts with the addition last year of a new manager overseeing initiatives through increased awareness and programs. "We firmly believe in remaining a people-focused as well as a product-focused company," Amidei says. "We had a good safety record prior to this, but by having a trained professional oversee these efforts, we've seen a dramatic decrease in our overall incident rate."
Other recent additions to Swaggerty Sausage's executive staff include a brand marketing team responsible for branding and social media efforts in addition to traditional marketing.
A Bright Future
Amidei credits the company's owners and executive team with its continued success. The company remains owned and operated by the Swaggerty family, now in its third generation of leadership.
Kyle Swaggerty, the son of company founder Lonas Swaggerty, is the company's CEO. Doug Swaggerty, Kyle's son, is its president and a third-generation visionary leader.
Since joining the company two-and-a-half years ago, Amidei has helped the family's next generation join the company. "The family has done an extremely good job bringing a strong senior management team into the organization," he says. "And we're mentoring fourth-generation family members who've expressed an interest in leadership roles."
Swaggerty Sausage's next generation will remain dedicated to the same principles the company was founded on: quality, integrity and innovation. "Those will continue to be our foundation as we move forward in the years ahead," Amidei adds. "With everything we're doing, we see our future as very bright."