Sweet Sam's Baking Company maintains its success by not only making a great product, but also by investing in packaging to preserve quality and freshness.
Sweet Sam's Baking Company was founded in 1991 with one goal in mind: to make better baked goods. More than 25 years later, the Bronx, N.Y.-based company is thriving, growing out of its original 4,000-square-foot bakery into a 80,000-square-foot facility.
Sweet Sam's has hundreds of customers in all 50 states to which it provides a variety of baked goods, including muffins, scones, dessert bars, coffee cakes, cookies and croissants. Today, however, its signature product is its iced lemon pound cake.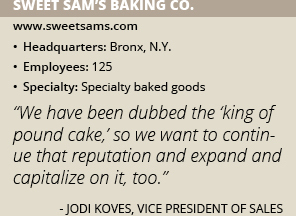 "When we first started, we wanted to produce an iced lemon pound cake that wouldn't only taste tart, but that would also not stick to the plastic we wrapped it in," co-founder Lyn Grogan says. "I came up with an icing that stuck to the cake almost like glue, but did not stick to the packaging. It was tart, sweet and visually appealing, too. So we accomplished our goal to develop something that we could commercialize."
Sweet Sam's ice lemon pound cake was so tasty that Starbucks began selling it in the New York metropolitan area. It was not long before it could be found in Starbucks locations throughout the country. "At present, we are not a supplier of theirs, but for about 18 years we provided Starbucks with our iced lemon pound cake and many other fine bakery products," President David Grogan says. "So as Starbucks grew, we grew. It was a great time, they are a great company and we enjoyed working with them for many years."
Quality Control
Sweet Sam's ships its products to customers – which range from grocery chains to coffee bars – via direct store delivery, frozen trailer freight and UPS. "We also have mom-and-pop-type customers across the country that may not have access to very good bakeries," David Grogan says. "So they'll actually have us ship our product to them via UPS if we do not have a distributor in the area."
The company has also invested in premium packaging to help not only with shipping, but also shelf life and quality control. "To ensure maximum freshness, for our individually wrapped products we use only the highest quality, heavy-gauge packaging film," Vice President of Sales Jodi Koves explains. "Other bakeries may get by with less, but because of our aversion to preservatives, we have no other choice."
With a perishable product, shelf life is always a concern, Lyn Grogan adds. "We are constantly conducting shelf life tests in our kitchen," she says. "Our main problem is that sometimes customers don't adhere to our recommendations on how to store and display our products."
David Grogan adds, "some retailers may be accustomed to baked goods with a high preservative content that may have shelf lives of up to three months, so initially they may not know how to handle our product properly."
"We have combated that with increased outreach to our customers and more effective on-package communication of handling-requirements," Lyn Grogan says. "I think it's a real education process."
Even though Sweet Sam's is higher priced than some of its competitors, David Grogan notes that the company "makes a great product" at the end of the day. "I've never had any issues in terms of selling our products," he says. "For instance, we once had a customer switch to another bakery in an attempt to reduce costs. They called not too long after and asked us to ship them an emergency order on short notice because their new supplier's icing was falling off. So we're a very consistent company and we don't cut corners. For us, quality assurance is paramount."
Valuing Partnerships
When it comes to its supplier relationships, Sweet Sam's values communication and trust. "We are very loyal to our suppliers," Jodi Koves explains. "We like building on the relationships we have and don't make a lot of changes because of costs as we like to be consistent. Chocolate, for instance, if it goes up in price and we have to change our supplier, we have to ensure that we have the same profile of the chocolate we were previously using. We would not choose something because it's less expensive."
"We are in a business where we are under a lot of competitive pressure," Vice President Aaron Grogan adds. "We have price points to meet, and in exchange for our loyalty we expect our suppliers to stay sharp as well."
In regards to employees, Sweet Sam's strives to recruit and retain the industry's best talent. "We look for reliable people with positive attitudes," Aaron Grogan says. "Working in a production bakery can be strenuous at times and requires continuous attention to detail. Some people are not cut out for it, so the ones who stay with us, especially for some time, we certainly value. Some of our production workers have been with us since the company's founding 25-plus years ago. We pride ourselves not only on the consistency of our product, but also the loyalty and dedication of our employees."
Moving forward, Sweet Sam's wants to continue its growth. "One of our initiatives is to break into more foreign markets," Lyn Grogan says. "Currently, we've been shipping orders to China and they have been accepted well. From there, we're also looking into Europe and the Middle East as potential markets, too."
The company also wants to continue being a leader in the baking industry by making the best products it possibly can. "We're keeping our eye on the ball at all times," Jodi Koves concludes. "We have been dubbed the 'king of pound cake,' so we want to continue that reputation and expand and capitalize on it, too."
Going Green
Sweet Sam's Baking Company will focus on implementing new green initiatives in 2017 that will help reduce its carbon footprint and costs. "We are installing solar-powered electric vehicle charging stations for employee cars and we're also looking into electrifying our fleet of sales vehicles," Vice President Aaron Grogan says. "In addition, we recently finished replacing all of our facility lighting with LEDs, resulting in a significant reduction in energy consumption."