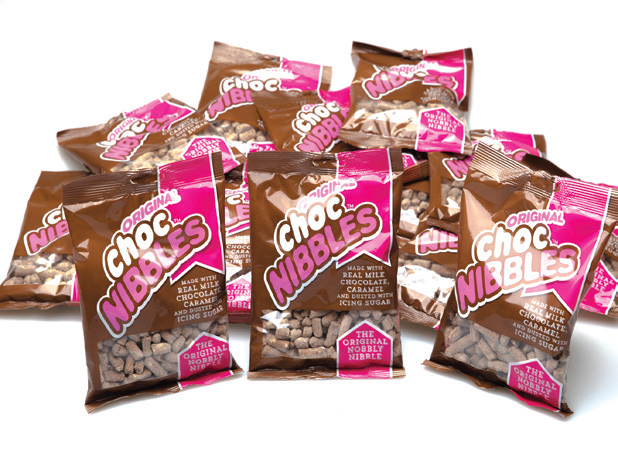 Chocs away!
Through diversifying operations and investing in new machinery, Northern confectioner Sweetdreams is enjoying sweet success
Originally an accidental creation by Dobsons Confectionary in Ponteland, Choc Nibbles has developed a dedicated following in the North of England over the last 30 years. In 1998 the unique milk chocolate snack formed the foundation for Sweetdreams Ltd, which was acquired by Matthew Stephenson nine years ago with the goal of establishing a nationally successful brand of chocolate products.
Talking with FoodChain in November 2015, Matthew commented: "The core product is Choc Nibbles, but as we have developed flavours and ingredients the product range has increased. The second largest seller is Toffee Crumble, followed by Choc Lick, and then we have introduced flavour variants of orange and mint. In 2015, we have launched two new products, which are Jammie and Posh. Our products are completely unique and can't be mixed up with being anything else as we're the only one doing it. We affectionately call it an 'ugly' treat, which can be a struggle to get new consumers to buy into, but those who have tried it, trust it and keep coming back."
Indeed, with a loyal brand following in the North, Matthew and his small, dedicated team made the strategic decision to put the development of new flavours on the back burner and instead focus
on new markets. "If you look at our business, historically we focused being a supplier to the traditional wholesale market, who then sold onto the traditional sweet shops. Three or four years ago we progressed into the re-bagging market and began to supply our products in bulk; this wasn't innovation in any way, but gave us an opportunity to create a whole new market for Sweetdreams. This development resulted in our company getting listed with Bonds Confectionery and their three for a pound range – and for the first time ever, Bonds Confectionery added our Original Choc Nibbles branding alongside their logo – a first for this range. This shows how far we have come."
Alongside this project, the company has also recently announced it has secured its first order for Choc Nibbles to go into the UK's national discount retailer, B&M Stores; a breakthrough for the company that stems from an investment of £100,000 during 2015 that has enabled Sweetdreams to diversify its packaging formats and be more reactive to market developments. "We have spent a lot of money on improving areas such as quality, production and packing, the latter of which includes investment into new in-house bagging machinery," says Matthew. "Following this investment we have been working with B&M on the development of our 250 gram pre-pack bags of Original Choc Nibbles. Once the bag was up to a standard we were happy with, B&M listed the bag and got it a prominent showing in a retail environment, which is a hugely difficult task for a small company to achieve; thankfully we had fantastic support from B&M and their confectionery team.
"We are now supplying the whole of the B&M estate and are supplying tens of thousands of bags. In fact, our forecast for the year for the new bag was just over 120,000, and we have already superseded that in the first six weeks. It has been an astonishingly brilliant success that has been well supported by B&M." Made with premium ingredients and real milk chocolate, the 99p packs of Choc Nibbles continue the company's trend of delivering high quality ingredients at excellent value.
With the B&M contract an undeniable success, Sweetdreams is now keen to increase its market presence by building on the national brand exposure. "Having tangible, successful sales data from a national retailer for our products will hopefully open doors to new markets and new customers," says Matthew. "We are hoping to announce a second listing in a large national retailer in the coming weeks, as well as introducing new products and flavours in the prepack format.
"These are exciting times, and we are in a good place at the moment, but as a private, family-owned business, any risk is my risk, so we make sure we keep our core customers and suppliers happy and then take manageable, controlled steps to grow the business for the future."
With the business now in prime shape for continued growth, Sweetdreams has turned its attentions to expanding its operations by integrating its strengths in a controlled manner. "Our growth will be over 30 per cent this year and I don't see a problem maintaining or even surpassing that in 2017. The key to this growth has been investment, innovation and finding the right people who work together," highlights Matthew.
"Although we took a risk and invested before we had the orders we are now reaping the benefits and looking positively to the future; in the next six months we are looking to relocate as we have outgrown our factory and have more than doubled our staff numbers in the last six months. We want to increase these numbers again and are looking for technical personnel to join our team at this exciting time in our history," he concludes.