Now the Hawaiian concept has taken the US by storm, and at the front of that charge is Sweetfin: the place where its mainstream popularity arguably originates
For those unaware, poke – which means to cut into chunks or pieces in Hawaiian – is a fresh, healthy appetizer or main course historically served throughout Hawaii. It is a staple dish within the national cuisine and consists of skinned, deboned, and filleted raw fish served with seaweed and candlenut. Though seemingly ubiquitous across the US today, the now readily available dish was not always so popular.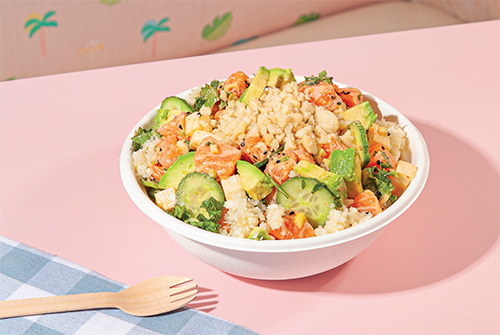 As Seth Cohen, President and Co- Founder at Sweetfin, attests: "We opened our first location in Santa Monica, Los Angeles in early 2015. But, for a year and a half prior to that first restaurant, we were in the middle of an incredibly busy research and development period, trying different flavors and foods to find our concept. Through that process, the idea of a fast-casual chain came to fruition. Curiously, however, when we first started, the idea of having a stand-alone poke concept just did not exist. For investors, it was confusing because no one really knew what poke was and, while a staple in Hawaii, the average US consumer was unlikely to have tried it before."
Fast forward to today, and poke is everywhere – not just in the US but all over the world. "A part of that mainstream popularity goes back to what we were doing in 2013," asserts Seth. "It was really innovative, and our head chef at the time, Dakota Weiss, helped to spearhead the development of the concept. She had just finished filming Top Chef and joined us as a corporate partner; we told her about our poke fusion idea, and she thought it was excellent. In that period, there was this kind of renaissance in the fast-casual restaurant movement – and poke seemed perfect for that category. It was fresh, healthy, customizable, and there was a discernible market opportunity to build upon."
Needless to say, Sweetfin's California-inspired poke was a resounding hit. As Seth informs us, for the first few months, queues of ebullient customers lined the block. Locals were obsessed.
Why would they not be? Sweetfin uses local produce, sustainable fish, and innovative ingredients; it focuses on fresh and powerful flavors, and pays homage to a variety of national cuisines to establish fast-casual fare that tastes truly unique.
Poke pioneer
Neatly summarized by its pithy 'Pole to Bowl' mantra, the company operates under a philosophy of responsibility; in sourcing its fish, for instance, Sweetfin endeavors to use high-quality, sustainable proteins, while maintaining a reasonable price point for its customers.
It has, therefore, cultivated a menu that is 100 percent gluten free and caters to both vegetarian and vegan diets. "We always wanted to build a business that was truly scalable," says Seth. "Being based in Los Angeles, we knew there was already a strong Japanese demographic and culture surrounding sushi. That meant people would understand our product once they had tasted it. In Hawaii, poke has been around for generations; however, we wanted to bring that dish to Los Angeles, translating it in the process and putting our own spin on things rather than simply copying traditional means. We let it evolve, infusing it with local Californian produce and drawing on Japanese cuisine. The result was innovative and completely new; no one had ever seen anything like it."
As with any restaurant – from fast-casual to high-end – the proof is ultimately in the pudding (or poke). A concept can be imaginative, creative, and meticulously thought out; however, if the food does not taste good, then people will not eat it.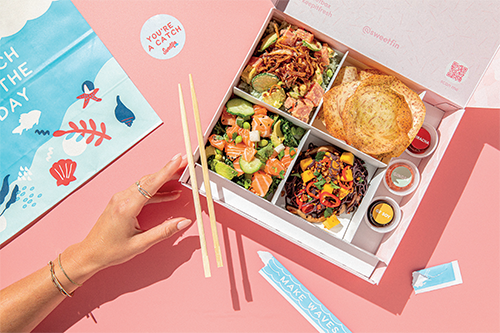 Sweetfin knows this: a choice of protein is buoyed by a bed of local and international ingredients, tantalizing even the most seasoned of taste buds with bold new flavors. Gochujang salmon, mango albacore, shiitake chili tofu, sweet potato ponzu lime, yuzu salmon, miso eggplant and mushroom; spicy cucumber, citrus kale, kelp noodle slaw, chili ginger noodles, wakame salad. The range and depth offered by Sweetfin is self-evident.
"We took the familiar flavors of Japanese sushi and combined them to create an easy-to-eat bowl," details Seth. "As a result, we utilize ingredients that you would never find in the fast-casual world. For example, we offer yuzu kosho sauce, a Japanese chili paste that we specially import and which, therefore, you really only find in high-end sushi places; Hijiki, a type of Japanese seaweed; togarashi, a chili powder; and kelp noodles, a staple in Korean cuisine but rarely found in the US. On top of that we use shimeji and shiitake mushrooms, napa cabbage, Persian cucumber, as well as fresh oranges, pineapple, and mango."
So, in short: a hybrid blend of unique ingredients combined with fresh Californian produce. To infuse its dishes with that special quality which transcends the power of words as accurate descriptors, the poke pioneer often partners with professional, industry-leading chefs to build innovative new meals.
Chef-driven approach
Former collaborators include Susan Feniger, Antonia Lofaso, Burt Bakman, and the Michelin-starred Philip Frankland Lee. More recently, Sweetfin joined forces with Tway Nguyen, a popular chef and online content creator, to cultivate the Tway Bowl: an exclusive and herbaceous meal inspired by Tway's Vietnamese heritage.
The dish features a base of vermicelli rice noodles and is topped with house-made pickled carrots and daikon, fresh cilantro, crispy shallots and cucumbers, scallions, sesame seeds, and a crispy rice cracker. Alongside a choice of protein – from line-caught Albacore tuna imported from the Fijian islands to plant-based options like tofu – eager foodies are treated to sesame crackers and a classic Vietnamese dipping sauce.
As Seth notes, the dish is a prime example of the company's willingness to remain innovative and embrace different cultures. "Part of that innovation comes down to procurement," reveals Seth. "We have always been very transparent in how we source our proteins. To that end, if someone walks into Sweetfin, they will be presented with both a menu and a fact card for all our fish, explaining how and where they were caught, as well as displaying their sustainability ratings.
"As such, we have made it impossible to not make a good choice at Sweetfin," he continues. "All our produce comes in daily, and our toppings are prepared in-house from scratch. We take a chef-driven approach to how we operate our Sweetfin kitchens and that quality of preparation and produce sets us apart from competitors. Guests can tell the difference, too."
Digital offering
Following the incredible success of its first Santa Monica location, Sweetfin swiftly opened a second restaurant in Woodland Hills, Los Angeles. Within 18 months, the company had managed to carve out a strong reputation in its hometown, and had thus attracted enough funding to open a further eight locations.
Since then, things have not slowed down. Currently, Sweetfin operates with a total of 16 fast-casual outlets – 13 restaurants; three to-go kitchens – across Los Angeles, Orange County and San Diego, where the company continues to build itself as an established brand.
Another way Sweetfin has remained innovative is through its robust investments in cutting-edge technology. In 2015, the vast majority of Sweetfin orders were taken in-store by a cashier; yet, over the last few years, that ratio has shifted as guests increasingly gravitate towards digital ordering.
Having recognized that shift, Sweetfin now operates with smart self-ordering kiosks, which use, for instance, face-recognition software to remember regular customers and have their order ready for them. "Technology such as this will prove pivotal in our future, as we look to aggressively expand in the coming years," concludes Seth. "Our end mission is to fuel life through freshness. There are 94 million different ways you can build a Sweetfin bowl; the possibilities are endless, so you can keep on fueling up. Put simply, we feel there need to be more Sweetfin stores and less McDonald's in the world – and we intend to make that a reality."
www.sweetfin.com