Providing high-quality frozen yogurt and targeting the right areas for growth is helping sweetFrog build its presence around the country.
Founded in 2009, sweetFrog has grown into one of the top chains of frozen yogurt shops in the nation. The company aims to provide the best frozen yogurt experience through a combination of high quality products and a welcoming family-friendly environment. With its lovable mascots, Scoop and Cookie, and a commitment to being a good neighbor everywhere it calls home, sweetFrog has been able to establish itself as a beloved fixture in hundreds of communities around the country.
Created at a time when frozen yogurt shops were mainly found on the West Coast, sweetFrog was born in Richmond, Va. sweetFrog has flourished since its 2009 inception as customers up and down the East Coast have fallen in love with the best-tasting frozen yogurt products on the market. In recent years, sweetFrog has blossomed into the second-largest frozen yogurt company in the country – expanding to California, Texas, Hawaii and other states as well as a few international markets.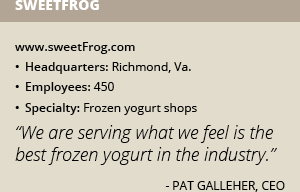 Providing Choice
sweetFrog provides all customers with a wide variety of choices at all of its 350-plus stores. Each store is equipped with eight or nine frozen yogurt machines that offer flavors ranging from traditional vanilla and chocolate to soft-serve fruit products such as strawberry banana or strawberry pineapple to sorbet and other sugarless products.
"We are serving what we feel is the best frozen yogurt in the industry," says Patrick Galleher, sweetFrog's CEO. "Our product tends to be sweeter, more ice cream-like frozen yogurt. It is less tart, and we believe children and teens enjoy our products more than that of our competitors. By mixing up the variety of offerings, we can be friendly to diabetic and non-dairy customers while offering ice cream for the non-frozen yogurt customer. Because of this, we feel like we have the best mix of product offerings on the market."
sweetFrog conducts blind taste tests with various age brackets to gauge what is popular with its customers – everyone from adults to teens to younger children aged 6 to 9.
"When we do blind taste tests, we analyze the results based on age and geographic location," Galleher says. "That helps you make sure you take the view of all ages and locations into consideration."
Making sure performance is consistent from location to location is important. sweetFrog has district managers and mystery shoppers that help make sure high standards are kept in place. The company has placed a great deal of emphasis on cleanliness and ensuring topping bars are organized with fresh cut fruit and fresh waffle cones. It also has strong relationships with distributors to ensure product consistency so customers get the same experience and quality in each location.
"We want our locations to provide a friendly and welcoming experience," Galleher says. "sweetFrog should be the place for all families to go for a treat. That is our goal, and we think maintaining a clean and attractive in-store environment is all part of the equation."
On the Move
As the company pursues growth, it is looking for locations that are close to a high percentage of households with family members under the age of 14. The company also wants to know where new developments and homes are being built so it can set up shop in town centers and strip malls anticipating a surge in new customer traffic.
"Right now, we have 60 corporate-owned stores and we are looking to expand that over the next year," Galleher says. "We have invested in a big data project to identify new locations and towns in America that don't have a sweetFrog-type offering yet. We already have 350 locations, but there is so much more room for us to grow across the country due to customer demand."
Other initiatives for sweetFrog include growing its fleet of mobile franchise trailers and trucks, building out more non-traditional locations, and expanding more in the international sphere.
"We just opened a third location in Cairo and we are looking for other countries where we can expand," Galleher says. "Also, non-traditional locations like airports, universities and stadiums are of interest for us. All of those initiatives will spur our growth over the next 12 months."
The major catalyst for sweetFrog's success is a proven ability to build ties to an engaged and loyal consumer base in a wide variety of communities. The company has sizeable membership in its loyalty program and a strong following on a wide array of social media platforms. sweetFrog constantly monitors those platforms to better understand the needs and online tendencies of their customers.
As it moves ahead, sweetFrog remains committed to partnering with the best possible franchise operators. The company wants partners that desire to be involved in their communities. The best operators do a wonderful job communicating and acting on the brand's community-focused DNA while serving up excellent frozen yogurt – a recipe for serious success.
"We have an incredible team here," Galleher says. "We have a very knowledgeable and dedicated group of people, and that makes us different than some franchise systems. It is exciting to be part of the sweetFrog family, and that helps set us apart."