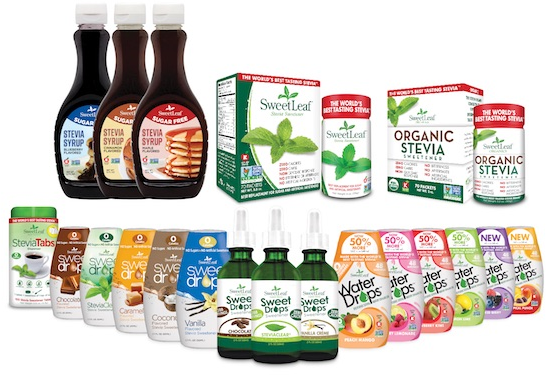 SweetLeaf Stevia is launching new products in the natrual sweetener category.
SweetLeaf Stevia is making the world a sweeter place – in a natural way. As the flagship brand of the Wisdom Natural Brands family, SweetLeaf Stevia is the No. 1-selling stevia product in natural and health food stores and has the second largest market share in grocery stores in the United States.
This year, the brand is launching a number of new products that it believes will make its customers' lives even sweeter. Wisdom Natural Brands already offers a full line of SweetLeaf Stevia sweetener products including single-service packets, liquids, powders, tabs and concentrates – which use only organic stevia.
But its portfolio is expanding with the launch of a new line of SweetLeaf Stevia syrups. "We tried every sugar-free syrup on the market and realized that there is a need," says Carol May, CEO of Wisdom Natural Brands. "Many of the sugar-free syrups in the market don't taste very good, but people don't want the calories of regular syrups."
SweetLeaf Stevia started introducing its new line of syrups to retailers and distributors this year and the products should be on shelves this summer. "We've been having a pretty exciting experience with them," May adds. "They're all-natural, plant-based and we're very careful about the ingredients we use."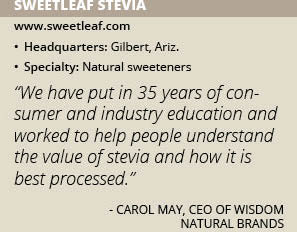 SweetLeaf Stevia Sugar-Free Syrup offers the incredible sweetness of stevia and monk fruit in three popular flavors – maple, blueberry and cinnamon. The syrups are flavored naturally, Non-GMO Project Verified and kosher. This sugar-free syrup is delicious on pancakes, waffles and desserts – with only 70 calories per serving.
According to the company's website, "the cultured dextrose used in our syrups is a preservative/food additive that is a natural shelf-life extender produced using a unique controlled process of dextrose. Cultured dextrose doesn't affect the taste of our products. It is a clean-label, FDA-approved ingredient; doesn't affect blood sugar and isn't a sugar."
On The Horizon
Another product on the horizon for SweetLeaf Stevia is a new baking blend, which belongs to its Better Than Sugar products.
"We've developed a granular baking blend to make cakes and a powdered blend that can be used for frosting/icing or for sprinkling," May says. "Some people like to sprinkle powdered sugar on their french toast and is perfect for that. It tastes great and has no calories."
May says that the company has many other exciting products on the horizon. "We have many things in our R&D pipeline," she adds. "Ready-to-drink tea is one of them. We're really excited about it and plan to introduce it to retailers later this year."
Since a big area of concern for today's consumer is the amount of sugar in soda and other sugary drinks, SweetLeaf Stevia is looking at developing a product for that market. "That's also in the R&D pipeline," May says. "About 40 percent of all added sugar comes from soda."
But the company already offers an alternative to soda. SweetLeaf Water Drops are a convenient, sugar-free and gluten-free hydration enhancer available in six fruit-flavored blends. They can be added to still or sparkling water.
"If you put a few of our vanilla cream water drops in sparkling water, it tastes just like a really good cream soda," May adds. "And some people really like our root beer flavor."
Aside from the water drops, SweetLeaf Stevia offers Sweet Drops which can be used to flavor water, yogurt, oatmeal, smoothies and coffee – to name a few.
"We have 16 flavors," May says. "Sweet Drops can also be used in cooking. For example, you can use the vanilla cream in whipping cream. It takes care of the sugar and vanilla. The vanilla is popular because it can go into anything."
SweetLeaf Stevia offers a wide variety of recipes on its website – like taking an equal amount of Vanilla Cream Drops and Orange Drops and adding it to Greek yogurt, which makes it taste like Creamsicle ice cream.
"Some of these were recipes that were developed by our customers, some by our chefs, registered dieticians and by home cooks and bloggers," May notes about these ideas. "We have a wide variety of recipes."
International Expansion
With SweetLeaf Stevia firmly entrenched in the United States, Wisdom Natural Brands is growing its presence worldwide. Although it already sells its products in more than 30 countries, the company is increasing its international market.
"We are also taking our products to China and India," May says. "There are a lot of people who need and want our products there."
In China, the company has hosted a number of focus groups and discovered that its products are popular. India is a good market for Wisdom Natural Brands to enter because it has a high number of people suffering from diabetes.
"There are about 1.3 billion people in India and we're told that 500 million have Type II diabetes," May says. "A lot of these people need to control the amount of sugar they digest. Many put six to eight teaspoons of sugar into their morning coffee because it's an extra source of energy for them. But they don't realize sugar is difficult for the body to metabolize. So, we think there's a need for our products there."
Industry Pioneers
The company's crusade began in 1982 when James May, Carol May's late husband, was introduced to the stevia leaf by a Peace Corps member who had just returned from Paraguay. The stevia plant was discovered in the rainforests of Paraguay roughly 1,500 years ago.
"The young man who returned from Paraguay placed it on this tongue," May says. "And with every second, it became sweeter and sweeter."
After tasting the leaf, James May left his career in the healthcare industry and devoted himself to developing a business around marketing the stevia leaf as a safe alternative to sugars. "My husband was very well respected in the area of renal dialysis," May adds. "But this is what he wanted to do."
The Mays and their five children packaged and labeled herbs in their garage, and James May sold stevia, yerba maté and other herbs to local health food stores in the back of the family's car. The leaves from the Yerba Maté tree are the core ingredients of the Wisdom of the Ancients herbal tea brand, also owned and produced by Wisdom Natural Brands.
Because the plant was only allowed for topical uses in the United States until the mid-1990s, James May worked with a local congressional delegation to pass the Dietary Supplement Health and Education Act. It was enacted in 1994. The act recognizes stevia as a dietary supplement.
"We have put in 35 years of consumer and industry education and worked to help people understand the value of stevia and how it is best processed," May says.
Following passage of the act, the company sold its products in powder and liquid form, but only as a dietary supplement. This changed in 2008, when SweetLeaf became the first stevia sweetener to receive Generally Recognized as Safe status from the U.S. Food and Drug Administration. With the certification in hand, Wisdom Natural Brands began marketing stevia as a food product and started selling it to other food manufacturers as an ingredient. Since then, SweetLeaf has won 31 international awards for taste, innovation and sustainability including the prestigious ChefsBest Excellence Award. SweetLeaf Stevia Sweetener and SweetLeaf Organic Stevia Sweetener packets have also been designated as certified Paleo from The Paleo Foundation Inc., making it the only stevia on the market to receive this designation.
In 2016, James and Carol May were inducted into the Natural Products Hall of Legends. The honor recognizes the couple's contributions to the natural products industry. "It's been quite a journey for us," Carol May says.
With an already impressive 55 percent share of the United States natural sweetener market, the company is still growing. "Depending on the area, we grew from 18 to 35 percent just last year," May says. "This kind of growth is unusual and very gratifying. It really is a tribute to our R&D program, our fine scientists and our marketing and sales teams."
SweetLeaf Stevia Sweetener is America's first zero-calorie, zero-carbohydrate, certified-paleo, non-glycemic-response sweetener.