TA Restaurant Group continues to expand its food concepts and brands.
It's relatively rare in the franchise business. Most companies either fall into the franchisor category or they are the franchisee. But Westlake, Ohio-based TA Restaurant Group claims both titles.
"Since we franchise, we understand the needs of the franchisee and that allows us to be good at being a franchisor," says John Ponczoch, TA's senior VP of food operations.
One of the largest restaurant franchisor/franchisee organizations in the United States, TA Restaurant Group is a division comprised of more than 850 food concepts that are affiliated with TravelCenters of America LLC – a Fortune 500 company that offers gasoline and diesel fueling, restaurants, truck repair facilities and convenience stores in 43 states and Canada.
The company's concepts include 256 travel center locations, branded TA and Petro Stopping Centers, almost 240 convenience stores under the Minit Mart brand and 50 Quaker Steak & Lube casual restaurants. TA has spent millions on capital improvements for the Quaker Steak & Lube chain, which it acquired in 2016. It plans to spend millions more on re-energizing the chain. Most of the restaurants were built in the '80s and '90s and are in need of upgrades.
"We want to make them more appealing," Ponczoch says. "If you look at various restaurant concepts, they've all gone through some sort of modernization. That's what we're trying to do. It's an exciting brand and we can infuse it with an exciting design."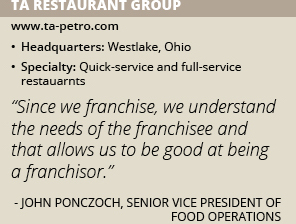 Redesign is expected to start early next year and will include changes to both the physical look of the Quaker restaurants as well as to the overall image. TA has hired Tesser, a San Francisco-based brand strategy and design firm, to help with redesigning. Currently, 16 Quaker locations are TA-operated and 34 are franchised.
Truck Driver Havens
Popular among professional truck drivers, TA also owns and operates the Country Pride and Iron Skillet brands – known for offering a variety of comfort food – at its travel centers. For more than a decade, truck drivers have voted the Iron Skillet as the best restaurant on the interstate.
The restaurant is known for its hand-cut steaks, hand-peeled mashed potatoes and a plentiful buffet. Both Iron Skillet and Country Pride are franchised to various travel center operators who manage TravelCenters of America's TA or Petro Stopping Center brands.
It's also at these travel centers where TA is the franchisee of several national food chains, which include Black Bear Diner on the West Coast and Fuddruckers and Bob Evans in the Midwest. A new addition to the family is Fazoli's, an Italian-American casual restaurant chain based out of Lexington, Ky.
TA signed a deal with Fazoli's this year to franchise four of its restaurants. By the end of 2017, a new Fazoli's will open at travel centers in Oklahoma, Connecticut and Texas. In 2018, another will open in Michigan.
"They are a new partners with us," Ponczoch says. "We have looked at Fazoli's three or four times over the past five years. Recently they have gone through a transition and really impressed us with the quality of their product and the service levels they have today."
In addition to Fazoli's, TA is pairing up with another new partner – Boston Market, a Golden, Colo.-based American fast food chain. TA plans to open its first Boston Market at a travel center in Texas. "There's a number of other brands that we're speaking with but nothing concrete yet," Ponczoch adds.
Reputation Matters
TA Restaurant Group also operates as a franchisee for more than 30 nationally recognized brands that include Starbucks, Popeyes, Burger King, Taco Bell, Pizza Hut, Dunkin' Donuts, Godfather's Pizza and Subway. These also operate within TA and Petro Shopping Center travel centers as well as Minit Mart convenience store chains.
"Subway would be the one with the most locations, but more recently our growth has been with Popeyes," Ponczoch says. "We operate 62 of those throughout the country." When considering brands as a franchisee, TA seeks a reputable brand that has established its name as well as one that is in good standing with its franchisors.
"There are brands out there that are truly focused on your success and that's probably the most important thing about the brand," Ponczoch says. "We look at new brands as well, but one of our first questions is that we want a list of current franchisees that we can speak to."
Smooth Operators
Being a franchisee for a large number of recognizable brands, TA cross trains its employees to be able to work in more than one restaurant. "We have to be nimble and we are very good at that," says Tom Liutkus, senior vice president of marketing and public relations. "It's not uncommon for some of our district managers to know both Burger King and Taco Bell because they may be managing both brands."
In addition, having access to the various business practices of major franchisors gives TA an edge over its competitors. "That knowledge makes us uniquely positioned," Liutkus adds. "We take the knowledge of all these different practices, take the best of them and make them our standard when we franchise."
As a franchisor, especially for its Quaker Steak & Lube and Iron Skillet brands, TA looks for entrepreneurs with a background in the restaurant business. Though it doesn't discount those that seek to operate solely one restaurant, TA prefers those who can run multiple locations.
Giving Gestures
When it comes to charitable gestures, TA believes in giving back to the people who have helped it prosper. One of its chosen charities is the St. Christopher Truckers Relief Fund, a non-profit organization that helps truck drivers and their families who have financial needs due to medical problems. The charity also works to develop programs that benefit professional drivers and the trucking industry in general.
"Our core business is the travel business and our core customer is the trucker," Liutkus says. "If they get injured on the job and their earning power ceases during recovery, this charity helps them with some of those expenses."
The company has been supporting St. Christopher's since 2010 and has raised more than $2 million for the charity. It also supports various charities that benefit veterans. This includes Wounded Warriors, a non-profit group that provides transitional housing to post-9/11 combat veterans with Traumatic Brain Injury (TBI) and Post-Traumatic Stress (PTS). In addition, TA works with the Folds of Honor Foundation, which provides educational scholarships to spouses and children of fallen and disabled service members.