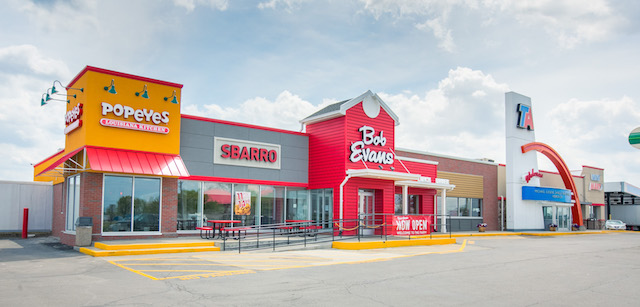 TA Restaurant Group works to invigorate employees and grow its Quaker Steak & Lube chain.
TA Restaurant Group has a rarely seen dual role as both a franchisor and a franchisee. TA Restaurant Group is a division of TravelCenters of America. On the one hand, it sells franchise opportunities for its Iron Skillet, Country Pride and Quaker Steak and Lube brands.
On the other hand, TA Restaurant Group is also a franchisee of Starbucks, Burger King, Fuddruckers, Black Bear Diner, Taco Bell, Pizza Hut, Arbys and other restaurants. That dual role offers TA Restaurant Group insight and advantages. "One of the reasons we are so successful with the brands we operate as franchisees is because as franchisors, we understand there are expectations by franchisees in operating their brands with high standards," says John Ponczoch, vice president in charge of the TA Restaurant Group division of Westlake, Ohio-based TravelCenters. "We try to follow their standards. When you are paying a royalty to carry that name, you expect them to support you, train you and help you grow your business. We expect that of our franchisors, we also try to deliver that to our franchisees."
The dual role of franchisee and franchisor also offers TA Restaurant Group exposure to shared best practices from the 31 brands it operates along with allowing franchisees to learn from it. For example, food safety.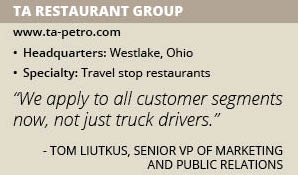 "Some of the very large brands, may be further along than us with the technology today for tracking products and using third party inspection services," Ponczoch says. "We continue to incorporate these high standards into the brands we run."
TA Restaurant Group operates more than 500 restaurants with more than 15,000 employees, and those employees are the most important – and challenging – factor in its success. "Maintaining good people are always the biggest challenge we have," Ponczoch says. "The whole restaurant industry is struggling to find and keep quality staff today and continues to struggle with turnover."
Teaching the technical side of restaurant work is fairly straightforward, Ponczoch says. "More challenging is developing a reason and passion for the work our employees do. Without a reason for servicing our guests and without knowing the difference you can actually have on someone's day it is tough for many employees to go above and beyond the expectations of our guests."
To do so, TA Restaurant Group developed training videos for its employees as part of its Daymaking program, which it has been using for seven years. These videos are about the day and the life of a truck driver, the experience a guest may have at our facilities, and the experience of our employees both at work and in their personal lives," Ponczoch says. "These videos teach our employees what it is like to be a truck driver, a local guest and an employee working for TA Restaurant Group."
"Customers vehicles could break down or they could have health issues or just have a bad day," says Tom Liutkus, vice president of marketing and public relations. "So, employees recognize the cues and are empowered to go into action and help the customer."
TA Restaurant Group also seeks to develop its leadership including general managers, district managers and regional vice presidents. "About 90 percent are homegrown," Ponczoch says. "We will go outside the company and hire if necessary but we certainly try to grow internally."
While the restaurant chains – Burger King, Popeyes, Starbucks and so forth – in TravelCenters have their own training programs, TA Restaurant Group instituted its own leadership course at its main Ohio facility.
"We will give you systems training and culture training," Ponczoch says. "You meet with our leadership team and gain new techniques on being a better leader and how to grow with the organization."
Company leaders also have opportunities to move in the organization. "If an employee wants to make a change from quick-serve to full-serve restaurants, we will give them that opportunity," Ponczoch says. "We have many departments – fueling, convenience stores, 31 restaurant brands, truck service brands, headquarters – the opportunities are endless for folks. If you want something different across the country, we will help you get there."
All Audiences
TA Restaurant Group is a division of TravelCenters of America. "We apply to all customer segments now, not just truck drivers," Liutkus says. "We pride ourselves on being a full-service provider of travel center services and amenities."
TravelCenters of America was founded in the early-1970s by Phil Saunders in western New York state. He built the first four locations and then sold them to a Miami-based company, Liutkus says. There were several changes of ownership, with the current ownership taking form in 2007.
TravelCenters are big, about 24 acres on average with 290 parking spots for trucks, more than 100 spots for cars and room for various services. In addition to restaurants, those services include gasoline and diesel, a travel store that is double the size of the average convenience store, basic truck maintenance and repair and roadside assistance.
The TA Restaurant group is a big part of that with more than 500 restaurants including both fast-food and sit-down. Those include Starbucks, Popeyes, Burger King, Taco Bell, Pizza Hut, Dunkin Donuts, Subway, Black Bear Diner, Fuddruckers, Arbys and other brands. Offered inside are driver showers, movie rooms, fitness facilities and some even have medical clinics or Verizon stores.
Hugely Popular
In 2016, TravelCenters of America bought Quaker Steak & Lube, a chain of 43 restaurants that had declared bankruptcy. "The chain is hugely popular in this part of the country," Ponczoch says.
The company initially invested $5 million in infrastructure, specifically customer-facing features such as tables, chairs, lights, and ADA compliance. That has served the chain well, Ponczoch says, as the improvements have focused more on keeping up with food trends and looking at food offerings and bringing back old favorites.
"Today, you could talk to any of the Quaker Steak and Lube franchisees and they would have good things to say about Quaker Steak and Lube," he says. "We are starting to see some interest in growth with the franchises."
Civic and Charitable
Travel Centers of America works with a number of charitable and civic efforts such as the St. Christopher Truckers Relief Fund. "It supports truckers and their families who have serious needs," Liutkus says. "If a truck driver gets hurt or sick while on the job and stops driving, they stop earning. St. Christopher's helps pay for bills above and beyond medical including truck payments, house payments and utility bills."
Other organizations the company helps include Folds of Honor, which provides scholarships to families of military killed in action, and Wreaths Across America. It also provides free meals to veterans twice a year. "We ask our locations to get connected locally," Liutkus says, "to civic organizations, schools or any way they can help local communities."