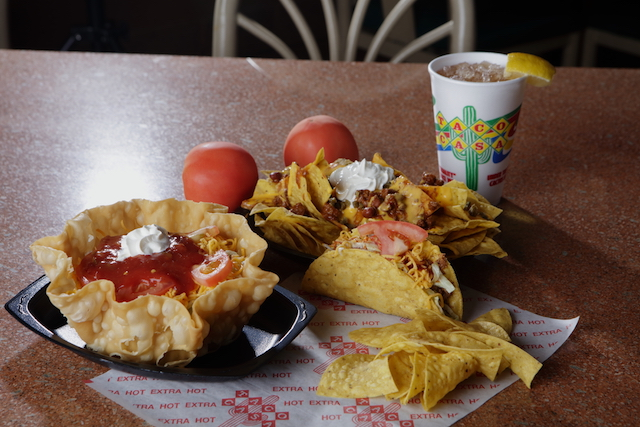 Celebrating its 45th anniversary this year, Taco Casa remains a Tuscaloosa institution because of its focus on quality and its founder's vision.
Seeing the success he's had, people like to tell Rod Wilkin how lucky he is. Wilkin, however, knows it has taken a lot of hard work and ongoing faith to keep Taco Casa going since 1974 and now have seven locations in and around Tuscaloosa, Ala. After all, it was hard work at Hutchinson Junior College in Kansas that made Wilkin an All-American football player and caught the attention of Coach Paul "Bear" Bryant at University of Alabama, enabling Wilkin to play for the famed Crimson Tide.
Football taught Wilkin the importance of hard work, dedication and determination, which he used to realize his dream of opening a Mexican restaurant. He fell in love with Mexican food while he grew up in Kansas, and worked for various restaurants – including Bachelor's Three owned by Joe Namath – after he graduated. He and his wife moved to Kansas after graduation, allowing Wilkin to work in construction with his father, but on July 3, 1973, Wilkin packed up his car with his wife and their first child, and they moved back to Tuscaloosa to move forward with his dream. Tuscaloosa at that time wasn't receptive to Wilkin's Tex Mex vision, but that didn't stop him. Eventually, he found a man who would give him a chance on a building, and with some money from family and a small SBA loan, Wilkin opened the first Taco Casa in Tuscaloosa on Aug. 20, 1974.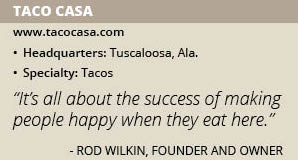 "People weren't sure about the location, but my target market was college students, and there were a couple thousand apartments around that location," Wilkin explains. "I started working 100 to 120 hours a week. I did that for seven months and I made money the first full month I was in business, but I was most of the labor and I wasn't paying myself. This August, I'll reach 45 years in business and I'm still working seven days a week. People say I'm lucky but it's not luck that gets it done."
Wilkin notes football taught him how to keep going after being knocked down, and that served him well when he was knocked down again in 1975. He had a wife, two children and a successful business, but also a mole on his back. A surgeon told him the mole was a Stage 4 melanoma, and he had 30 days to live. The doctor recommended Wilkin start praying.
"I got a bible and started reading, and talked to other people who knew how to pray," Wilkin says. The doctors wanted to do another surgery to check his lymph nodes, and a few days before that surgery, Wilkin awoke in the middle of the night to several minutes of hot flashes and cold spells. "The next day, I told the doctor that I didn't need the surgery because I knew God had healed me," he explains. "I still went through the surgery, and they checked 56 lymph nodes and they were all clear. I never had radiation or chemo, and it's been 43 years since I was told I had 30 days to live. Praying changed my life, and now we have a ministry to pray with people who are ill – there have been up to 300 people at our house at one time, and we did that ever two to three months."
Keeping it Right
Hard work was key in making Taco Casa a Tuscaloosa mainstay, but the company's ongoing success is also the result of its dedication to using quality and fresh ingredients. Taco Casa sources cheese from Wisconsin and its meat is a 90/10 blend of sirloin and ground chuck. The chili is made fresh daily – it takes about four hours – and pinto beans are sorted and soaked overnight before they are cooked to Taco Casa's standards. The sauces are made fresh every day and each order is made fresh.
"I have 80-year-old men and women who come in and eat," Wilkin says. "I realized, if they are 80 now, they were 35 when we opened, and they appreciate that I kept the menu the same. It's been a lot of fun, and I am trying to teach my kids that if it's not broke don't fix it. I've had people in the past who wanted to buy me out but the first thing they would do is cheapen things. If I wanted 300 stores, I could – I get 50 to 60 people a year who call and want to franchise. But I want it right and I don't think I would be able to keep it right and good if it got that big."
Wilkin has three sons and one daughter, and they are all involved in the business, as well as his daughter's husband. Additionally, six Taco Casa managers have been on the team for a combined 138 years. Not only does Wilkin care greatly about his long-term customers, but he takes pride in all of the employees who are part of the Taco Casa family.
"It's all about the success of making people happy when they eat here," Wilkin says. "When they leave, they are happier. I want them to be pleased, because this is my house and I want to give them the best. I take a lot of pride in what we do."
Photo credit: Barry Fikes