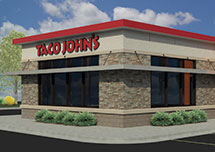 Known for serving original and bold Mexican flavors since 1969, Taco John's has grown from its first restaurant in Cheyenne, Wyo., to creating quick-serve Mexican food in an original way while also supporting many local communities.
Today, Taco John's operates and franchises more than 400 quick-service restaurants in 25 states, making it one of the largest Mexican quick-service restaurant brands in America. It continues to grow across the country.
Taco John's works to identify the characteristics of its operations that most resonate with its customer base. That has helped the company to establish its position in the industry and set itself apart.
Recently, Taco John's surveyed 1,200 quick-serve customers across the country and hosted focus groups in existing markets as well as potential new ones. The effort allowed the brand to confirm that it needed to be built around the things it does that others in the industry do not.
"Through our history, Taco John's has been unapologetic about using real ingredients and doing things a little differently instead of choosing to taking shortcuts," CEO Jeff Linville says.
"Over the years, we've generated a cult-like fan base that can't get enough of our signature flavors, fusing comfort food and bold Mexican-inspired spices," Linville adds. "We focus on the quality of our food and the ingredients that go into it. We serve made-to-order Potato Olés, hand-made salsa and chips, fresh produce and quality tortillas. You can really taste the difference in the end."
The Road to Success
A number of significant trends in the last few years have been impacting the hospitality and restaurant industry. Taco John's has worked hard to understand those trends so it could respond successfully.
One of those trends has been the fact that consumers today have many choices in dining options, and the landscape changes every day.
"As proud as we are of our past, our focus today is on success in the future, which is the same with our competitors," Linville says.
"We are working every day to attract new guests, especially millennials," Linville says. "At the same time, we are also expanding into new markets and growing profitability for our franchisees."
Another trend, which is more specific to Taco John's, emerged thanks to the company's extensive research. Linville says Taco John's realized that it needed to remind its guests of just who Taco John's is.
That's why the company launched the Unwrap the Original brand positioning and marketing campaign. The new tagline, advertising campaign and website are designed to make the brand more relevant for millennials and new markets without alienating current guests.
"As I said, we've been unapologetic about our original menu, bold flavor and high-quality ingredients throughout our 45-year history," Linville says.
"Taco John's means nostalgia for many guests," he continues. "We've always had this unwavering commitment and we're excited to embrace it and to share our innovative menu with them, as well as with new guests and in new markets."
The recent investment in the refresh of the Taco John's brand more than just a marketing strategy. The investment goes beyond that, as it also represents the company's efforts to enhance the overall guest experience, which includes everything from the menu, dining rooms and operations to uniforms and messaging.
Beginning in July, the company's guests saw new menu signage, packaging, digital messages and point-of-purchase materials. Adding to the effort, Taco John's crews will have new uniforms, and its restaurants will be going through multiple stages of interior and exterior refreshes.
Three Growth Initiatives
Of its more than 400 locations, Taco John's footprint has mainly been built through franchising. More than 97 percent of the company's locations are owned by independent franchisees, while the remaining restaurants are company-owned. One of the most recent additions to the company's footprint came this summer with a new franchised location in Manhattan, Kan.
"As we grow, we are working on three core growth initiatives built around sales, transactions and profitability," Linville says.
"Although we aren't opposed to the idea of additional corporate ownership of restaurants, we are committed to growing our footprint through franchise partnership," he adds.
When the company considers its best prospects and opportunities for growth in the next few years, the Taco John's approach to growth is centered on three core platforms. One of those is transactional growth.
"We want to expand our guest base and become a top-of-mind destination for everyone," Linville says.
The company's other core platforms are sales growth and profit growth.
"We know that we need to be operationally strong, stay focused on quality menu items and ensure consistent delivery to meet guests' expectations," Linville says. "By optimizing food, labor and other utility costs, we will protect our current franchisees' investments and attract new franchise partners."
In the end, Taco John's has established a strong footprint based on the quality of its food and its commitment to being different from the competition. It has come a long way from its earliest days, growing from a small taco stand in Cheyenne, Wyo. and becoming one of the largest Mexican restaurant brands in the United States.
Taco John's has its sights firmly set on continued growth and expansion. This is why the company is making investments that will ensure that it is prepared for long-term growth. Through its brand refresh strategy, continued excellence in the kitchen and growth through franchising, Taco John's can strengthen its existing markets while expanding in new directions.
"People love our food once they taste it," Linville says. "We want to celebrate our originality while helping our guests to develop a connection with Taco John's."