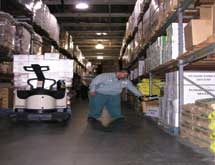 It takes a solid commitment to quality and sound relationships to succeed in the import and distribution industry, but only the most revered companies enjoy steady growth. Tama Trading Co. Inc., a European foods importer and distributor based in Los Angeles, has continuously expanded since its inception 90 years ago.
What began as a small specialty foods trading company established by six Italian immigrants in 1920 now is a full-scale, family owned business importing and distributing nearly 4,800 high-quality, international food items to more than 1,000 restaurant and retail clients in southern California, Arizona and Nevada annually.
CEO Will Sauro credits Tama Trading's success to its long-term relationships with vendors, customers and employees. "We have been representing certain companies overseas and locally for as long as our company has been in business – sometimes longer than some of the other companies we deal with have been in existence," he says.
"Every time we get a new item, we develop a relationship with that supplier and give them our loyalty and support," Sauro continues. "It's extremely important to have a good relationship with your suppliers. One of the key things is to pay everybody on time and pay people within their terms. When you are a good payer, you are a desirable customer."
"Vendors are everything in our business," says his son, President Bill Sauro. "Having exclusive arrangements with people is important in order to represent specific territories. Good relationships are hard to find these days, but a lot of the older companies we work with are good about holding strong on that, and that's important. Long-term relationships with vendors and suppliers are a must."
Diversification 'a Must'
Similar to Tama Trading – which is on its third generation of family leadership – many of its customers are multi-generation families that have been in the industry for decades. The grandchildren of retailers and restaurateurs have carried on the tradition of buying items from Tama Trading, which continues to expand its portfolio to meet the needs of today's consumer.
"The backbone of the business is Italian specialty foods, but as time progressed, we went on to Italian commodities, and today, we import from Europe, South America and Asia," Bill Sauro says.
The company's product portfolio ranges from frozen vegetables and seafood, prepared sauces and creams, pastas, baked goods and deli meats to dairy products, canned items, cookies and pastries, olive oil, mineral water, wine and beer, as well as disposable items such as pizza boxes and plastic film wrap.
"The hardest thing to do is to introduce a product and try to make it a new trend," Sauro explains. "But it's also the fun part of the business – making something out of something new. We're constantly finding new items and seeing if we can find a place in the market for them. These are the things that make us different from others in the distribution business; otherwise, you're just like everybody else.
"Our newest venture is in organic or natural foods," he continues. "We've been doing natural foods for 12 to 14 years, but in the last three or four years, it's become a significant part of our business, and it's been growing every year. People want to take better care of themselves and are watching what they eat. As they become more knowledgeable about how to eat better, it's important to be a part of that segment of the food business."
Three Generations of Sauros
Smart business practices have kept the company solid for the past 90 years. A week before the six Italian immigrants established Tama Trading in 1920, Giulio Sauro – Will Sauro's father – showed up at the door looking for work, and they offered him a position as a truck driver.
The founders were so impressed with his work ethic, they made him junior partner within a year.
"From there, in any event that one of the older partners got out of the business, my father had first rights to buy their shares and balance himself as an equal partner," he says. "Little by little, that's what he did, and our family became a third owner of the company."