Tamura's Market continues to expand its brand throughout Oahu and Maui with plans to open more venues in the food and beverage scene on the Hawaiian Islands.
Tamura's Market is deeply rooted on the Hawaiian islands of Maui and Oahu as it has been the go-to community grocery store for four generations. The company has developed a strong reputation based on its family values and customer service, which has allowed it to seize the opportunity to become more diverse.
"Glenn Tamura, the owner, is focused on expanding and being more diverse in what he's doing," Director of Operations Mike Mita says. "Glenn is a true entrepreneur and always thinking about new ways to do things. It all started with a grocery store, and Glenn found a niche and opened up Tamura's Fine Wine & Liquors. It's now all about pairing the food with the wine."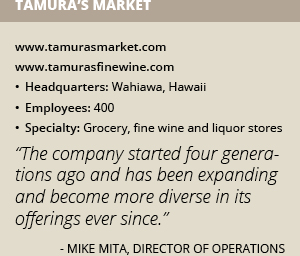 Makitaro Tamura founded the first Tamura's store in the 1920s on the main street of Wai'anae on Oahu. He later turned the store over to his son, Katsuichi Tamura, who changed the name to K. Tamura Store and then Tamura Super Market.
Herbert Tamura and his son, Glenn, branched off from the original family company to start their own business. In 1995, Tamura Enterprises Inc. was established, operating a liquor division and grocery store. Tamura Enterprises since has grown to include three grocery stores, six Fine Wine & Liquor stores and one express store.
"Tamura's started out as a mom-and-pop and we still consider ourselves a mom-and-pop company," Mita says. "We are thinking big at the same time because we are expanding so fast, but the family values are still there. We take care of people the best we can."
Unbeatable Values
Tamura's Market prides itself on offering the best value and low prices to its customers. "We opened our most recent market six years ago in Kalaeloa, and people thanked us for opening up," Mita remembers. "Our pricing is so much better than the surrounding competition, and that's what we do. We make ourselves a destination by offering low prices so we are cheaper than the rest of the markets."
The company is able to offer lower prices than its competitors because of its close relationships with its suppliers. "We always have to try and get the best pricing so our margins aren't high," Mita explains. "We are constantly communicating with our suppliers and giving them feedback on what we are receiving."
Tamura's Market is not only recognized in the community for its low prices, but also for its poke. The company was voted "Best of the Best Poke Shop" in 2012 and 2013 and the "Best Place for Poke" from 2013 through 2015 by Hawaii Magazine. Poke is a Hawaiian word meaning "cube" and Tamura's Market receives fresh ahi, also known as bigeye tuna, daily from the Honolulu Fish Auction. "Bigeye tuna is the best and everyone in Hawaii loves it because of the flavor and texture of the fish," Mita says. "That's one of our key departments that we focus on and we feature poke in every store."
The company believes in giving back to the communities that support it. Every year since 2001, Tamura's Market has held a golf tournament to raise money for Tamura's Charitable Foundation. The organization looks to fill in the cracks in the public school system, buying basic school supplies like pens, pencils and papers, and distributing them to the schools that need them. "In 2015, we raised more than $34,000 and this year will probably be around that," Mita says. "The community comes in our stores and shops, and we want to give back to them."
Fine Wine and Liquor
In 1995, the company added Tamura's Fine Wine & Liquor stores. The stores have become a major focus for the company and it has opened six locations on Maui and Oahu. "There's no one I know of in this state that has the selection that we do," Mita notes.
"When I was at USC, on the weekends we would travel, go to different bars and liquor stores," Tamura remembers. "And I was like, 'wow, we don't have all these box liquor stores and fine wine shops in Hawaii with their cognacs, whiskeys and cigars.' But being in a fraternity, that's how I started drinking, and I was exposed to all that on the Mainland. So I came home and thought it was a good idea, a niche that we didn't really have here."
Today, Tamura's Fine Wine & Liquor stores range in size from 4,000 to 6,000 square feet and stock anywhere from 3,000 to 8,000 SKUs of fine wine, hard liquor and beer. "The trend here in Hawaii is craft beer, so we are expanding those sections," Mita says. "We are getting more of the popular craft beers and suppliers are helping us present new items that we ask them to go out and get."
"When I got in [as president and owner], I brought a different aspect to [the company with the fine wine and liquor stores]," Tamura says. "We have more of a supermarket setup – smaller markups, higher volume. We carry everything from $3 wine to the $1,000 wine. Plus, in our supermarkets, the top sellers were always beer and poke, so I figured let's stick them in our wine shops too."
Expanding an Empire
Tamura's Fine Wine & Liquor stores are located in the affluent areas of Oahu and Maui. It took about 18 months in 1995 to locate and equip the flagship store on Waialae. The company opened its sixth location in Kihei in June. "We look for areas that we know are going to have the type of clientele who would go in for a good bottle of wine," Mita says. "Kihei is a resort area with more affluent visitors and locals."
When opening a new market, Tamura's looks for locations where it can fill a void or where there is an increase in new developments. Its future Wailuku location fulfilled both those desires. Homes are being built rapidly in this location and it will take the place of a family owned grocery store that had closed. "They were the top grocery store in the area, so we want to bring that family owned and family value back to the community," Mita says.
Tamura's Market plans to open more markets and fine wine and liquor stores throughout its territories. The company is also becoming more diverse as it opened Tamura's Kitchen & Catering in two of its grocery stores. "In Hawaii, the plated lunch is something everyone eats," Mita explains. "It's two scoops of rice, your choice of macaroni salad or tossed salad and whatever entrée is available. It costs $7 to $12 per plate and that's what we offer at Tamura's Kitchen."
Looking to the future, Tamura's two executive chefs are developing plans to build a 4,000-square-foot central kitchen at its Wahiawa store. The central kitchen will prepare fresh meals daily that will be delivered to all of its markets and fine wine and liquor stores. The company will add an extra layer of convenience for its patrons by adding prepackaged meals.
Tamura's Market is currently looking for a location to build a restaurant that will feature fine wines from Tamura's Fine Wine & Liquor. Tamura's restaurant will host tastings, as well as teach its customers how to pair wine with different meals. "It's all about location as far as the restaurant goes," Mita says. "You know what they say, location, location, location. Once we find the right spot we will start building there. Right now, Glenn is looking in Upcountry Maui, located in Haleakala, where there are affluent people. We will open a restaurant on Oahu also."
Moving forward, Tamura's Market will continue to find ways to dominate the food and beverage markets in Oahu and Maui. "The company started four generations ago and has been expanding and become more diverse in its offerings ever since," Mita says. "That's Glenn's philosophy. He has a good business sense and entrepreneurial skills; it's amazing to see what he has planned."