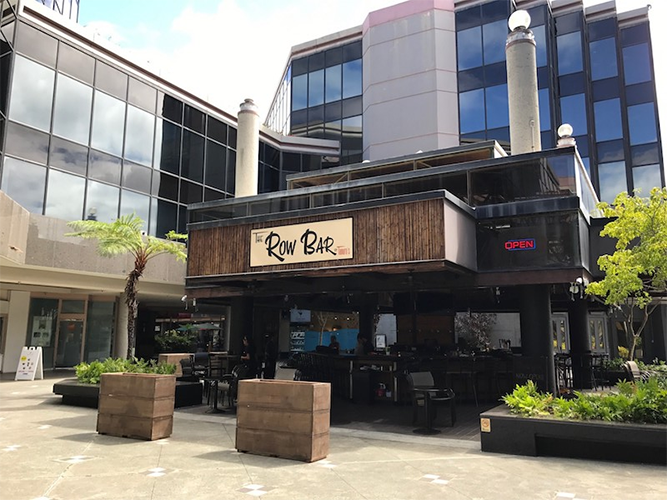 Hawaii's Tamura's Market expands into restaurants and bars as it continues to support its grocery and liquor business.
Poke may be one of the hottest new food trends, with small specialty restaurants popping up in major cities across the country, but few places can claim the poke authenticity of Tamura's Market in Hawaii. In a state known for originating the raw fish salads, Tamura's Market is among the best. The company has won numerous honors for its poke, including four Hawaii Magazine Reader's Choice Awards and the Hawaii's Best award in 2016 and 2017.
Good poke is a Tamura family tradition that dates back nearly a century. Makitaro Tamura opened the first Tamura's store in the 1920s in Wai'anae, a beach town on the western coast of Oahu. The business has remained in the Tamura family ever since.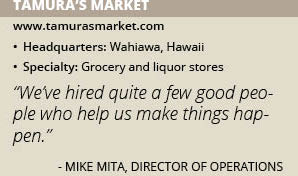 In 1995, Herbert Tamura and his son, Glenn, broke off from the family business and established Tamura Enterprises after purchasing Big Way supermarket in Wahiawa, on Oahu. The company now operates three supermarkets and three wine and liquor stores on Oahu and three wine and liquor stores and an express store on Maui.
Even as it has expanded its footprint, Tamura's has not lost the local connections that make it a true Hawaiian company. "The mom-and-pop values are still there and they always try to give back to the community," Director of Operations Mike Mita says. The main mechanism for that community support is the Tamura's Charitable Foundation, an organization that purchases basic school supplies such as pencils and paper for public school students.
For the past year, the foundation's efforts have been focused on giving Hydro Flask vacuum insulated bottles to schoolchildren. The bottles are designed to retain heat or ice for hours, making them ideal for keeping students cool during long school days in Hawaii's hot tropical climate. "Given the type of weather we've been having, a flask where you can keep juice or water cold is great," Mita says.
Diversifying Businesses
The first Maui locations opened in 2014 and proved to have a slightly different customer base than the Oahu stores. Maui is home to only 11.5 percent of Hawaii's residents but the island receives 30.4 percent of the state's tourists, according to the Hawaii Visitors & Convention Bureau. That disparity creates a disproportionately large tourist population that businesses must cater to.
The Tamura's Fine Wine & Liquors stores on Maui adapted by offering tourist necessities such as beach towels and souvenirs alongside its alcohol. "We've been trying to bring in more touristy items," Mita explains. Customer can now pick up a fun T-shirt of Tamura's branded koozie at the same time they are buying a case of craft beer or a bottle of fine wine.
The mixture has been a hit among the tourist population, encouraging Tamura's to expand its offerings. "We've always had our T-shirts, hats and visors, but now we're doing different messages [on them]," Mita says. Popular slogans include "Got Poke?" a play on the popular "Got Milk?" ads.
The Maui liquor stores are just one example of how Tamura's modifies its locations to best fit the local environment. Those lessons are proving valuable as the company opens several new businesses in Kaka'ako's Waterfront Plaza, a vibrant commercial and retail district south of downtown Honolulu.
"We're trying to take advantage of what's going on in Kaka'ako where there's been a lot of development," Mita says. The pedestrian-friendly area is a major draw for tourists and is home to 2,500 workers, making it the ideal location for another Tamura's Fine Wine & Liquors store.
But Tamura's is not limiting itself to its established retail businesses. The company is branching out into new areas. In 2017, Tamura's purchased The Row Bar, an outdoor bar in Waterfront Plaza, and reopened it as The Row Bar by Tamura's. The company followed that up with the opening of Tamura's Tavern, a sit-down poke restaurant located only a few feet from The Row Bar.
The two businesses complement each other. The Row Bar patrons can order food from Tamura's Tavern and diners can stop at the bar before or after their meals to enjoy a glass of fine wine or a high-end single malt whiskey.
Tamura's Tavern will also serve as the company's gateway to the Oahu catering market. Tamura's catering businesses, Tamura's Kitchen, previously had two locations, one in Wailuku, Maui, and another in Wahiawa, Oahu. However, the Wahiawa location recently closed, leaving it without a catering presence on Hawaii's most populous island.
Tamura's Tavern will fill that hole by serving the offices in Waterfront Plaza. "It's a no-brainer," Mita says. "If you sell food you might as well do catering."
In addition to the Waterfront Plaza businesses, the company is preparing to open another Tamura's Fine Wine & Liquors in a shopping center in Kaneohe, Oahu. Taken together, that's a lot of growth for a family-owned company in a short amount of time. Mita admits it's been difficult to keep up with the pace. "It's not easy because we're expanding so fast," he says.
The only way to keep pace is to find people who know what they're doing. "We've hired quite a few good people who help us make things happen," Mita says. On the catering and restaurant side, Tamura's has hired people with experience working in the food and beverage division of major hotels to come in and help the experienced retailer learn the restaurant business.
Market Investments
Although it is growing into new segments of the food and beverage market, Tamura's remains a grocery and alcohol retailer at heart. "We still remember where we came from and that's the supermarket business," Mita notes. "We have to take care of that first and foremost."
Because it's an island, keeping items in stock is a unique challenge for Hawaiian grocers. The state is one of the most isolated population centers on earth, located 2,390 miles from the U.S. mainland and 3,850 from Japan.
That distance creates several supply chain hurdles for businesses like Tamura's, which carries 10,000 different products. It takes longer for orders to arrive and if a store runs out of an item there's less opportunity for a quick resupply. The most effective ways to counteract those problems is good forecasting and accurate inventory counts.
Tamura's recognized the need to understand its inventory better. To do so, it needed better technology and data, so the company is investing in a new point of sale (POS) system, ECRS, for its supermarket and liquor stores. The system will perpetually measure inventory so that Tamura's has an accurate, real-time count of what it has in stock at any given time. "It gives us a better handle on the inventory we're carrying," Mita contends.
The POS is being rolled out in three phases. The first phase covered the Tamura's Fine Wine & Liquors stores on Oahu and was completed in 2017. The second phase will implement the system at the three liquor stores in Maui, and the third phase will cover the Tamura's Express in Maui and the three supermarkets on Oahu. Installation should be completed by the end of March. "It's a whole new learning curve," Mita says. "We feel the information we get from it is going to help us be more productive and hopefully help us increase our sales."
The improvements to the markets will come not only from new technologies, but also the behind-the-scenes work. Tamura's had been planning to build a 4,000-square-foot commissary kitchen at its Wahiawa store for several years; however, the idea was put on the backburner to focus on opening the new liquor stores.
With that wave of expansion nearly complete, the company is returning its attention to the commissary and plans to open the kitchen within the next six months. "We're still waiting for one more building permit," Mita says. The commissary will give Tamura's a central kitchen from which it can make ready-to-eat meals and distribute them for sale in its supermarkets. The kinds of meals haven't been decided yet, Mita notes, but it will likely include comfort foods such as beef stews and chilies.
With so many businesses opening in the past two years, Tamura's Market is going to settle down a bit and focus on perfecting its operations before it undertakes another round of expansion. "Right now, we're going to focus on what we're doing, do it right and from there we'll expand," Mita explains.