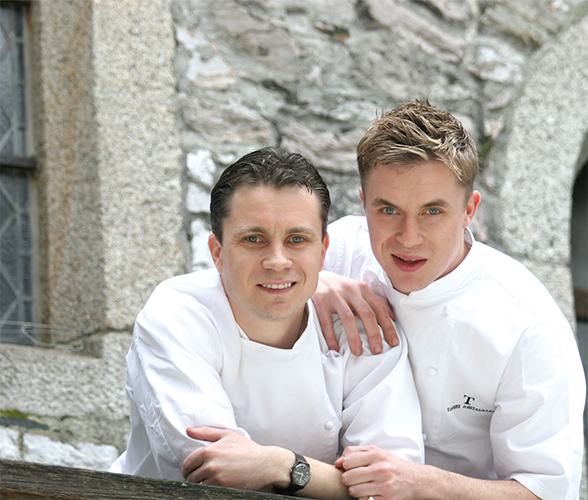 Ready steady cooks
The opening of Tanners Restaurant on 17 July 1999 was the realisation of a childhood dream shared by the Tanner Brothers – to own and operate their own establishment
Chris and James Tanner, who have achieved celebrity status due to their appearances on a number of popular television food programmes, have always held a passion for cooking and shared a vision of opening an affordable, exciting restaurant where they could develop their own individual style and concept: 'fine food, fine wine and an ambience to match'. This vision was realised in July 1999 when the brothers opened the popular Tanners Restaurant.
"It was our childhood ambition to own and operate our own restaurant, where we could cook food the way we wanted to cook it," says Chris Tanner. "That dream became a reality when we opened our doors for business. Our goal then was to create an affordable, exciting restaurant where we could develop our own individual style and concept, something I believe we have achieved."
The Tanner brothers' background in the food world is synonymous with great restaurants in glamorous locations, including London, France and New York. Chris, a protégé of the Roux Brothers, began at Le Gavroche as Commis Chef in 1989 and then spent five years working for them throughout the world before opening Tanners with his brother James. Both brothers have a flourishing TV career and are known around the world after starring in the hit television series 'The Tanner Brothers'. Chris and James are no strangers to television and have appeared on a number of popular food programmes. James in particular is becoming quite a regular on Ready, Steady, Cook and Saturday Kitchen, as well as the specialist channel UKTV Food.
Away from the camera, both Chris and James, who are extremely passionate about food, are very excited about the Tanners Restaurant and the success it has enjoyed. Talking to Food Chain magazine, Chris tells us more about the restaurants' unique dinning experience: "The atmosphere is relaxed, welcoming and steeped in history. This all comes together to create a truly memorable eating experience.
"Tanners is unique," he continues. "Indeed, a drink in our recently refurbished exclusive lounge, then go through and eat in the medieval style of the well room, the tapestry room or the covered inner courtyard.
"The restaurant is remarkable and we are extremely happy as it has taken a lotof hard work to get the restaurant how we wanted it."
Tanners Restaurant is a one-off and is well known throughout the Plymouth region for fine quality and attention to detail. The best of local produce, prepared with style and flair, mixed with that special ingredient that only the Tanner Brothers are capable of producing, has created a truly unique eating experience and has resulted in considerable success for the brothers.
In April 2006, on the back of the success of the Tanners Restaurant, the brothers launched their second venture, the Barbican Kitchen. The Barbican Kitchen Brassiere is situated in the heart of Plymouth's historic Barbican and is famous for being well priced and extremely lively. Perhaps it's most unique selling point is the fact that the brassiere is located in the very building where the Pilgrim Fathers spent their last night before setting sail in the Mayflower – the Plymouth Gin Distillery.
"The Barbican Kitchen has an exciting, vibrant feel," explains Chris. "It is very contemporary and its décor was designed by award-winning restaurant designer Shaun Clarkson. It is cool and funky, yet mixes nicely with the centuries-old distillery to create yet another dining experience that is unique in Plymouth. Barbican Kitchen specialises in the kind of food you can eat every day – classic and continental dishes offering real customer choice. Obviously we bring our own unique flair and are enjoying considerable success as a result."
Proud of what they have achieved and the role they have played in revitalising food in Plymouth, Chris and James were delighted to win the Best Ambassador For Plymouth Award 2006. Sponsored by First, South West of England Regional Development Agency and The Herald, the awards ceremony saw Plymouth's most talented businesses and individuals recognised in front of the city's business community and politicians. To top it all, they also received an honorary doctorate of arts from the University of Plymouth in July 2006.
Speaking of his delight at lifting the prestigious award, Chris says: "It's great to give something back. People said it couldn't be done and we proved them wrong. The award recognises the amazing wealth of talent and innovation in the Plymouth's business community and also aims to celebrate the personalities behind the businesses. This is a wonderful city and we are proud to recognised as part of a strong local business community."
It has taken the Tanner brothers, who herald from Kent, many years of hard work to establish two very distinct, yet successful ventures. Nobody knows what the future holds, but if the next eight years are half as successful as the eight that have already passed, then the Tanner brothers, who started with nothing, will be delighted.