Candy and dessert enthusiasts throughout the United States have more than likely eaten products that were packaged or distributed by Tarrier Foods Corp. – though they probably don't know it. "We're probably one of the biggest companies no one has ever heard of, and that's intentional," says Chuck Ziegler, general manager of the Columbus, Ohio-based company. "We fly under the radar; we're not in this business for our own glorification, we do this to help other people, which in turn helps us."
Tarrier Foods has steadily grown its business and capabilities since Ann Tarrier and her son Tim established it in 1978 as a snack mix packager. The company today specializes in chopping, packaging and distributing candies, trail mixes, salad toppings, ice cream toppings and inclusions, roasted nuts and granola products. "You can't pigeonhole us as being just one type of company – we do different things, and that's what makes us successful," Ziegler says.
Problem Solvers
Ziegler attributes the company's growth to its ability to solve customer problems and meet specific packaging needs. "We are flexible in what we can do and can produce packages on our vertical form, fill and seal baggers (VFFS) ranging from small, half-ounce portion control bags up to five-pound bags. We can also produce bag-in box packages ranging from 5 pounds and up to 50 pounds," he adds. "We can do things other companies can't do, are very lean in our operation and are a good value."
As an example, Ziegler notes the company has packaged different colors of sugar into packs for Duncan Hines, crushed and combined three different manufacturers' candy brands into one mix and created salad toppings specific to restaurant-customer requests. Tarrier Foods' other notable co-manufacturing partners include Hershey, Nestle and Rhino Foods.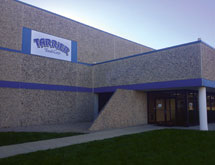 Tarrier's ability to customize its work has earned it a customer list that includes several of the largest restaurant chains in the country as well as manufacturers for whom it co-packs products. "We have grown through word-of-mouth," Ziegler says. "The restaurant customers we have talk to others, and we then can become problem-solvers for new accounts, or manufacturers refer us to others who want us to co-pack for them."
Customer referrals are so common for the company that it went more than 15 years before hiring a national sales manager. Dave Belleau, who assumed that role in 2013, concentrates much of his efforts on expanding existing business. "I jumped at the opportunity to work at Tarrier Foods; the products, packaging flexibility and company culture here really makes my job fun," Belleau says. "When a prospective customer asks if we can source a product we currently do not stock or if we can package the product in a package size we currently don't produce, I rarely have to say no. If the volume is there, we'll find a way to do it and that creates many opportunities for us."
Efficient Operations
Tarrier Foods greatly enhanced its manufacturing and packing capabilities when it moved its operations from an 86,000-square-foot facility into a 152,000-square-foot former distribution center it renovated in 2012.
The facility houses two main production rooms – one for production of peanut-related products and one for other, non-peanut products. Tarrier operates 50 vertical form, fill and seal baggers as well as chopping, roasting, grinding and stand-up pouching equipment. Additional vertical form, fill and seal baggers and other equipment will be added to the facility later this year.
The company segregates peanut products from other items to prevent allergen contamination, a practice that has earned it co-packing business from manufacturers, Ziegler says.
The facility also features a number of energy-efficiency measures that allow the company to save on its operating costs. These include skylights that track the position of the sun to catch and reflect as much sunlight as possible into the facility. Other features include high-efficiency lighting fixtures with motion detector switches and a system that captures and re-uses waste heat.
Recycling is also an important part of the company's environmental strategy. A full-time employee is responsible for collecting and  bailing corrugated cardboard for recycling, Ziegler adds.
Tarrier Foods' manufacturing and packaging operations are routinely audited by customers and third-party auditing firms. The company is SQF Level 2 certified. Tarrier's quality and food safety efforts  earned it awards from the Integrated Pest Management (IPM) Institute of North America for its cleanliness in 2010, 2011 and 2013.